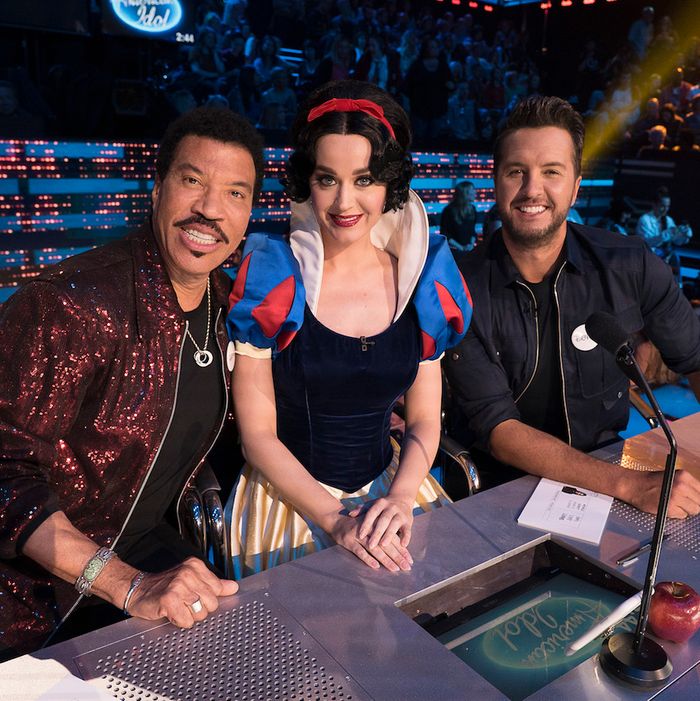 Photo: Eric McCandless/ABC
I knew something was off with Disney Night right from the start: Katy Perry, who has always fancied herself something of a demented Disney princess, came out in Snow White garb to entertain/humor/bludgeon us with an old-timey impression. You know damn well she should've embraced Cruella de Vil drag. Give me sneers, give me foot-long cigarette holders, give me Tallulah Bankhead stank. Cruella is a hero. She mocked Roger's songwriting to his face and then became the muse for his only iconic hit! That's a "princess" who deserves a throne.
But instead, we mostly got a predictable list of Oscar-acknowledged Disney songs without many ingenious additions. No Caleb Lee Hutchinson croaking his way through the Princess and the Frog. No Ada Vox cackling "Ooh, I think he's rather tasty!" from Aladdin's "One Jump Ahead." And no Michael J. Woodard singing "Heigh Ho" and making it sound like a Bruno Mars No. 1 hit. Someone reverse-Imagineer this.
We're down to ten players — seven by the end of Sunday's episode — so I'm ranking the ten performances and then following up with an evaluation of the evictees. You ain't never had a ranking-obsessed recapper like me.
10. Cade Foehner: "Kiss the Girl"
If you didn't know "Kiss the Girl," you might be fooled into believing it was a minor Lifehouse hit based on Cade's performance. But if you are familiar with "Kiss the Girl," you probably thought, He may as well have sung a minor Lifehouse hit because this has nothing to do with the animated crab antics to which I am accustomed. Cade's growliness is impressive on a technical level, but he often sounds like he's pantomiming a rare Pearl Jam bootleg that only people named Cade know about. I lost the song in this performance, but, I guess, respected the attempt to interpret Sebastian with some Black Crowes flair. But it was weird, guys.
9. Ada Vox: "Circle of Life"
You know how on Damages, they kept flashing back to cryptic, gritty footage and you spent all season waiting to find out what grisly thing you were witnessing? I have the same frightening, staccato remembrances of Zoanette Johnson's "Circle of Life" performance from season 12. It wasn't bad but it wasn't right either, and for some reason it still has me in its campy grip all these years later. I'm sorry to say that Ada Vox's version was duller and gurglier than Zoanette's, even if her glittery golden ensemble had the on-camera voltage of the entire sun. Part of the problem here is that "Circle of Life" feels draggy in theory, but it's a pretty staid song aided by a smooth, unadorned Elton vocal. Ada kept bejeweling her vocal with all sorts of guttural trinkets, but none seemed that fierce or necessary in the end. And she was a little flat! Props to her for staying composed as spooky B-roll from Melancholia played behind her, though.
8. Maddie Poppe, "Bare Necessities"
Maddie Poppe deserves the Nobel Prize for wielding a ukulele and not driving me to suicide. Her cozy strumming hearkens back to the greatest SNL character of all time, Ana Gasteyer's Cinder Calhoun ("Basted in Blood!"), and that is comforting. But let's be real: "Bare Necessities" is hokum that's hard to perform without sounding silly. Her cool Natalie Merchant soul and The Jungle Book's ode to minimalist bear lifestyles just didn't mix. It needed more of a wink. I pictured Shere Khan peering at the performance, rolling his eyes, and intoning with deep George Sanders ennui, "Heavens."
7. Gabby Barrett, "Colors of the Wind"
This performance highlights a major problem with everyone tonight: These songs require acting. You cannot mumble past the words "blue corn moon" like they didn't happen. You can't ask, "Can you paint with all the colors of the wind?" without giving me some Vanessa Williams gravitas with which to stomach it. You can't sing, "[Have you] asked the grinning bobcat why he grinned?" without stopping a moment to giggle because why is this bobcat so saucy? Gabby's approachable rambunctiousness makes her an obvious front-runner, but we've yet to hear her interpret a song with any surprising insight. This felt like a respectful but uninspired cover, with little in the way of connection to the lyrics. I'd have been psyched if she took a swoonier song like "You'll Be in My Heart" and left this one to Ada Vox.
6. Michelle Sussett, "Remember Me"
"Remember Me" provides the emotional high point of Coco, a movie that is shockingly magical for being about vindictive dead people. Michelle Sussett took the judges' note (and, presumably, the producers') and added some bilingual allure to it, making for one of her quainter, more pleasant performances. But we're in the Top Ten now, and all contestants should've been briefed to upgrade from "pleasant" to "shrieking ballad monstrosity." Michelle's work was smile-worthy, but because it lacked urgency I can't picture the fickle preteens of America shooting votes her way. And Lionel's note that Michelle was finally showing us "who she is" felt a little patronizing. We get it, you think she's Spanish and nothing else.
5. Jurnee, "How Far I'll Go"
I was in denial about it for awhile, but "How Far I'll Go" is absolutely one of the greatest Disney songs. (I can't explain it, but I have trouble giving Lin-Manuel Miranda credit for things. It's like he enjoys rhyming too much or something? I told you I can't explain it!) I don't consider Idina Menzel a comedian, but tonight she brought the laughs when she literally advised Jurnee, "Just try to stay within yourself and not go too far," disagreeing with both the title of the song and Moana's entire life. Thankfully, Jurnee's performance was so loose and sensual, it became a breakout moment. That gentle sway is such a good look on Jurnee, who often lacks the giddy charisma that makes a singer like Auli'i Cravalho, the voice of Moana, so immediately lovable. Jurnee's voice is delicate but self-possessed, and her subtlety remains shocking on a dystopian cybergala like American Idol.
4. Caleb Lee Hutchinson, "You've Got a Friend in Me"
The advantage of being a country singer is there's no such thing as being dorky. You can click your spurs and recite Minnie Pearl one-liners from 1958 and you get to be "authentic." Katy Perry all but screamed, "You're current and viable and we love that about you!" while Caleb practically turned "You've Got a Friend in Me" into an alternative theme of Rawhide. Musical taste aside, Caleb has the photogenic affability of a one-time child star. I picture him smiling deviously on a box of Teddy Grahams at age 3, causing a massive surge in Teddy Grahams sales. Though the song claims our friendship will never die, Caleb's staying power is what's feeling more and more eternal as the weeks roll by, and this will go down as one of his more interesting choices and interpretations. I'm still pissed Annie Potts wasn't in Toy Story 3, by the way.
3, Dennis Lorenzo, "Can You Feel the Love Tonight?"
Dennis has three things I love: a fabulous voice, palpable pain in his performances, and a determination to serve those two things with little pretense. His maturity and vocal straightforwardness do not pander, and "Can You Feel the Love Tonight?" would have the soul of an empty margarine tub with a try-hard at the mic. Loved the way he enunciated "wide-eyed wanderer" both times and managed to make us forget this is a Viagra jingle for lions.
2. Catie Turner, "Once Upon a Dream"
Lisa Loopner got me this week: She was the only person to embrace the ancient charms of Disney, dress for that occasion like a 4-year-old in love with the Walt vault on Halloween, and bring us back in time like an old theme-park ride. She wasn't above the occasion. She dove into it with that fierce, strange color-guard-captain commitment. Points for picking (1) a song that doesn't immediately scream Idol-worthiness, and (2) a style of song that tells us something new about Catie herself. Face it, she's a cunning competitor and a real talent. I'm wary of people who like hugs too much but she's working this karaoke derby right.
1. Michael J. Woodard, "Beauty and the Beast"
I know when I've been conned, and I'm happy to be a dupe in this case: Michael J. Woodard, perhaps the true "personality" of season 16, trilled a respectful version of "Beauty and the Beast" that I would've forgotten otherwise, but he threw in one giant, transcendent note somewhere in the middle that elevated the performance and jolted me from my Walt-induced hypersleep. It was a Hail Mary and it successfully hailed Mary (Blige, of course). As a rule, I try to disagree with Luke Bryan 100 percent of the time, but when he called Michael magical, I had to concur. He can make any stale ballad typically chanted by a Tony-winning teapot fun again.
THE EVICTIONS: Dennis Lorenzo, Michelle Sussett, Ada Vox
Somehow, you could feel Dennis's lack of faith in America as a voting bloc this whole season. He was a consummate statesman and showman, but he never seemed giddy about the whole pick-up-the-phone-and-vote-for-me thing. Michelle Sussett did herself proud this season, but I disagree with Katy: I think she'd have been wiser to value spectacle over song. We needed more Adam Lambert theatrics this year and Michelle's belly-dancing, Selena-invoking stuntery could've been even more garish. And ugh, my queen Ada: Her last two weeks of performances rank among her least memorable, but she turned out some queer-ass sorcery on that stage. Never forget how she sang "Defying Gravity" straight to Jesus's face and forced him to cry a water park for gay kids. More importantly, this competition just lost three minority contestants with a lot of talent, and I'm hoping this season doesn't conclude with a final-two hootenanny between Caleb and Gabby in a big silo. But baby, lock them doors: It might be inevitable.