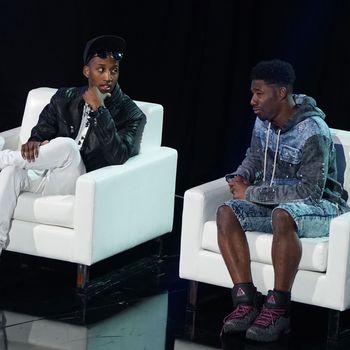 A scene from season 16 of
American Idol.
Photo: Eric McCandless/ABC
In one blustery episode, Idol whittles its guest list from 50 to 24. Here are the yippy youngsters who make the cut. Don't worry, we'll follow up with a brief requiem for the songbirds left behind, too. Try again next year when this show moves to CBS, guys! Or the year after when it lands on VH1 Classic! Or the year after when it's a podcast hosted by Kara DioGuardi, or possibly a small kiosk at Dave & Buster's. You'll get your shot.
Layla Spring: Lil' Miss Thing
Layla, who used her tiny, frighteningly self-aware sister Dixie as a clever branding opportunity in her first appearance, performed a rendition of "Proud Mary" in the top-50 round. This is an Idol tradition dating back to at least Lauren Alaina: the teenager who pretends to be a 47-year-old divorcée for our amusement. She has the ebullience of Punky Brewster and the guileless bewilderment of St. Reba. She's gonna strut and wag a finger and yell, "Welp!" and sigh, "How 'bout that?" and laugh, "I darn near burped!" after every performance. And the cunning young Dixie will watch from the stands, waiting to whisper her next command into Layla's ear like Angela Lansbury in The Manchurian Candidate. 
Michael J. Woodard: Supposed Former Idol Front-runner
Lots of opinions about this guy, let's sort them out: Michael Woodard gagged my whole family with his performance of "Maybe This Time" the other night. I kept picturing Liza Minnelli watching and getting the vapors and screaming, "Tommy Tune!" for no reason. Tonight, we got to witness a bit of Michael's performance of "You Oughta Know." Honestly, this song is more of a touchstone for me than the Cabaret number. Alanis Morissette is one of the few artists in the past 25 years to emerge and establish a wholly new version of what a pop star could be (which is wild, considering how often she was derided as a knockoff of Liz Phair, Courtney Love, or Sinéad O'Connor, even though her lyrics, music, and voice don't remind me of them at all). It takes a lot of personality to live up to Alanis Morissette's performance, and that's what Michael lacks here. He garbles the wordy "Does she know / how you told me / You'd hold me / until you died" part, and he doesn't bring the searing vulnerability. Or the rage. Or the righteousness. I'm happy we have a contestant who loves Liza and Alanis, but I hope his idiosyncratic tastes lead to another bona fide triumph real soon. I think he'd have nailed "Uninvited"!
Gabby Barrett: Very Underwood
No surprise here: The power-blonde teen who served up Aretha Franklin's "Ain't No Way" last episode (and a take on Carrie Underwood's "Church Bells" that began stodgily and ended with some sky-high, Carrie-level wailing) goes on through with a thumbs-up from Luke Bryan and sinister side-eye from Katy Perry, who is blunt about her skepticism. I continue to be impressed with Katy's ability to be critical and quippy without self-aggrandizement. Her authority on Idol reaffirms her professionalism. It's refreshing to see and almost educational, which is something I never thought I'd say about Idol.
Michelle Sussett: The Tremendous Try-Hard
I wouldn't describe this Selena-cooing, "I'm Comin' Out"-chirping imp as "cool," but that's what kind of rules about Michelle. She tries a little too hard to dance and bop and cavort, and that antsiness makes her distinct. "24K Magic," her final performance, is a perfect choice because, as beloved Vulture Idol recapper Dave Holmes once noted, it's a song that's trying too hard to be your friend — kind of like Michelle herself. Michelle's effortful spunk is endearing, and here's hoping that charm keeps ballooning.
Catie Turner: Rise of the Adorkable
There are high-school band geeks. Then there are the high-school band geeks' groupies, perhaps in the color guard. Catie Turner feels like one of the latter, even if she's come through with sophisticated vocals and an adult sense of self-awareness on two self-written songs. I'm still not onboard with her. Her obsession with announcing her own awkwardness is time-consuming. She also uttered my least favorite phrase from the annals of Idol history, commenting on her performance of "Bad Romance" that "I think it's a risk paid off. And if it didn't pay off, I had a hell of a bunch of fun doing it!" Why are so many Idol contestants concerned with telling us they had fun? It's not about your fun! You can have fun later. I long for the American Idol winner who says, "I hate performing, but I'm amazing at it." This is a job, not a roller rink! Anyway, Catie's pluck earns her a spot in the top 24, even if her "Bad Romance" performance feels like harrumphing Napoleon Dynamite cosplay.
Dominique Posey: But We're Alone Now and I'm Singing "A Song for You" Too
I remember little about Dominique, but I can't wait to see how he ranks among my five favorite Dominiques: (5) Dominique Swain (sometimes I go down a rabbit hole of backstage gossip on Lolita and gasp at it all); (4) "Dominique" by the Singing Nun; (3) Dominique Dawes, no-frills queen of gymnastics; (2) Dominique Moceanu, all-frills queen of gymnastics; (1) Dominique Deveraux, acclaimed scientist in the field of burned champagne.
Jurnee: Purdee!
I thought we were done with The Greatest Showman for good, but Jurnee, a true find whose stage presence is both huge and delicate, breathes new life into "Never Enough," the big (lip-synced) number from the P.T. Barnum musical. It's not my favorite Pasek-and-Paul joint (that'd be "For Forever" from Dear Evan Hansen), but she finds the fire in it — and it helps that her Army-going wife is in the crowd.
Shannon O'Hara: The Tasteful Slayer
The bravery on this one is real: Shannon's singing is superb, but she never belts hard enough that she loses track of a song's emotional content. She lets the lyrics guide her vocals, which is a rarer situation on Idol than I want it to be. Furthermore, she performs Katy Perry's own "Unconditionally," a song where a six-syllable adverb is repeated 80 times, and she manages to spear the audience with melancholy power. She has a subtle commitment to quality, like a menswear designer or Catherine Keener. Even her post-performance smile seems timid, which is both charming and a little worrisome in the giant Idol dome.
Kay Kay: Mmkay.
We know little about Kay Kay, but we did see her put an adorable spin on "Want to Want Me" during Hollywood week. I have the feeling she took the spot of Victoria McQueen, the dynamite 15-year-old who left us dumbstruck with her cover of Stevie Wonder's "Don't You Worry 'Bout a Thing." I haven't wrapped my head around this yet. I'm not okay, Kay Kay. And that's … okay.
Amelia Hammer Harris: Bleating Love
She may look like Leona Lewis or Rashida Jones, but Amelia Hammer Harris's vibe is so (get ready) Joan Armatrading. Funky but sly. Literate but sensual. It's a sophisticated look for a show where you might have to hawk a Ford Fusion on eviction episodes. I'm curious what's in this competition for Amelia because she's got that snappy, smirky something I like.
Ada Vox: Can I Get an Amen?
My brother Jim indoctrinated me at a young age into believing Radiohead's "Creep" was a rip-off of Candlebox, and I still haven't figured out how I feel about that yet. Ada Vox, our drag contestant and season 12 comeback queen, turned "Creep" into a haunted cabaret closer, and I also can't figure out how I feel about that. It … didn't really sound like a song? But she does siiiiing, and every wig in the joint melts and vanishes and drops out of school. Notably, Ada went to her "final judgment" out of drag, and it's clear she's a little on the fence about how to navigate a dual persona in the context of Idol. Well, maybe we'll find out together.
Jonny Brenns: Blond Faith
A blond balladeer who enjoys Sam Smith and gets a triumphant pat on the back from his aloof father? That's all you can ask for in an Idol audition story. I'm not sure Jonny has ever wowed us, but if necessary, he could dress up as Sexy Tintin for Halloween and be a big hit. Right now, that's the only thing on my dream board for him.
Mara Justine: Linda Blaaaaaaair
Mara's crazy, ceiling-puncturing vocals and stomp-around choreography make her the most possessed 15-year-old I've seen in some time. She has that Regan MacNeil quality, if you know what I'm saying. Her antics need streamlining, but as such, you can't argue with vocals that compete with Etta James for pure pyrotechnics. I thought Lionel Richie was going to disappear in a plume of smoke (and then tell the plume of smoke about meeting Diana Ross and Michael Jackson with the Commodores at Studio 54 in 1977).
Caleb Lee Hutchinson: Scotty McRetread
This country kid with his contented eyes and low-key wisdom. Man. He's a teenager, but he seems ready to give Ben Johnson's monologue from The Last Picture Show. He's the second coming of Scotty McCreery, but he doesn't scare me, so that's a step up. Let's pray he comes up with one or two inspired song choices along the way; I can't handle ten straight weeks of whoever/whatever "Josh Turner" is.
Garrett Jacobs: The Bluesman Who Suddenly Dances
Cute kid (with a cuter grandma) who dances his ass off like an eighth-grader attending his first wedding reception. He'll need some extra horsepower to take on the giants of this competition, but who knows? Maybe a shuffle and some heel-clicking will do, too.
Cade Foehner: Sludging Amy
I mean, one long-haired guy who sings "Feel It Still" with a sexy drawl should get through to the top 24, right? That's only proper. But here's what's important: If you turned out the lights, Cade Foehner would strike the same silhouette as this photo of Amy Brenneman.
Effie Passero: Phantom Threat to Win This Whole Damn Thing!
Got to give it up for this dame with her towering vocals, punk-ass Lesley Manville looks, and delicate work on the piano. My prediction: Not only will she make the top 12, she'll be the last-standing woman in the competition. She'd make a fantastic American Idol winner.
Marcio Donaldson: The Tearful Papa
Marcio rankled my jodhpurs the other day with his performance of "(You Make Me Feel Like) A Natural Man," which made me want to hang myself with Carole King's actual tapestry. I don't care if you like the Rod Stewart or James Ingram version! It's not right! But after another dubious performance, this one an off-melody take on "If You Really Love Me," Marcio is in the finals and off to provide the kind of hollers we haven't heard since Jacob Lusk.
Also in the finals: Brandon Diaz, Alyssa Raghu, Maddie Poppe, Trevor McBane, Ron Bultongez, and Dennis Lorenzo.
IT'S A NO
Trevor Holmes: The Almost–Future Katy Perry Ex-Husband
Conspiracy theory: Katy Perry felt guilty about crushing on Trevor Holmes and didn't want to seem like a pushover. Yeah, he was no powerhouse, but he didn't need to be. He'd have nabbed a Top 10 spot with his fitted flannels and sleepy strumming no problem. I can't say I'm devastated to see him go — it's a good thing there's only room for two or three Matt Nathansons in the competition this year — but he'd have kept a youngish, giggly demographic tuned in. You heard Seacrest: 100 million people watched his audition. BTS is shaking in their little jeans.
Laine Hardy: The Shy Off-Roader
I'll be straight with you: This is kind of unthinkable! Laine's squinty, boyishly gritty stage presence seemed destined for a Phillip Phillips–type Idol ascent. His swoopy little haircut is perfect! I suppose in an age of Caleb Lee Hutchinsons, sheepish country vocals have no place in the competition. But I'll miss him and his rad '40s-detective name.
Thaddeus Johnson: True Non-Grit
Katy Perry once again sums it up: Thaddeus can sing, but "sometimes things need to have a little grit to them." He was a fine belter without real intention, even though his most recent song choice of "Hate on Me" by Jill Scott was interesting enough. He has mechanical ability to sing, and that's enough for this competition. There's a difference between deserving the title of American Idol and deserving a scholarship. Katy sussed that out expertly.
Noah Davis: Notorious W.I.G.
Nooooo! The Wig Man! The Big Wig! Zuckerman's Famous Wig! Wig. He's eliminated following an unwatchable performance of "You and I." Love his energy, love his talent, love his oddly downplayed sense of humor, and I hope he's back in years to come with a bit more artistic direction and the same handle on queer slang.
Also out: Victoria McQueen (Ugh!), Harper Grace, Carly Moffa, Samothias, Lee Vasi, Milo Sposato, Britney Holmes, William Casanova, Maddie Zahm.
Here's my final-four prediction, just so I can be humiliated by it later: Effie Passero, Caleb Lee Hutchinson, Jurnee, and Cade Foehner. Bring on the semifinals and the first death-drop of Ms. Ada Vox, please!