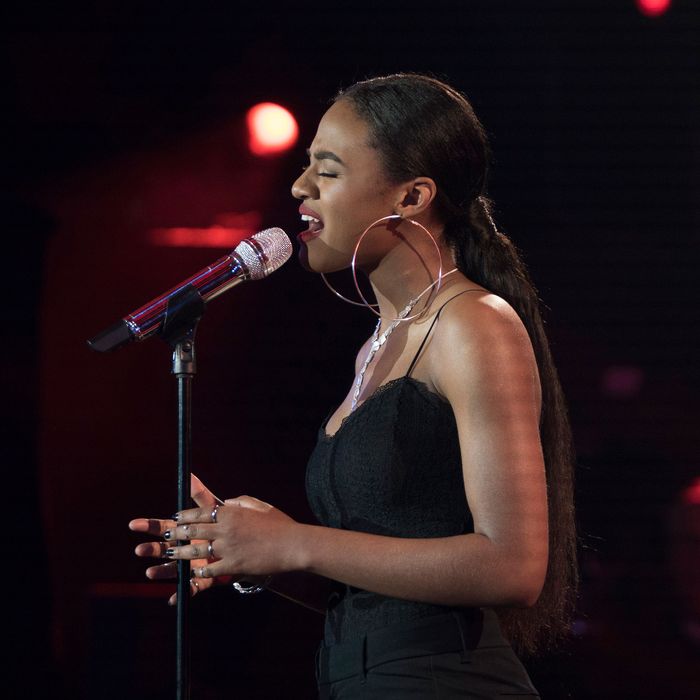 Photo: Eric McCandless/ABC
You know that feeling when you walk into H&M and see a short-sleeved sweater? And you think, "Absolutely not. H&M is pretending short-sleeved sweaters are happening and I'm an adult who knows that's not true." On Sunday night, American Idol was the H&M and guest mentor Bobby Bones was the short-sleeved sweater. They tried to convince us that Bobby Bones, a Tennessee disc jockey with an apparent stranglehold on the country music community, was a huge national sensation. Their pump-up was endless. "He's an author! A comedian! A radio person! He knows lots of singers! He's nice! He gets a good deal at LensCrafters! He's St. Bobby of Bones and we all supplicate at his Aldo-booted feet." But ultimately, he looked like a decent Rivers Cuomo stand-in who could replace Ryan Seacrest if necessary. And that's intriguing since it might be necessary.
Twelve of the top 24 contestants consult with the emperor Bones, perform for a slew of 26-year-old extras, and even sometimes make an impression. For your benefit, I'm ranking their performances. Sorry if Lionel Richie's critiques ranging from "Great!" to "Keep it up!" aren't that helpful.
12. Michelle Sussett, "If I Were a Boy"
I ask because I care: Why cover Beyoncé? You are not a Duracell battery in a leotard like Beyoncé. You are not Tina Turner struck by lightning like Beyoncé. You did not lose a Golden Globe to Meryl Streep like Beyoncé. She's her own genre that supersedes conventions like "singer," "actress," or "Homo sapien," and attempting to score credibility with a Beyoncé cover is a grim undertaking because audiences will remember you as Not Beyoncé. So many of us are already Not Beyoncé, don't add to the heap! Coupla wonky notes from this Selena superfan early on, but she eventually regains footing with some bilingual fire and solid trilling at song's end. Unfortunately, Luke Bryan kills that goodwill by mispronouncing "Venezuela" for the 80th time and rendering Michelle a Broken-Hearted Girl with dashed Sasha Fierce potential.
11. Catie Turner, "Call Me"
I remember thinking Catie Turner had the potential to be a giggle-powered Kris Allen, but now I'm wondering if she's a folksy Zoanette Johnson, a stunt act who only succeeds when her shticky conditions are met. The judges seem appreciative of Catie's performance, but I thought she sank behind the throttle of this punk-pop classic. Debbie Harry's languor is inimitable and enticing; Catie's effortful vocals feel at odds with (and somehow sheepish in comparison to) that vibe. If Catie plans to vault forward in the competition, I suggest she get back to angst-ridden strumming and self-written songs about awful sophomore boys and the dude-run media. If her name were India.Arie, I'd suggest she cover "Video" by India.Arie.
10. Brandon Diaz, "Hello"
It's provocative to pick one of the judges' signature songs and perform it on air. But why this song, Brandon Diaz? It's like if Ellen DeGeneres were still a judge and Brandon performed a monologue from Mr. Wrong. It doesn't relate to contemporary pop at all. With his hair like Jerri Manthey and a devil-may-care attitude to match, Brandon has an instant likability that could save him here. As such, he picks a weird, Muzak-ready tune with no fire on the Idol stage, and I question whether his rugged prettiness can save him. Also: Did you hear Ryan Seacrest hit that chorus during the bit with Lionel after the performance? I was, shall we say, gagged.
9. Trevor McBane, "Way Down We Go"
We invented the concept of Trevor McBane several seasons ago. Growling, bearded backwoodsman with gravitas? Let me check the 2012 archives. Every singing competition needs one! Otherwise, who will spook your audience with devil-berating crackles? Trevor gave a tuneful but timid performance, and that's not enough for a guy who could really chill us. What's with singers who need to be told to sing more excitingly? Is it possible they're not the next American Idol, judges?
8. Dominique, "Ain't Nobody"
Here's the thing: I'm here for "Ain't Nobody." I want every American Idol performance to sound like it lives in or around the Breakin' soundtrack. I want the words "Rufus & Chaka Khan" plastered across my TV screen in 2018 so I can get on Twitter and scream, "You preteens should download 'Do You Love What You Feel' on iTunes and get your life, ok fam?" But while Dominique has the flavorful flourish to make the room bounce, nothing about this performance is essential. It could've been a season-six performance, save the clubby vibe of the Top 24 venue. More to the point: It feels like someone singing along to the Chaka version without upstaging her. Now that I think about it, no one has ever upstaged Chaka Khan, so maybe song choice is the issue here. Don't serve me classic soul with mild sauce, Dominique!
7. Dennis Lorenzo, "Rude"
Dennis's opening chat with Bobby "Bobby Bones" Bones is so devastating it doesn't feel worth criticizing his performance or even going on with my day. He opens up about the murder of his father, which is a jarring tonal shift from Layla Spring chortling, "I love bein' outside!" or whatever. Dennis seems to be a cool-headed kid despite his rough upbringing, and that's why I have to wonder why, why, why he chose "Rude" as his Top 24 debut performance. With the exception of D4L's "Laffy Taffy," "Rude" may be the most annoying No. 1 hit of the 21st century. (And no, I have not forgotten about "Imma Be.") There's nothing in this song worth amping up, but Dennis tries hard to slay us with the cuckoo-clock-like drone of "Marry that girl!/ Marry her anyway!" It's a song fit for a Julianna Margulies parody on The Tonight Show, not the competitive psychodrama of Idol.
6. Jonny Brenns, "Georgia"
Like the movie Georgia with Jennifer Jason Leigh and Mare Winningham, Jonny Brenns's performance of "Georgia" is simple, affecting, and a little bit frustrating in its determination to be small. Maybe audiences will remember Jonny's rosy complexion and flirty performance for its charm — a word I haven't used otherwise tonight — but it still feels low-octane compared to the floor-stomping pomp of his competitors. Still, Jonny Brenns is a LOOK. He's a six-foot-seven (approx) blond guy. You want to see him in a maroon turtleneck scowling, and I have no higher compliment than that.
5. Kay Kay, "Love on the Brain"
You know what a good performance of "Love on the Brain" sounds like. All the pangs, all the hurting wails. Kay Kay gives that, with little in the way of ingenuity to bolster it, but she looks so ferocious and chill (a stunning dichotomy) that I determined: (1) Rihanna would be proud, and (2) she might've had love on the brain. Here's to more Chanel Iman sleekness from Kay Kay and a bit more command as a singer. I get that she deserves a Neutrogena campaign, but I need to hear more individuality and fight in her vocals.
4. Layla Spring, "A Broken Wing"
Layla Spring is a teensy-tiny teen with the energy of Abigail Breslin in Little Miss Sunshine. Her outrageous twang puts at least one extra syllable in every word she says, and therefore a scream of "Thank you so much!" is practically an entire haiku coming out of her mouth. I worried this Martina McBride song would be sleepy, but Layla "dug in" (quoth Katy) and found moments to turn big notes into thrilling notes. It's unreasonable power coming from someone who'd make an ideal spokeskid for Lunchables.
3. Cade Foehner, "All Along the Watchtower"
So far, Cade Foehner has impressed us in two ways: (1) singing well, (2) sporting foot-long hair like he's Princess Vespa's stunt double in Spaceballs. His choice of "All Along the Watchtower" would be perfect for a final four performance, when the audience is used to his classic rock vibe and willingness to plumb the archives of the VH1 100 Greatest Songs of Rock & Roll. But I think he went too deep too early, even though his guitar work and vocals were on fire. Start with something the Idol demo knows well: rock classics like "Radioactive" or "Use Somebody" or "All About That Bass." Then whip out that vinyl of Electric Ladyland and confound the kids with your old-ass knowledge.
2. Gabby Barrett, "My Church"
There's no finer way to illustrate "I'm a country singer with dreams of an improbable pop crossover!" than a cover of Maren Morris, who currently sits in the top ten of the Billboard Hot 100 with her Zedd collaboration "The Middle." Gabby is ready for that iTunes glow-up: With her Heidi Montag blondeness and headbanger angst, she offsets her affability nicely. The judges get this one right (which is a relief considering Luke Bryan's worthlessness this episode): It is a serviceable cover to start, but Gabby's final moments at the mic are supercharged and righteous, giving us that Allison Iraheta heft you need to wallop an audience of zombified extras.
1. Michael J. Woodard, "Golden Slumbers"
It's an Olympian feat to squeeze soul and vocal pyrotechnics into this airtight Lennon-McCartney lullaby, but Michael J. Woodard — Idol's most fascinating song selector thus far with both "Maybe This Time" and "You Oughta Know" filling his repertoire —– made it work, soar, and flutter. His giddiness is singular, and I say that knowing Catie Turner is clicking her heels and whinnying this very minute. Michael is the rare contestant I trust as both a singer and interpreter, the kind of person who might be an artist for real. Even the way he described his style as "alternative R&B" registered as actual insight to me. Now that he's jumped from Liza Minnelli to Alanis Morissette to the Beatles, I guess the only world left to cover is … what, reggaeton? Give me that "Gasolina," papi!
Tonight: 12 more singers line up for this mess. Will Bobby Bones mold a superstar like the lady in the "Hello" video? Stay tuned.