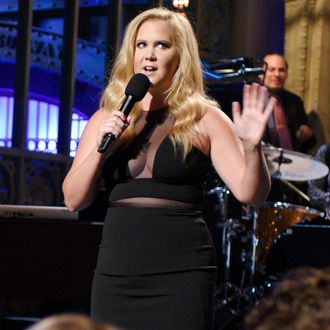 Photo: NBC/NBCU Photo Bank via Getty Images
Days after announcing that Donald Glover would be hosting Saturday Night Live on May 5, the show announced that the two episodes after that – the final two of the 43rd season – will be hosted by Amy Schumer and Tina Fey, respectively. Schumer first hosted SNL in 2015 to positive reviews. Fey began working at SNL in 1997, moved up to head writer in 1999, and as a repertory player in 2001. This will be her fifth time hosting, and first since 2013.
Schumer is paired with musical guest Kacey Musgraves, while Fey is paired with Nikki Minaj, making it an all-female final four.