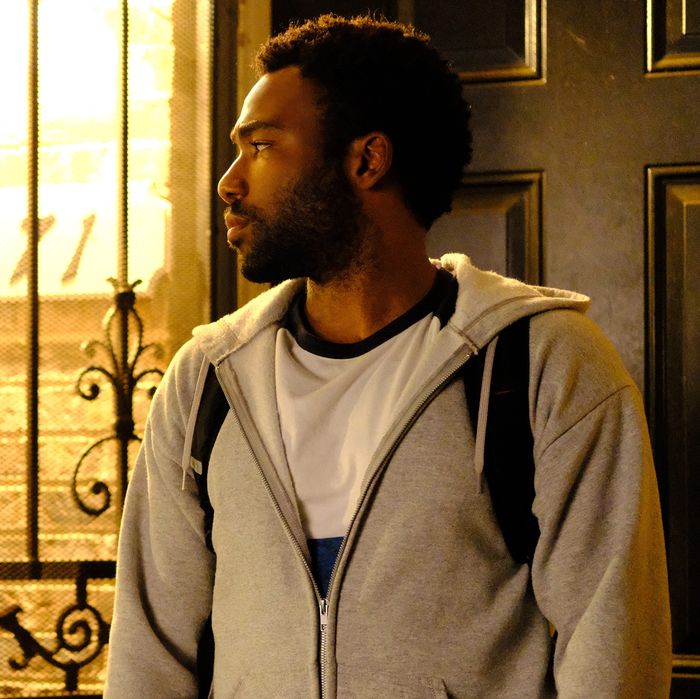 Before Donald Glover hopped on the fast track to EGOT, he made an album under his rap alter ego Childish Gambino called Because the Internet. It was a multimedia project that magnified our fraught relationship with life online — its cover was a GIF — but in the years since, Glover has largely divorced himself from the internet. Of course, he's still lurking: "I try and find subcultures. I try and find communities. I talk to people as a regular person. It's the only place you can be anonymous," he recently told Esquire.
Internet culture remains woven into the fabric of his hit show Atlanta, specifically anything that makes Black Twitter tick. Be it a send-up of the social-media star, Rachel Dolezal, or a Chris Brown parody so subtle that it took months for star Lakeith Stanfield to notice, what's happening online often happens on the show. The Atlanta writers room slips in inside jokes that wink at viral moments and pop culture so seamlessly, they're even easier to miss in the second season. Here's an episodic guide to all the references, updated weekly.
Florida Man
Atlanta gets a lot of its laughs from hood tales and urban legends, so it makes sense that we hear about "Florida Man" first from Darius (Stanfield). He's eerily described as being "responsible for a large percentage of abnormal incidences that occur in Florida," and as "an alt-right Johnny Appleseed" whose identity remains unknown, but who works with the government to "prevent black people from coming to and/or registering to vote in Florida." Earn (Glover) doesn't buy it, but his Uncle Willy (Katt Williams) verifies Darius's account. (Naturally, neither man explains how or why they know it's true.) In real life, "Florida Man" is a meme that's ripped from newspaper headlines, which often use the moniker to explain the unexplained shit that seems to happen only in Florida. The meme has spawned a Twitter account, a subreddit, a Wikipedia page, and even website that's dedicated to Florida Man's exploits.
Azealia Banks
When we finally meet Earn's uncle and learn he keeps an actual alligator in his house, Darius makes a joke: "This nigga got a full-grown Caiman in here surrounded by chicken carcasses. It's like an Azealia Banks Snapchat." Two years ago, Banks caught heat when she shared video of herself clearing up blood splatter in her apartment … from sacrificing chickens. (She practices witchcraft.)
Spotify and Apple Music
It wouldn't be a show about a rapper without a few cracks about the streaming industry. Both Paper Boi and Earn pay a visit to a fake streaming company — no name is ever stated by anyone who works there, because all tech start-ups look and feel the same from the inside, but it appears to be called Fresh from what we can discern from Paper Boi's spiel for a rap playlist. There are a lot of workers but not a whole lot of work getting done, unless playing ping-pong fits the job description. They just want to show Paper Boi "how we can grow your reach through our platform," despite the fact that they can't even figure out how to play a CD on their bougie sound system. It's a clear jab at the Spotifys and Apple Musics of the business, as well as the façade of streaming overall.
21 Savage
At this streaming company, Earn and Paper Boi meet a white dude named Peter Savage, who also has some vague job title related to "outreach." "But everyone here calls me 35 Savage because … I'm 35," he tells them. "Soon to be 36 Savage," someone chimes in. His terrible nickname nods to the rapper 21 Savage, because everyone who works at a tech company is required to make dad jokes.
Bobby Shmurda
On their little streaming field trip, Earn and Paper Boi observe from the distance something odd: a boardroom full of (mostly white) people watching a young black rapper dance on a table. He's giving away free entertainment, while they're standing there cheering, silently brainstorming ways to profit off of his every move. It's a callback to that time in 2014 when rapper Bobby Shmurda took a meeting at Epic Records and performed on a conference room table for L.A. Reid. Epic signed Shmurda that day for millions, then neglected to pay a dime in bail when he got locked up. Other rappers have since repeated the stunt.
Get Out
You know the scene.
BoJack Horseman
On their way to rob a mall, Alfred's new housemate Tracy chats away with Earn. We cut into the conversation, so there's no context. Tracy muses, "I mean, don't get me wrong, it's a funny show. But the way they dive into depression, and especially after what he did to her daughter, I was like, 'Can I even feel bad for this horse anymore?'" Yes, that is a casual BoJack Horseman reference — and no, it wasn't in the script. "That was really random and definitely not on the page," Khris Davis, who plays Tracy, tells Vulture. "Donald was like, 'Hey, we should do this thing where we're walking up and saying something really, really random. It needed to be an odd thing for Tracy to be talking about. We sat around thinking and then Donald said, 'BoJack Horseman, fuck it.'" Tracy (and Donald), you have good taste.
YouTube's acoustic rap covers
White girls love acoustic rap covers, Darius tells a horrified Alfred, who's just been sent one inspired by his own hit song. And that white girl just so happens to be an actual YouTube cover artist: Singer and actress Bryce Hitchcock has been posting her covers for years, though she's never done a single rap cover. (Maroon 5 and Sam Smith are more her lane.) Atlanta writer Jamal Olori tells Vulture that the cover was meant to parody every other cringe-y cover of a rap song done by a white person, but especially Niykee Heaton's viral 2012 cover of Chief Keef's "Love Sosa."
Chance the Rapper
This season, Alfred meets another up-and-coming rapper named Clark County, who's the type of dude to wear overalls with one suspender hanging. Alfred hates him, obviously, but much of that hate stems from envy over his commercial success, like the commercial Clark County books for Yoo-hoo. "Saw your baby mama like yoo-hoo, then I sent her home like yoo-hoo," he raps in the ad. Clark is goofy, irritatingly wholesome (or at least that's his image), and getting tons of money. Sounds a lot like Chance the Rapper! You'll remember Chance made a similarly silly commercial for Kit-Kat, which ends with Chance saying "that's a good song" about his own jingle. (Earn says the same about Clark's song.) You'll also remember that Donald Glover and Chance are very good friends, and this is what famous friends do: sneak in a good-natured roast at the other's expense on national television.
Vince Staples and the crying Christian mom
In the cold open, we meet an extremely emotional white woman in front of her webcam, outraged over a Paper Boi song she heard on the radio while driving with her 10-year-old kid. Appalled, she does a dramatic reading of every filthy word through fits of tears, reciting each lyric like it's an excerpt from Mein Kampf. (She even repeats the N-word, "but it's not [her] words.") If that sounds familiar, it's because the same thing happened to Vince Staples. In 2016, a similarly horrified Christian mom sat in front of her webcam and read off the lyrics to "Norf Norf" after she heard it in the car with her kids. It went viral, got remixed with the song, and Vince laughed his way to the bank (but also defended her right to an opinion). For Paper Boi, the woman's video helps make the song go gold. "Yo, that white woman crying was the best thing that could've happened to us," Darius correctly brags, then the trio take a shot to white tears.
Harriet Tubman on the $20 bill
Though they're not actually in circulation – and probably never will be under this administration – somehow Clark County has a bunch of $20 bills with Harriet Tubman's face on them laying around his studio. "My mom used to work in the government before they stopped making them," he swears, saying he uses them as a good luck charm for recording. (Because Tubman would've absolutely cared about his Yoo-hoo bars.) The best part: Darius calls them the "Tub dubs."
Money phones
And with those "Tub dubs," Darius makes a call to his accountant on his money phone. Which is a thing rappers (and rich people who hang out with rappers) do that Jay-Z doesn't like.
Rap Snacks and Fast and the Furious
Clark County gets a song on the new Fast and the Furious soundtrack, which is totally plausible. Meanwhile, Paper Boi loses out on the same opportunity and instead gets offered an endorsement deal with Rap Snacks, which are chips with rappers' faces on the bags. It's a whole thing – Migos just had one.
Michael Vick
It's really him! The Atlanta football legend makes a cameo as himself at the end of the episode, racing drunk randoms outside of the strip club (Onyx, which is very famous in Atlanta) for some extra cash. (Not at all shade on the part of the Atlanta writers about the state of his finances.)
Episode 4, "Helen"
Helen, Georgia
Van drags Earn to this village so they can partake in those bizarre Oktoberfest-ish shenanigans. Yes, it actually exists and it's known for going all-out for the annual fastnacht celebrations. Plus, here's an Easter egg within an Easter egg: Zazie Beetz, who plays Van, is German-American and speaks the language fluently.
Keanu
Barbershop conversations historically try to strike the delicate balance between small talk and therapy. In keeping with that sacred black tradition, Alfred's barber decides to waste the rapper's time waxing poetic about his random observations, like that time he was at the movies and noticed that no black people were on any of the movie posters. Not even that one film Keegan Michael-Key and Jordan Peele made! Cue some truly colorful commentary about representation in Hollywood: "They dressed the cat up like a nigga instead of putting the two niggas that made the movie on the poster." That problematic (but adorable!) cat is obviously the titular Keanu, and this is one of a few hat tips to Key & Peele that Atlanta makes this season.
The Invisible Car
A self-reference! You'll recall one running joke from an episode last season about a celebrity who owns a prototype of an invisible car, which surely can't be real. But then we (sort of?) see the invisible car run over a bunch of people outside of the club during a shooting. Well, it turns out that phenomenon blew minds across the whole city because it made the news and became a viral video, which Alfred's barber makes him watch, unaware that he was there. Speaking of news: that reference to a T-Mobile store robbery? Real.
Lonzo Ball
Paper Boi is now a moderately famous rapper, at least locally, which means he is constantly cornered by struggling rappers asking him to "put them on" — in other words, get them signed and get them rich. One such pest is his barber's son, whose elevator pitch is just shameful: "I got a fire mixtape, I'm like Lonzo Ball." Oh, child, aim higher. It's beautiful shade at the Lakers rookie, who did indeed put out a mixtape, which I suppose you could classify as a dumpster fire.
"Teddy Perkins" has so many influences and references, we had to break out a whole article of its own. With nods to music icons like Michael Jackson and Stevie Wonder, and horror classics like What Ever Happened to Baby Jane? and Psycho, it's not to be missed.