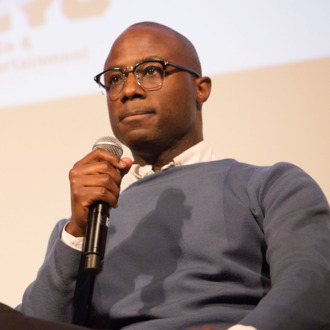 Filmmaker Barry Jenkins had a lot to say about his forthcoming adaption of James Baldwin's If Beale Street Could Talk on Thursday night, during a One Book, One New York panel at the PEN America World Voices literary festival. Joined by authors Jennifer Egan, Hari Kunzru, Imbolo Mbue, and Esmeralda Santiago — whose works, in addition to Baldwin's 1974 novel, are nominated for the citywide book club — Jenkins described why adapting Baldwin was "very difficult," especially since Beale Street marked the first time any Baldwin piece would be adapted as a film in the English language. "It was a lot," he said. "It was more about pruning in a certain way. It was about trying to coalesce the thoughts and ideas in the book into something that felt like cinema and not like literature."
Jenkins also said he recently turned to playwright Tarell McCraney, whose play he had adapted into the Oscar-winning Moonlight, and had him watch an early cut of Beale Street, which is currently in postproduction. "Tarell made this beautiful comment after seeing a cut of the film. He's like, 'Oh, you made this New York. It's not a New York of places. It's a New York of faces,'" Jenkins said. "I think the faces that existed in the time of Baldwin are still present in the New York I see today and the New York that we made this film."
Because Jenkins is not a New Yorker, he aimed to be "a termite about working here." While working on the film, he and cinematographer James Laxton would record sounds from the city, especially underground. "If someone was busking, we would record the busker," he said. This practice came in handy for a scene where one of the main characters, Fonny, is sculpting in his basement apartment, when they remembered that Laxton had recorded a saxophone player while waiting for the F train.
"It's played in minor keys and then there are all these arpeggios and then the song descends, and as it descends the train comes into the station from afar. You just hear this rumble," Jenkins explained. "I'm in this set, built by Mark Friedberg, an amazing production designer. The roof is off. Stephan James is sculpting to Baldwin's words and some person who I will never meet is playing a saxophone underground and the rumble of New York City is in my film."
New Yorkers can cast their votes for which of the nominated books, listed below, they'd like the whole city to read at NYC.gov/OneBook.
If Beale Street Could Talk by James Baldwin
Manhattan Beach by Jennifer Egan
White Tears by Hari Kunzru
Behold the Dreamers by Imbolo Mbue
When I Was Puerto Rican by Esmeralda Santiago