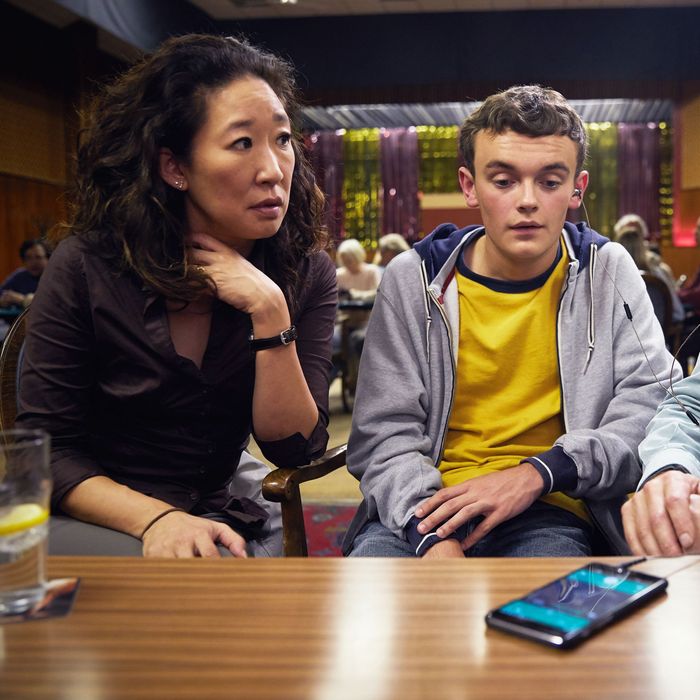 Killing Eve.
Photo: BBC AMERICA
The small-screen British spy genre is packed with the most tonally divisive marvels under the sun — pick one show, and you'll bear witness to a lady assassin stabbing a man to death with a needle. (Right in the skull!) Pick another, and a guy is giggling his way through the silliest MI-5 training imaginable. Whatever your taste, there's spy-tastic technology and across-the-pond accents throughout this enticing queue of good ol' fashioned espionage shows at your fingertips. Here are the best British spy series available to stream now.
Killing Eve


All hail Sandra Oh! It took three decades to secure the Grey's Anatomy star a leading role worthy of her talents, and this engrossing cat-and-mouse thriller by Phoebe Waller-Bridge checks all the boxes. Oh plays Eve, a deskbound MI-5 agent who longs to be a spy in the field, a dream that is soon realized when a mutual obsession develops between her and a sadistic, sociopathic assassin (Jodie Comer) who always evades capture.
How to watch: BBC America on Demand
The Night Manager
This mini-series proved to be a smash sensation when it aired two years ago, and it's pretty easy to understand why. A mélange of A-list talent aside — hello, Tom Hiddleston and Hugh Laurie! — the slow burn of a narrative about an ex-soldier infiltrating the inner circle of an extraordinary evil weapons dealer is wickedly compelling, especially when you factor in the gorgeous, international settings. Whether he'll be successful with his spy mission, though, remains another story entirely.
How to watch: Amazon Prime, Vudu, iTunes
London Spy
The epitome of an opposites-attract narrative, London Spy revolves around a hedonistic young clubgoer (Ben Whishaw) who ends up falling for a high-ranking member of Britain's Secret Intelligence Service — only because he believed the guy dabbled in investment banking, and not, you know, espionage. When his lover disappears, our fella gets embroiled with the terrifying underbelly of the capital's crime and spy scene, all so he can discover what truly happened. If that's not true love, then we don't know what is.
How to watch: Netflix, Amazon Prime, iTunes, Vudu
The Game
Not to be confused with the rapper or those other TV shows, this Cold War–set period drama is all about the aftermath of a young MI-5 operative who tries to defect to the Soviet Union — for love! — but massively fails and then returns to MI-5. His boss seems unusually chill with the deception, mostly because this lad might be helpful for sniffing out other moles and double agents in their field. Oh, and stopping the Soviets from annihilating the world.
How to watch: Netflix
Spooks (a.k.a. MI-5)
If you want a long-running procedural about the inner workings of Britain's premiere counterterrorism unit, Spooks was created with you in mind. Encompassing just about every spy-centric story line you can think of over ten seasons, it follows MI-5 employees as they prevent the country from imploding. (Handsome British faves such as David Oyelowo and Matthew Macfadyen also starred on it for quite some time.) It's mostly dramatic, but moments of levity shine through.
How to watch: Netflix
Spies of Warsaw
Here are four words to tickle your fancy: "French spy David Tennant." (Swoon!) Tennant, a secret Deuxième Bureau agent posing as an army officer, finds himself circling around Warsaw, Berlin, and Paris in the years leading up to World War II, becoming increasingly convinced that a devastating war is on the horizon. Too bad his French counterparts don't believe him — so he'll instead bed women and drink fine Cointreau until they finally come to their senses.
How to watch: Netflix, Amazon Prime, iTunes, Vudu
Spy
Consider this your classic accidental-spy sitcom in the same vein as NBC's Chuck. The protagonist, an affable but unmotivated computer store employee, decides to quit his job to pursue new opportunities to better support his son and divorced wife. But when he discovers the standard "computing exam" given to him at a job center was actually an exam for MI-5, the chaps at the secret agency are so chuffed that they decide to keep him around for spy activities. Realistic? Nah. But positively delightful? Obviously!
How to watch: Hulu
The Avengers
Before Robert Downey Jr. and Chris Evans paraded around the big screen with the superhero Avengers, this '60s series of the same name was a master class in sexy espionage — a suave secret agent travels the world to catch the most dangerous murderers and assassins, always with a badass woman by his side. Like Doctor Who, there are many rotations and eras in the show, and you'll find yourself choosing your favorite sidekick-and-spy combination real quick. (The answer, of course, is Patrick Macnee and Diana Rigg.)
How to watch: Amazon Prime, iTunes, Vudu