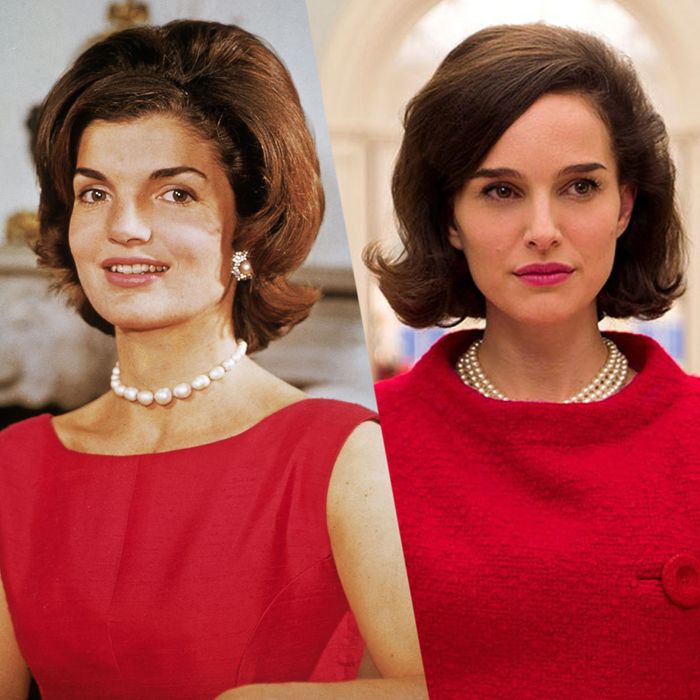 Photo: Getty Images/Fox Searchlight
The only White House more fun to fan-cast than Washington's current tribe of grifters — the Trump administration — is the Kennedy family. At their height, they were young and idyllic, their story dramatic, every player photo-ready. The Camelot myth has long fascinated Hollywood, most recently handing us Jackie, LBJ, and an episode of The Crown. This week, Chappaquiddick joins the fold: Jason Clarke stars as Ted Kennedy, revisiting the scandal surrounding the drowning of Mary Jo Kopechne after Kennedy's car wreck.
To mark the occasion, we had to ask: Of every Kennedy family dramatization, who played the best Jackie Kennedy? The best JFK Jr.? The best Ted? Our criteria: With one exception, everyone in contention actually played the Kennedy in a previous project. Some people who would normally make our short list don't appear here (shouldn't Tate Donovan have played a Kennedy by now? Ditto Garrett Hedlund, Charlie Hunnam, and Anne Hathaway opposite a Hollywood Chris?), and the Kennedys who've rarely shown up in movies and TV aren't eligible. Here's our roundup of a megacast of Kennedys, Camelot's all-stars.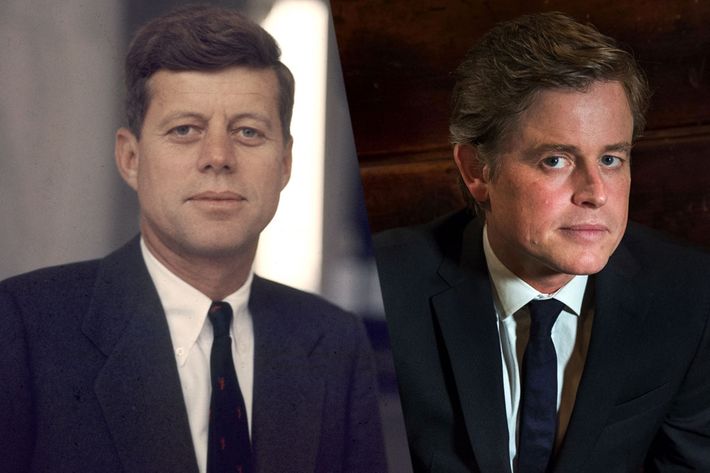 John F. Kennedy: Caspar Phillipson (Jackie)
Pablo Larraín's Jackie was the First Lady's story, rendering its JFK as an emotional memory. Phillipson appeared sparingly in Jackie — barely two scenes, and even in those he was mostly in the background — because that movie's idea of the president worked better as a spectral presence. In what screen time he could command, however, Phillipson mastered the Kennedy drawl and elegance. While cha-chaing with Jackie at a private ball, he played the loving, amused husband; in footage from their White House home tour, the confident politician. But most significantly, Caspar Phillipson looks exactly like JFK. The resemblance is so striking, it's fear-inspiring – like, should this really be allowed?
Honorable Mention: A$AP Rocky in the music video for Lana Del Rey's "National Anthem," because Rocky has a boyish, definitely-would-leave-you-on-read charm that his competitors lack.
Other contenders: Martin Sheen, Michael C. Hall, Jeffrey Donovan, Greg Kinnear, Rob Lowe, Bruce Greenwood.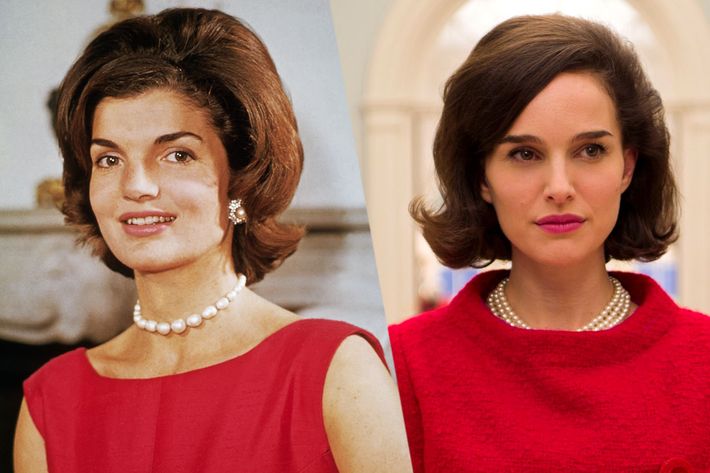 Jackie Kennedy: Natalie Portman (Jackie)
Expect me to use my last dying breath shaming anyone who overlooked Natalie Portman's Jackie performance! The way Jackie walked aimlessly around the White House private residence, as if she were decomposing before our very eyes; the way she got drunk and tried on all her ball gowns, throwing a last-minute funeral for her old life — it's called acting, look it up. Larraín's film makes the public record personal, showing Kennedy's assassination through the eyes of a young wife grieving her young husband. The movie's jolting, irregular time jumps emphasized a well-known history's horrific elements. Portman used the awkwardness of the transition of power — she stood through LBJ's rushed swearing-in in clothes soaked with her husband's blood — to show a woman grasping at loose ends of a life that had just been yanked from her. As First Lady, she's a true aesthete, a matriarch more skilled with TV cameras and media manipulation than Kris Jenner herself. As Mrs. Kennedy, she was playful and conspiratorial.
Other contenders: There really aren't any. Natalie Portman is our Jackie. But, sure fine: Minka Kelly, Katie Holmes, Ginnifer Goodwin.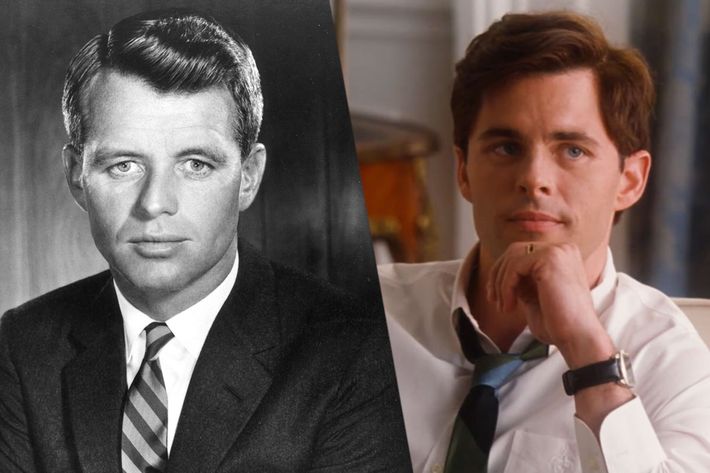 Robert F. Kennedy: James Marsden (Lee Daniels' The Butler)
Joshua 24:15: "As for me and my household, we will continue to support underrated actor James Marden." I went to Catholic school. That's in the Bible. Marsden's turn as JFK in Lee Daniels' The Butler felt more like an extended audition to play Bobby Kennedy, not John. Marsden's performance nails the general Kennedy luster: boyish, earnest, coastal, and "all-American." He seems naturally refined, but still personably loose. He looks more like RFK though, and his charm is a more of a genuine match. Imagine if he were the Bobby Kennedy consumed with guilt, pacing around a White House that feels cold and lifeless in Jackie, consoling Natalie Portman? A bonus: Marsden's Boston accent isn't perfect, but it's workable.
Honorable Mention: Did you know that Casey Affleck once played a teeny RFK in a 1990 mini-series? Because that happened.
Additional Honorable Mention That's Actually Just a Shady Aside: *Clears throat roughly* Peter Sarsgaard as RFK in Jackie was … a decision.
Other contenders: Martin Sheen (again), Barry Pepper, Zeljko Ivanek, River Phoenix, Linus Roache.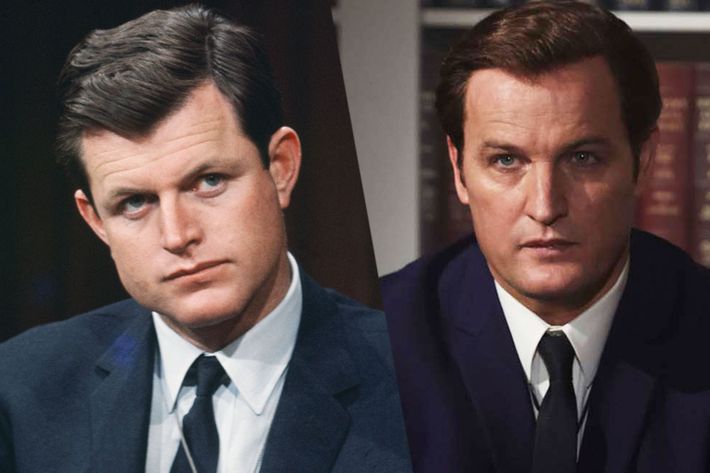 Ted Kennedy: Jason Clarke (Chappaquiddick)
His hairline isn't as pronounced, and his jawline isn't as chiseled, but Jason Clarke is the finest Ted Kennedy. (Also, at a certain point, it's just a choice between him and Matthew Perry). Clarke is a capable actor, and his Kennedy in Chappaquiddick is clouded with guilt and ambition.
Other contenders: Matthew Perry, Kevin Hare, Matt Letscher.
John F. Kennedy Jr.: Andy Buckley (A Woman Named Jackie)
The pickings are slim when it comes to actors who've played John F. Kennedy Jr. Andy Buckley — who played the Kennedy son in a 1991 mini-series — is the best we've got. He's tall and handsome, and also permanently The Office's David Wallace (not exactly a bad thing). Charm is the key component here, and Buckley charts higher than any of the other contenders.
Honorable mention: If only JFK Jr. himself were still here — he made a swoon-worthy cameo on an episode of Murphy Brown.
Other contenders: Jeffrey Pierce, Brett Donahue.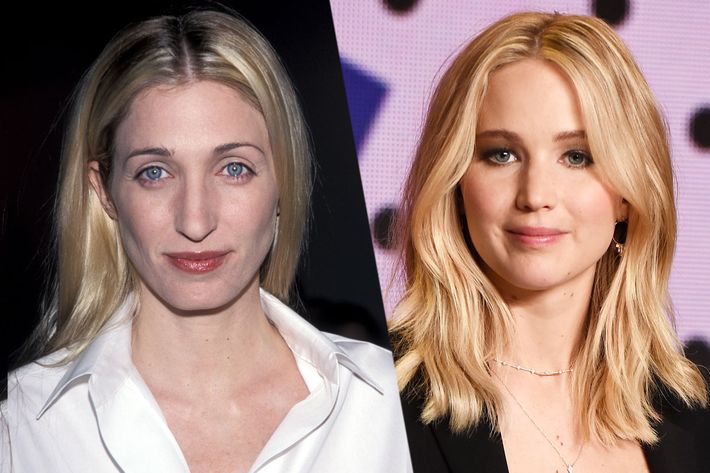 Carolyn Bessette Kennedy: Jennifer Lawrence (we made this one up)
Realistically, in 2018, this part would definitely go to stealth queen of awards season, Margot Robbie. Otherwise, this is a role as Goop-y as they come — Caroline was casually elegant, voted her high school's "ultimate beautiful person." But, by some accounts, that glow was conjured and perfected. Rosamund Pike based her exacting, impenetrable Gone Girl performance on Bessette Kennedy. So why not have little fun: How about Jennifer Lawrence? Imagine J.Law, lacking in natural blue-blood status, constructing the most radiant version of herself, and then marrying it into the nation's most dramatic family. (Rumor has it Carolyn was at odds with Caroline: "Caroline had criticized the bride for being late to her own wedding and for insisting on wearing high heels as she trudged down the beach to the church," reported Vanity Fair). Carolyn was especially sensitive to the paparazzi fame. What's more, after Red Sparrow and Mother!, J.Law needs a W.
Other contenders: Emma Stone, Katherine Waterston, Claire Danes, Michelle Williams, (wild card) Mélanie Laurent!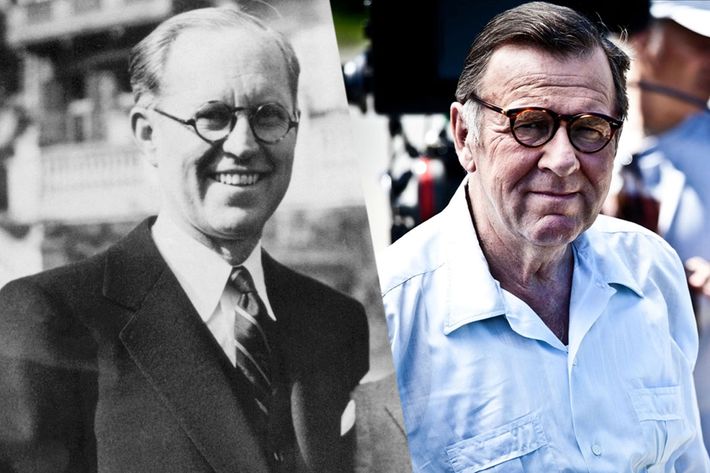 Joseph P. Kennedy: Tom Wilkinson (The Kennedys)
Tom Wilkinson is one of our best "Men Who Yell Demands While Being Generally Intimidating." Is there a more important quality in the Kennedy family patriarch? Wilkinson excels in moments of turmoil or stress. He's not great at the Boston accent or at the Kennedy idealism, but you saw him in Michael Clayton, dammit! You know this man can throw a tantrum!
Other contenders: Matt Letscher, Bruce Dern.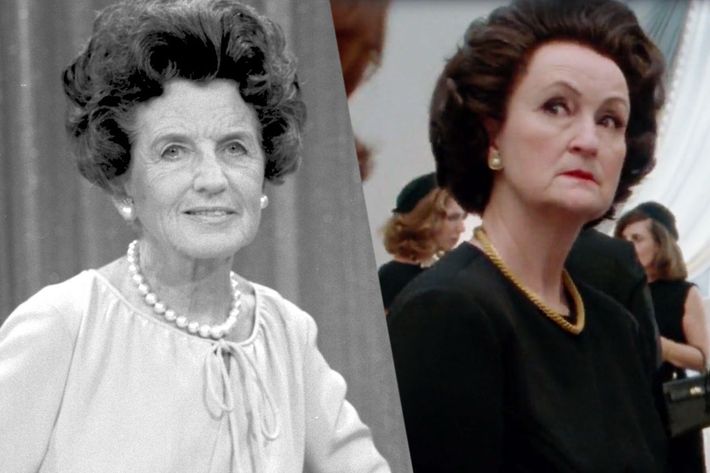 Rose Fitzgerald Kennedy: Georgie Glen (Jackie)
Jackie — the second-most-underrated awards-season movie of 2016 — strikes again! Georgie Glen's Rose was the apotheosis of the stern mother-in-law. (She wanted a president to be buried in Brookline, Massachusetts. Brookline!) Her performance was tight-lipped and almost oppressively reasonable. Since we can't get Lesley Manville — if only! — Georgie Glen's stern glare will suffice.
Other contenders: Diana Hardcastle, Annette O'Toole, Geraldine Fitzgerald.