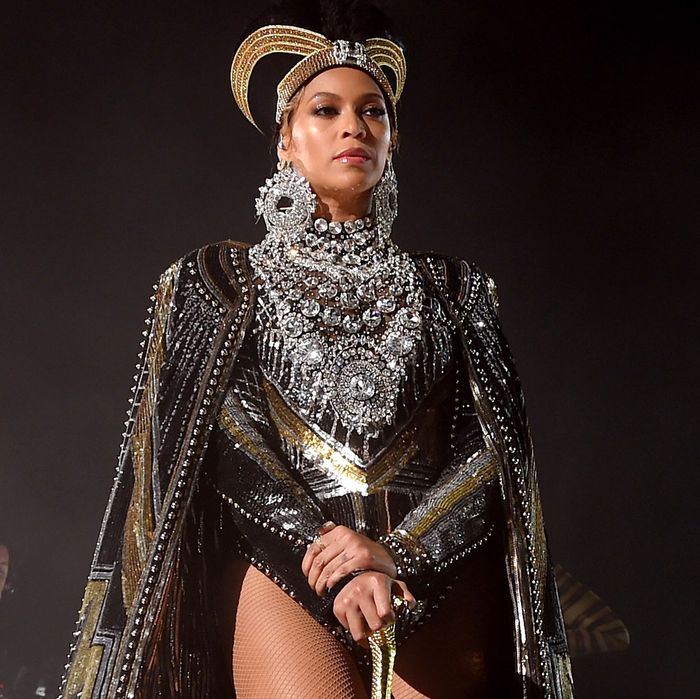 Photo: Larry Busacca/Getty Images for Coachella
This post was originally published following Beyoncé's groundbreaking 2018 Coachella-headlining performance. We are revisiting it again today in honor of Beychella coming to Netflix a year later in her new feature film, Homecoming.
"When I was brought up, I was taught in American history books that Africa had no history, and that neither had I. I was a savage about whom the least said the better, who had been saved by Europe, and who had been brought to America." —James Baldwin
"My job is to somehow make them curious enough, or persuade them, by hook or crook, to get more aware of themselves, and where they came from, and what they are into, and what is already there, and to bring it out." —Nina Simone
"Citizens of the universe, recording angels, we have returned to claim the pyramids." —George Clinton
It was apparent that Beyoncé was playing for keeps in her Saturday Coachella set just seconds in, when she arrived, bejeweled in an Egyptian queen's garb, to lead a New Orleans–style second line down the walkway to the festival's main stage, which was outfitted with a seating rig shaped like university stadium bleachers and a lighting rig shaped like a pyramid, while a marching band gave Rebirth Brass Band's "Do Watcha Wanna" a maudlin, ragtime twist. Had she simply continued marching past the stage to a jet and flown home, we would still have been left with a powerful statement about black unity.
Before a single note was sung, Beyoncé's entrance threaded the majesty of ancient African royalty through bittersweet bayou jazz funerals, '70s funk's Afrofuturism, modern-day trap insouciance, and a dab of gospel by way of her band's tease of the new Knowles-Carter classic "Family Feud," whose sample was lifted from the Clark Sisters' devotional warm-up "Ha Ya (Eternal Life)." "Beychella" illustrated through dance, dress, and brash musicology that pride and perseverance are the through line adjoining the last few thousands of years of black history. We never know how or if we're going to reach the future, but we get there. That's the story of Alvin Ailey's Revelations, of Marlon Riggs's Tongues Untied, of Parliament's Mothership Connection, of Julie Dash's Daughters of the Dust, of Lemonade, of Moonlight, and of Black Panther. We might hit an impasse, but we're going to make it. Black life is rough. Black art is the salve.
In a nearly two-hour set that called upon what looked to be hundreds of players and dancers, Beyoncé celebrated black beauty through a stage as deliberately crowded with black faces as Kanye West's fiery, all-black Brit Awards spectacle. She made her own show at the Super Bowl, which is believed to be a musician's biggest stage, look small. She brought up her sister, husband, and childhood friends. For extra credit, she recast her formidable catalogue of pop, rap, and R&B hits in the spirit, swagger, and iconography of historically black colleges and universities' vibrant halftime shows. Miles of brass gave the inspirational Lemonade highlight "Freedom" extra heft and teased melodic intricacies out of Dangerously in Love's "Me, Myself, and I" that were frankly muffled on the original record. The band and dancers bested, crushed, and deconstructed the singer's studio recordings, and made a strong case for more recent songs that drew divided reactions outside of the fandom. Extra players elevated the twerk jam "7/11," the DJ Khaled collaboration "Top Off," and the J Balvin collaboration "Mi Gente" to new heights.
Elsewhere, the set list was a death-defying mix of big hits, deep cuts, loosies, surprising covers, and meaningful shards of black history. Early in the evening, Bey sang "Lift Every Voice and Sing," then broke into "Formation." "Don't Hurt Yourself" cut in notes from Led Zeppelin's "Kashmir" and Malcolm X's fierce defense of black womanhood. Lemonade's "Sorry" hit a grinding halt at "Suck on my balls!" and launched into a skit perched halfway between a Kappa probate and a scene out of Spike Lee's '80s HBCU musical School Daze. "Drunk in Love" paused to have two dancers do a romantic routine to Nina Simone's "Lilac Wine," then resumed the first song, then broke into an impassioned "Swag Surf" in time for the infamous "surfboard!" line. "Bow Down/I Been On" staged a showdown between shirtless, krumping male dancers in shiny black pants edging closer and closer toward the camera, like a rapper playing tricks with Hype Williams's fish-eye lens in the '90s.
"Beychella" toyed with time like it toyed with music. Costume changes were masked in style; as Bey made it down from the crane where she sang "Drunk in Love" above the crowd, her "pledges" led a spirited sing-along to 4's "Party" with a breathtaking baton toss and elite moves from dancers Laurent and Larry Bourgeois, better known to the hive as "Les Twins." Any show that can keep the energy sky-high during a necessary break between songs is the stuff of legend. (The disorienting smoke and moving lights of Kanye West's groundbreaking Saint Pablo tour, which arguably set some technological precedents for this show as well as recent Kendrick Lamar, Weeknd, and Drake tours, were achieved through some awkward mid-show silence. Post Malone, who headlined Coachella's Sahara stage Saturday night, fumbled for a whole minute moving a stool and an acoustic guitar and lighting a cigarette.)
Beyoncé is a performer who tries to play not only to the backs of the rooms she's singing in, but to audiences at home, and, given the time, to the whole of the black diaspora. Her Coachella set was a stunningly balanced tribute to several permutations of blackness. "Baby Boy" cut in Dawn Penn's "You Don't Love Me (No, No, No)" and Sister Nancy's "Bam Bam." "Mi Gente" shouted out Puerto Rico. "Deja Vu" took notes from Afrobeat legend Fela Kuti's "Zombie." Nearly every region of American hip-hop got love, from nods to West Coast stars Kendrick Lamar and Tupac to healthy servings of Jay-Z hits for New York fans and twerk sessions to Southern classics like C-Murda's "Down for My Niggas." Beychella — as a love letter to singing, chanting, rapping, twerking, stepping, wining, popping, locking, krumping, and to black bodies of every size and pigmentation — made a case for the timelessness and resilience of black artistic expression.
It is a moment we will revisit for the rest of our lives, like Michael Jordan's flu game, Michael Jackson's 1993 Super Bowl statue act, or Sidney Poitier's "Mr. Tibbs" speech from In the Heat of the Night. The Coachella show's great care in making everyone from the hood to the HBCUs to the islands feel represented and appreciated, and the gobsmacking success in pulling it off, is testament to Beyoncé's place in the lineage of black masters of the arts tasked with holding a mirror to the people and saying, "No matter what you've been told, you're beautiful. You matter." The only feeling more exciting than watching it again right now is the sense that she's still out there somewhere, plotting even bigger moves.
An earlier version of this story said that Beyonce entered the stage to Parliament's "Give Up the Funk (Tear the Roof Off the Sucker)", it was actually Rebirth Brass Band's "Do Watcha Wanna."