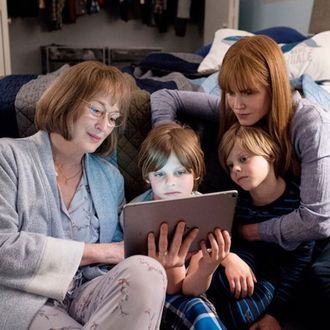 Streep, at far left.
Photo: Instagram/nicolekidman
Well, this finally settles the debate of which Meryl Streep we're going to get in Big Little Lies season two: Prime with a splash of The Hours! (Sorry, flashy Devil Wears Prada stans.) Straight from Nicole Kidman's Instagram account, we've been given the first image of Streep as Mary Louis Wright in the HBO series, where she'll be playing Perry's mother, who comes to Monterey "concerned for the well-being of her grandchildren" — and also to "search for answers" about his death. That search, seemingly, begins with some quality snuggle time with her two grandsons and newly widowed daughter-in-law, or they could just be streaming Doc McStuffins. Who can say for sure?
Previously, Reese Witherspoon and Laura Dern indulged us with an season-two photo from the gals' favorite dockside coffee shop. But that didn't have Streep touching an iPad, so let's call this a wash.