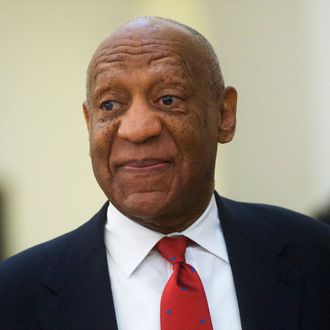 Bill Cosby.
Photo: Mark Makela/Getty Images
Bill Cosby had no reaction when the guilty verdict was announced Thursday during the 80-year-old's felony sexual-assault trial outside of Philadelphia, but the comedian erupted during a subsequent discussion on whether he was a flight risk.
Initially, the prosecution team was concerned about Cosby having access to a private plane. Cosby denied having a private plane to the judge. Specifically, he said, "I don't have a private plane, you asshole!"
A more jubilant reaction came earlier, when shortly after the verdict was read several women ran out of the main courtroom, crying and embracing each other in celebration.
Andrea Constand, the woman at the center of this case who accused Cosby of drugging and raping her at his home in 2004, left the courtroom smiling, with her arms around supporters. She's expected to deliver a press conference Thursday afternoon.
The Montgomery County Courthouse is buzzing with speculation about whether the comedian will face jail time — up to ten years on each count.
District Attorney Kevin Steele already asked the judge to revoke Cosby's bail and send him to jail immediately. Cosby, normally silent, erupted in obscenities aimed at Steele, saying that he's "sick of him."
Under judge's orders, Cosby was sent home on house arrest, likely with a monitoring device, until sentencing, the date of which has yet to be announced.
Cosby and his legal team did not react to questions by reporters about whether he was prepared to do jail time for his crimes. He's expected to stay in his Cheltenham, Pennsylvania, estate until he is either sentenced or his legal team files an appeal.
Security was tighter than ever at the courthouse as the sheriff's department led Cosby, the former TV star turned felon, to his private car, with his legal team and publicist, Andrew Wyatt, by his side.
Throughout the trial, Wyatt has been very vocal about the case, even going so far as to interrupt attorney Gloria Allred during a press conference, and often taking time out to criticize each of the accusers who testified on a daily basis. But on Thursday, he was surprisingly silent.