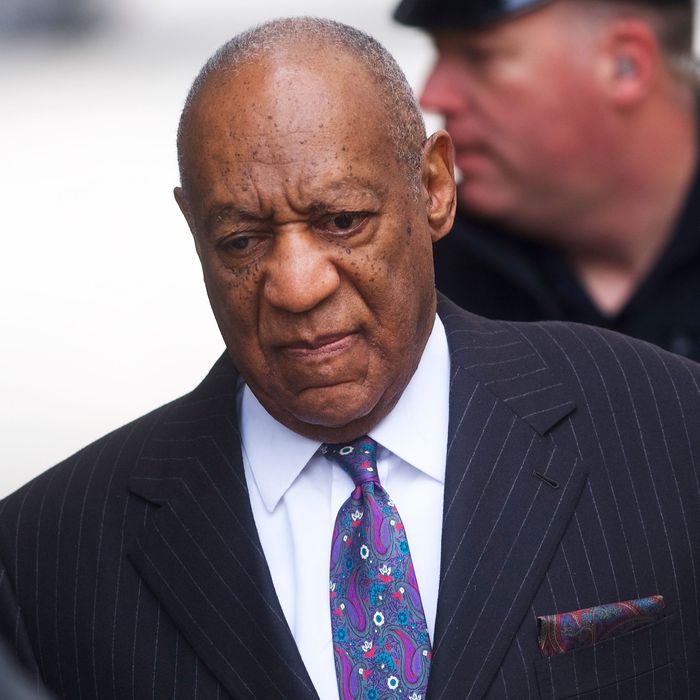 Bill Cosby.
Photo: Mark Makela/Getty Images
Opening statements in the anticipated felony sexual-assault retrial of Bill Cosby were delayed significantly Monday morning at the Montgomery County Courthouse outside Philadelphia after Judge Steven O'Neill announced that he would be reviewing a motion by the defense to replace a juror.
Late on Friday, Cosby's lawyers filed a motion to strike Juror 11, a white male, from serving because of comments he is believed to have made last week. "I just think he's guilty," he reportedly said, "so can we all be done and get out of here."
A little before 10 a.m. Monday the judge accompanied prosecutors and the defense team behind closed doors in a meeting that lasted more than three hours to discuss the motion. The judge told the court that he needs "to make sure we can continue with a fair and impartial trial."
It was well after 2 p.m. when it was finally announced that all jurors, including Juror 11, would be sworn in. All told, ten of the jurors are white and two are black. There are also six alternates for the retrial.
The pool of jurors come from Montgomery County, a district that is about 75 percent white, almost 9 percent black and 8 percent Asian, according to Data USA. It's the third-most-populated county in the state with an average income of about $83,000, and a place that Cosby has called home for many years. The jury in the comedian's first trial was selected from outside of Pittsburgh over concerns that Cosby's hometown notoriety could unfairly prejudice the jurors.
During the arduous jury-selection process last week, potential jurors were asked a litany of questions about what they know about the comedian and the allegations against him, and whether they followed the first trial. They were also asked about what they thought about #MeToo, a movement that has arguably had significant influence on the popular culture surrounding sexual-assault allegations as they relate to money, power, and celebrity.
Victoria Valentino, a longtime accuser of Cosby's who claims the comedian drugged and raped her in Los Angeles in 1969, predicts that the increased awareness about sexual abuse could have an impact on the new trial in a way that it didn't the first time around. "I think more women are coming forward," Valentino said at the courthouse during a lunch break. The first trial happened just over a year ago, before last fall's outpouring of allegations against men like Harvey Weinstein, Louis C.K., and Matt Lauer.
Cosby, 80, is charged with three counts of felony sexual assault for allegedly drugging and sexually abusing Andrea Constand, a former Temple University employee, in his suburban Philadelphia home in 2004. His first trial ended in a hung jury in June of last year.
The comedian, who has been publicly accused by almost 60 women of sexual assault over more than four decades, has denied all charges. If he's convicted of criminal charges during the retrial he could face up to a decade in prison.
Cosby also faces two civil cases in California this summer, including a defamation lawsuit from Janice Dickinson, after Cosby called her a liar for going public about her sexual-assault allegations against him. Dickinson is one of five so-called "prior bad act" witnesses who will be taking the stand this month. Dickinson claims that Cosby drugged and raped her in a Lake Tahoe hotel room in the early 1980s.