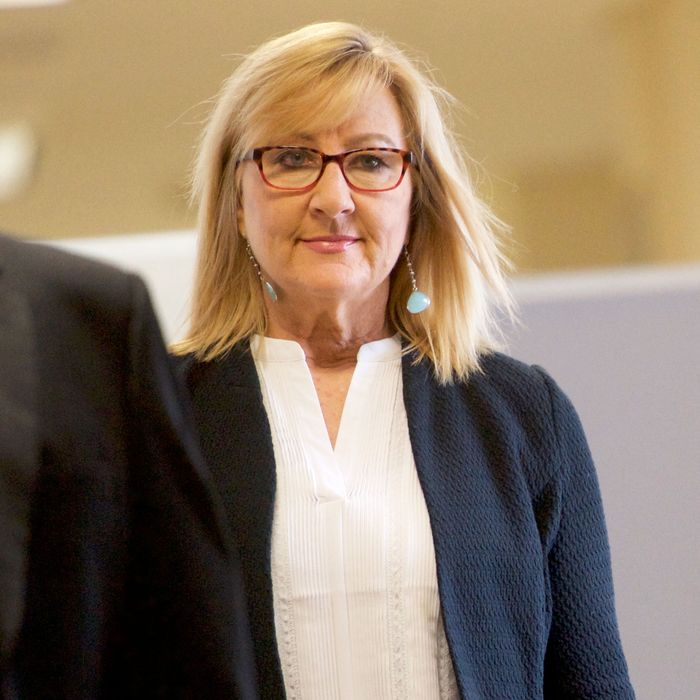 Janice Baker-Kinney.
Photo: Mark Makela/Getty Images
She was a bartender at the Harrah's Hotel & Casino in Reno, Nevada, when she first met Bill Cosby in 1982. Over the course of two days of testimony, Janice Baker-Kinney, the third accuser to be called as a witness in Cosby's felony sexual-assault retrial, painstakingly recounted her story of a foggy night involving drugs and rape.
Baker-Kinney, who now works behind the scenes in TV news in California, was 24 when a co-worker invited her to a pizza party Cosby was hosting at a private home in Reno. The home, which was often used to house headliners performing at the casino, was a well-known party destination. Baker-Kinney remembers meeting many famous performers there, including Wayne Newton, who once hosted a bash at the house for 30 or more people, many of them employees. She was well-acquainted with the party scene.
"When we got there," she said, "I thought, it's just us, not a real party." Baker-Kinney said that while she had been expecting at least a dozen or more people, it was just her friend Judy and Cosby in attendance.
She was planning on staying just long enough to have a slice of pizza and a beer, she said, until Cosby offered her little pills that she remembered being quaaludes. She had experimented with the drug when she lived in Colorado.
"I took one from him," she said. "And he put a second one in my hand."
Cosby allegedly told the young woman to take both pills, saying, "It'll be okay."
She told the court that she had no indication that the pills were meant to be anything other than a mood enhancer for the party. "Even though I didn't know him," she said. "I trusted him."
Baker-Kinney said she took the pills and sat down to play a game of Backgammon, a favorite of the comedian's. Before long she said she was "looking down at the board and getting dizzy … my head was spinning." She distinctly remembers saying, "This game isn't fair anymore." Cosby asked why and she responded, "Because I can't see the board," before face-planting into the game and passing out.
The next thing Baker-Kinney recalled, she told the court, was being on the couch. "My shirt was unbuttoned and pants were undone," she said.
The testimony became increasingly graphic as Baker-Kinney recounted how Cosby sat next to her on the couch and put his hand inside her open blouse. She said she felt dizzy and was in no condition to leave or say much of anything when he helped her upstairs into a bedroom, where she reportedly passed out.
Baker-Kinney has no idea how much time had passed when she woke up naked in bed next to Cosby. He was touching her belly and genital area when she came to. "I was ashamed," she told the jury. Baker-Kinney said she blamed herself for taking the pills and everything that subsequently happened that day for 30 years.
The defense, led by Tom Mesereau, latched onto the fact that Baker-Kinney had taken the pills voluntarily. He also questioned why Baker-Kinney waited three decades to allege that Cosby had raped her. She said she had "buried" the incident, and that she told her husband ten years before she went public; he was the first person who told her that she was raped. "Well, I took drugs," she kept saying.
"So for 30 years you didn't suspect someone had sexually assaulted you?" Mesereau pointedly asked.
"For 30 years I didn't think about it," said Baker-Kinney after a pause. "I didn't want to think about it." She said when women started coming forward and articles were being published alleging similar assaults against Cosby, she didn't even want to read them. "I didn't want to hear about anyone else who might have said similar things," she said.
Cosby, who is charged with felony sexual assault for allegedly drugging and assaulting Andrea Constand in his suburban Philadelphia home in 2004, could face a decade of prison time for each count if found guilty. The women taking the stand for the prosecution — five in total, plus Constand — are being called as prior-bad-act witnesses. For the past three days they have been telling their traumatic stories to a rapt courtroom.
In an attempt to discredit Baker-Kinney, the defense asked her about the proposed $100 million fund that attorney Gloria Allred, who's representing many of Cosby's accusers, including Baker-Kinney, would like to see established for the women speaking out against Cosby. As during both Chelan Lasha and Heidi Thomas's testimonies, the defense suggested that perhaps Baker-Kinney was looking for a big payday by coming forward with her allegations.
It's an approach that Mesereau first laid out during his opening statements earlier this week, accusing Constand and other women of wanting to fleece the 80-year-old entertainer in the interest of fame, money, or a combination of both. The attorney, who also defended Michael Jackson in a 2005 child-molestation trial, called Constand a "gold digger."
It will be interesting if this same strategy sticks when model Janice Dickinson takes the stand, possibly as early as Thursday. By all accounts, she's someone who already has access to both fame and money. In 2014, Dickinson publicly accused Cosby of drugging and raping her in Lake Tahoe in the early 1980s. She's suing the comedian in civil court in Los Angeles for saying she was lying about the allegations.
Cosby has denied all allegations, and he has called his relationship with Constand consensual.