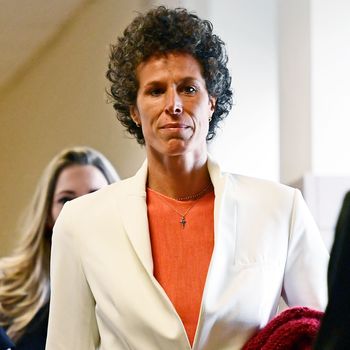 Andrea Constand.
Photo: Pool/Getty Images
Friday morning at Pennsylvania's Montgomery County Courthouse, Andrea Constand, the former Temple University sports director at the center of the commonwealth's felony sexual-assault case against Bill Cosby, took the stand. It's the second time within the year that Constand, one of almost 60 women accusing Cosby of sexual misconduct, has been able to confront the 80-year-old comedian since the first trial ended in a hung jury last June.
Constand's much-anticipated testimony follows several harrowing days of powerful accounts from four other accusers, all of whom paint "America's Dad" as a calculating sexual predator. The two met when Constand was working at Temple University, Cosby's alma mater.
A year after the first trial, a confident Constand walked into the courtroom and faced questions from both the prosecution and defense through the morning. In her testimony, the former basketball player recounted the night in 2004 when she was invited to Cosby's suburban Philadelphia home, a night that would not only change the course of her own life, but would also inspire a movement of women coming forward against the entertainer.
Wearing a bright white jacket and sporting much shorter hair, Constand told the jury that Cosby gave her a pill he said would ease her allergies. She said she trusted Cosby and thought of him as a mentor, so she took the pill. It wasn't until she began feeling groggy that she knew something was wrong. She then recalled being touched by the comedian, who was then in his late 60s.
Her story echoes that of each woman who took the stand this week, all of whom included the alleged use of pills and booze, and ended in cloudy recollections about rape.
When Kristen Feden, a prosecutor for the DA's Office asked, "Ms. Constand, why are you here?" she responded, "For justice."
Constand, 45, said that at one point during the evening in question, Cosby inserted his fingers into her vagina and placed her hand on his penis. It was the exact same testimony she gave in the first trial. And much like the four other women who testified this week, Constand said that she was unable to stop the alleged assault, that her body felt paralyzed.
Feden asked Constand, "Were you able to verbalize and tell him to stop?"
Constand replied, "No. I wanted it to stop. I couldn't say anything. I was trying to get my hands to move, my legs to move and the message just wasn't getting there … I couldn't fight him off."
The biggest difference between the four other women accusing Cosby of rape and Constand is that Constand received $3.4 million in settlement money from Cosby. The retrial this week was actually the first time the settlement and sum was officially made public, and the defense has gleefully been using it to try and discredit Constand as being "greedy" and a "gold digger," as defense attorney Tom Mesereau claimed in opening statements.
Overall, the defense has been working hard to paint Cosby's chief accuser, the woman on whom the entire retrial really rests, as a desperate person who has manufactured falsehoods about an old and lonely man in order to make money and gain fame. Mesereau has said that while Cosby was "foolish" to have a relationship with a much younger woman, especially as a married man, it does not make him a criminal. Constand maintains that there was nothing consensual about the comedian molesting her in a semi-unconscious state. She told the jury on Friday, "I was really humiliated. I was in shock. And I was really confused."
It's expected that during Constand's cross-examination that the defense will set her up to discuss one of their key witnesses, Marguerite Jackson, a former co-worker of Constand's at Temple University. Jackson alleges that Constand told her she wanted to accuse a celebrity of rape so she could get a big payday. And while Jackson was not permitted to testify in the first trial after Constand said she did not know her personally, she will be testifying for the defense in hopes of undermining the prosecution's entire case.
The defense is also likely to challenge Constand's phone records, which show calls to Cosby after the alleged assault.
Before Constand took the stand on Friday, Cosby's publicist Andrew Wyatt had some not-so-kind words for both the prosecution and Constand on the steps of the courthouse while the comedian stood by his side.
"Our new defense team has had the opportunity to thoroughly research her testimony and statements from last year, and will point to even more inconsistencies," he said. He predicted that, when the jury hears Constand's testimony in full, they will ultimately find Cosby not guilty of these crimes. That would assume, of course, that the so-called prior-bad-act witnesses and their very memorable testimonies will not have any impact whatsoever on the jury, which is tough to tell in the era of #MeToo and #TimesUp. The climate in which the case is being retried today is not the same one as last year. In fact, most if not all of the jurors admitted during the selection process to knowing at least something about #MeToo and the allegations against Cosby.
Cosby has denied all allegations against him and has said that his relationship with Constand was consensual.