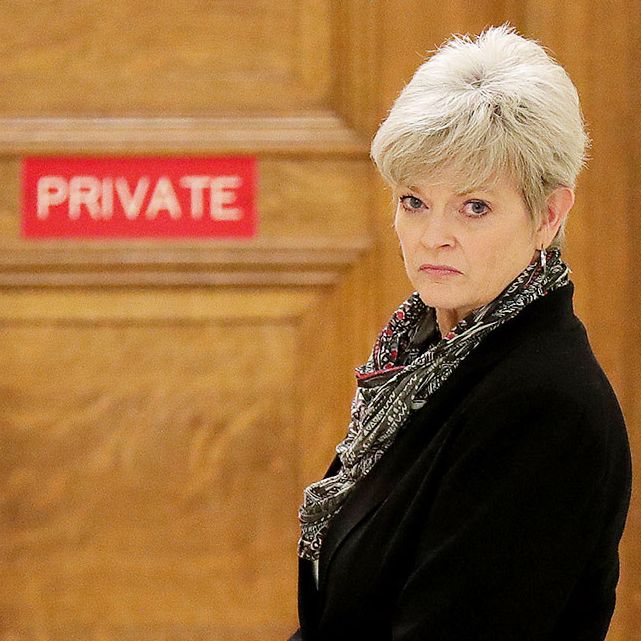 Heidi Thomas.
Photo: Pool/Getty Images
The first of six witnesses against Bill Cosby took the stand at the Montgomery County Courthouse outside of Philadelphia during the famous comedian's felony sexual-assault retrial. Tuesday and again Wednesday morning, Heidi Thomas, a teacher from Colorado, recounted in graphic detail what allegedly happened when she met Cosby as an aspiring actress in 1984.
The petite blonde, who shared her allegations in A&E's one-hour special, Cosby: The Women Speak, three years ago, was 24 years old when she first met Cosby in Reno, Nevada. The comedian, who was performing at Harrah's Hotel and Casino, was staying at a private home when Thomas, who went by her stage name Heidi Johnson at the time, was called there for an audition.
"[Cosby] said he was looking forward to working with me … that I had been highly recommended," Thomas told the court. When she arrived to the ranch-style home in the gambling mecca she was greeted personally by Cosby at the door.
During questioning by prosecutors, Thomas said that she was surprised to find herself alone with Cosby, who encouraged her to have a drink. Up until she was selected for what she described as a special one-on-one mentoring opportunity with the entertainer, Thomas said she had never actually been intoxicated. But Cosby — who called himself "Mr. C" — said the young actress and model needed to understand the feeling of being drunk. He reportedly gave her a glass of white wine and asked her to read a monologue in which the character was drunk. Thomas said she blacked out soon after. She only remembered bits and pieces from the next four days.
"I remember waking up in bed," she said, beside Cosby who was naked and forcing himself into her mouth. Thomas revealed that the former TV dad repeatedly referred to himself in the third person during the alleged rape, telling her that he (her "friend" or "Mr. C") was going to "come again."
"I remember feeling sick," she said, asking, "How did I get here?"
For more than 30 years, Thomas said she kept her encounter with Cosby secret, partly because she didn't think anyone would believe her and because the meeting was originally arranged by the modeling agency on which she relied for work. It was only until other women began telling their stories several years ago that the longtime music teacher decided to go public. Seeing him in the courtroom this week was the first time Thomas and Cosby have come face to face since the 1980s. Cosby didn't react to her testimony, mostly slumping in his chair, touching his face, folding his hands or whispering to his legal team.
Defense attorney Kathleen Bliss continued her cross-examination of Thomas this morning, focusing for several hours on the subsequent media attention Thomas has received since going public with her accusations.
"You had a lot of attention," Bliss said to Thomas on the stand.
"I'm sure that's what many people would say," Thomas responded. As the exchange got heated, Thomas interjected, "I want to see a serial rapist convicted," before the judge intervened.
Thomas, who was both confident and poised on the stand, didn't make it easy for the defense over the past two days. Bliss, who several times was admonished by the judge for overstepping, fell short in proving that Thomas had an ulterior motive for framing Cosby for these alleged crimes.
The defense took a leap of faith by pushing Thomas so hard. Not only is the aggressive strategy a radical departure from the first trial, such harsh questioning can sometimes backfire and alienate a jury who may be sympathetic to a witness who claims to be a victim of rape. But if Thomas Mesereau's opening statements yesterday were any sign of what's to come, we can be confident that the defense will be seeking to vigorously discredit each witness the prosecution calls to the stand.
According to Stuart Slotnick, a criminal defense attorney at Buchanan Ingersoll & Rooney in Philadelphia, this could actually be a very smart strategy for Cosby's legal team.
"Juries expect defense attorneys to go after witnesses," he explained. "Although an attorney runs the risk of alienating a jury by crossing the line." Ultimately, he said a defense attorney should adjust his or her tone and approach to the presentation of the witness. "Juries do not like seeing innocent and weak victims being attacked," he said, "but don't mind it when the tough cross-examination reveals holes in the witnesses' story."
In this specific case, Slotnick said, "The jury may relate to and believe that the complainant in this case wanted to get paid to keep quiet her relationship with Bill Cosby because he was a much older married man who did not want to be embarrassed or have problems with his wife."
Gloria Allred, attorney for several of Cosby's accusers, three of whom are being called as witnesses in the retrial, described the defense's strategy as "a smear campaign."
Cosby, now 80 years old, faces three felony sexual-assault charges of drugging and sexually assaulting Andrea Constand in his suburban Philadelphia home in 2004. Constand will take the stand during the retrial, along with at least four more prior-bad-act witnesses, including former model Janice Dickinson. She claims that Cosby drugged and raped her in Lake Tahoe in the early 1980s.
All told, almost 60 women have accused Cosby of rape over the past four decades. He has denied all allegations.
Here's a clip of Thomas talking about Cosby: