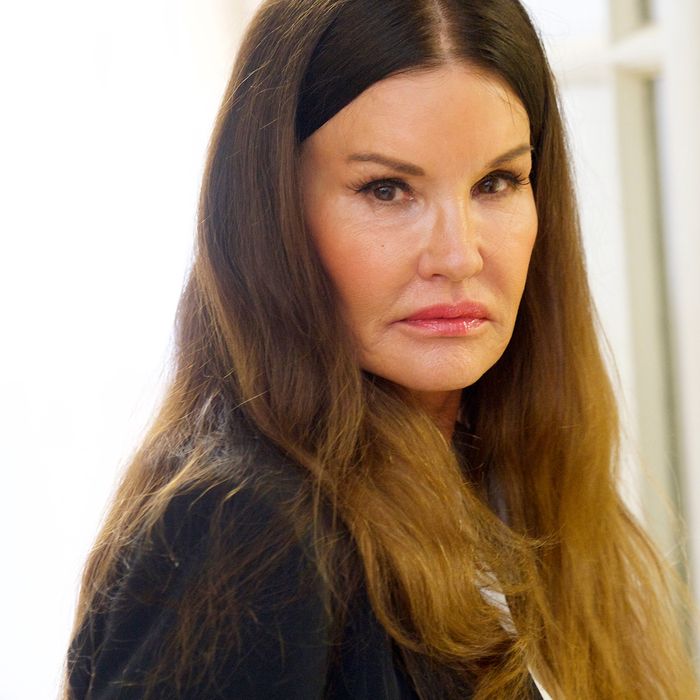 Janice Dickinson.
Photo: Getty Images
Model Janice Dickinson looked positively subdued in a white blouse and dark blazer as she walked down the hallway of the Montgomery County Courthouse this afternoon. On this, the fourth day of the felony sexual-assault retrial of Bill Cosby, the former model, 63, took the stand for the first time.
Cosby, 80, is accused of drugging and sexually assaulting Andrea Constand in his suburban Philadelphia home in 2004. For the last several days, the jury has heard scathing testimony from several women who have accused the famous comedian of drugging and raping them in alleged incidents that span more than three decades.
Dickinson, who's been one of the most eagerly awaited prosecution witnesses, did not disappoint. She wasted no time dipping into "self-deprecating jokes about her refusal to fly economy" before turning the tables on the defendant and launching into a made-for-TV recap of what she says happened in a Lake Tahoe hotel room in 1982.
"He smelled like cigars and espresso and his body odor," Dickinson told the jury. "Here was America's dad on top of me, and a happily married man of five children, and I just remember thinking how wrong it was."
Dickinson is represented by Lisa Bloom, the attorney daughter of Gloria Allred, who coincidentally represents many of Cosby's accusers. On the stand, she recounted how the entertainer first reached out to her after her not-so-secret stint in rehab. Dickinson, a longtime darling of the tabloids, has been candid about her struggles with addiction over the years, even having appeared on the fourth season of Celebrity Rehab With Dr. Drew. She said she visited Cosby to talk about a possible job and maybe get some tips on a fledgling singing career.
During dinner, Dickinson said Cosby gave her a glass of red wine and a pill intended to soothe her menstrual cramps. And that's when things went very wrong, she said.
Based on the testimony, it's unclear when Dickinson lost consciousness, but she said at one point she passed out when she felt Cosby entering her, and she only woke up the next morning. She said she knew she had been assaulted, that her vagina physically hurt.
During an interview in 2014, she told ET:
The last thing I remember was Bill Cosby in a patchwork robe, dropping his robe and getting on top of me. And I remember a lot of pain. The next morning waking up with my pajamas off and there was semen between my legs.
When the defense tried to take apart Dickinson's foggy recollections of the alleged rape piece by piece, as well as her failing to mention the rape in her 2002 memoir, Dickinson took the hits like a prize fighter. She has long maintained that she wanted to come forward to tell the truth in her book, but was warned against it by publishers, and that she ultimately kept her painful secret for 32 years.
Since going public, however, Dickinson has been candid about the alleged rape on social media and in interviews, especially as more women have come forward with similar claims about Cosby. (Almost 60 women to date have said that the comedian drugged and/or raped them.) Dickinson says she believes them all.
But witnesses keeping quiet about alleged assaults for so many years has become a laser focus of the defense. In his cross-examination of accuser Janice Baker-Kinney, who said she was also drugged and raped by Cosby in the early 1980s, lead defense counsel Tom Mesereau challenged why an accuser would ever wait so many decades to come forward. He has challenged every witness so far with being obsessed with money and fame, though Dickinson has enough of both to seem to refute both claims in spades.
To her credit, Dickinson isn't easily ruffled. She's tough and often quite sarcastic. She can put on Hollywood airs like the flying-coach comment, which has drawn mixed reviews. But it also makes it tough for Mesereau to paint her as a gold digger in search of fame and fortune, especially when she tweets about hanging out at Chateau Marmont with Katy Perry.
Dickinson actually has a lot invested in Cosby's criminal retrial. She's also going after Cosby in an L.A. courthouse in a civil case. Cosby lost his most recent appeal in March, which means the case is expected to head to court as early as this summer.
Cosby has denied all allegations against him.
The prosecution, meanwhile, seems to be banking its own case on what these five accusers have to say about Cosby collectively, basically how their shocking stories compare and set a tone that completely contradicts the image we may have of Cosby as the sweet and funny Dr. Huxtable on his eponymous sitcom.
Despite a lack of physical evidence in this case, there does seem to be a link between each of the four witnesses' testimonies. For example: They each claim they were invited by Cosby to a meeting at either a private home or hotel. And they each claim Cosby gave them pills and booze when they got there. They have also each testified about losing consciousness or being unable to walk and talk after ingesting the substances. All four women have said that they only recall bits and pieces of the controversial events in question, mostly just haunting details about being fondled or sexually forced upon.
The accusers also all seem to share a collective shame that they've carried for decades. Dickinson said today that she "wanted to hit [Cosby] … to punch him in the face," and that she felt anger, disgust, humiliation, and shame after their encounter.
At one point during Chelan Lasha's emotional testimony on Wednesday, she, too, told the court that when she was allegedly drugged and raped by Cosby in 1986, the year she graduated from high school, she was scared. But when she was asked on the stand if she was still scared, she said no. While she broke down several times, holding a handkerchief close to her face to rub away a steady stream of tears, she, like many of the women coming forward, seemed to be more empowered by taking the witness stand for the first time.
Today, the activism was alive and well in front of the courthouse, where someone wrote messages in chalk about women's empowerment. One said, "Stand up for Cosby survivors," and another, "Courageous women this way," with an arrow pointing into the courthouse. The graffiti was power-washed by the fire department before Cosby arrived, though Cosby accuser Lili Bernard, who has not missed a day of the trial, was spotted outside taking photos just after 7 a.m., before the court was in session.
With emotions running very high this week, there have been a few incidents in question that may give the defense a little leverage during this tough case. For instance, when Lasha confronted Cosby from the stand yesterday, asking if he remembered her, the defense immediately asked for a mistrial. The judge denied the motion and moved on, but not before referring to Lasha as "a victim." Interestingly, there was no objection by the defense on the wording, but comments like these could conceivably get Cosby's legal team what they so desperately want — another mistrial.
Here's a video of Dickinson talking about Cosby raping her four years ago on CNN: