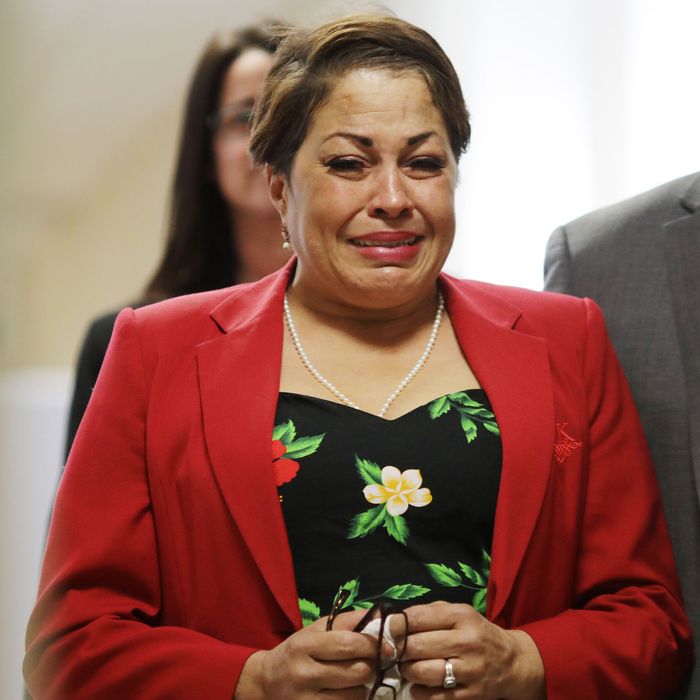 Chelan Lasha.
Photo: Dominick Reuter/Pool/Getty Images
In perhaps the most dramatic moment yet during the felony-sex-assault retrial of Bill Cosby, one of his accusers broke protocol and, in tears, spoke directly to the 80-year-old comedian.
"You remember me, don't you, Mr. Cosby," said Chelan Lasha from the witness stand at noon on Wednesday. From the moment Lasha took the stand at the Montgomery County Courthouse outside of Philadelphia, she struggled to hold back her tears. At several points during her testimony, she broke down on the stand.
At one point, Assistant District Attorney Stewart Ryan asked Lasha, "Is this hard for you?"
She wept and said, "Yes it is."
During the first half of her tear-filled testimony on the third day of the retrial, Lasha — a native of California who grew up in Las Vegas — said she first met Cosby while she was still a high-school student. The teenager was interested in pursuing a career in entertainment — she was already doing modeling jobs for big names like Saks Fifth Avenue on the Vegas strip.
"He wanted to help me go to school and pursue my career," said Lasha. After talking with the teen's grandmother, and even stopping by the family's home for dinner, Cosby reportedly arranged for Lasha to meet him at the Las Vegas Hilton during one of his Sin City appearances.
This was 1986. Lasha was asked to join the legendary comic and TV dad at the famous Elvis Presley Suite. "He said someone was going to help me with my modeling," recalled Lasha, who worked at the hotel. Cosby told her that he wanted to get some photos of the recent high-school graduate and talk to her about a new role he was introducing on The Cosby Show.
"I trusted him," Lasha said, crying on the stand. She wiped her eyes and nose with a white cloth as she stopped to sip from a cup of water several times. Lasha said that getting a call from someone as famous and well-respected as Cosby made her feel "special."
The afternoon she arrived at the hotel suite, she remembers having a cold. Cosby greeted her warmly, asked about her grandmother, and introduced her to a photographer who snapped a few pictures. He then had her talk to someone who was there to help her relax. At one point, Cosby offered her a little blue pill to help with her cold. She took it as he directed, with a shot of liquor.
At that point, Cosby moved behind her, rubbing her shoulders. When she started feeling dizzy, she said, "He walked me to the bedroom." She described feeling "bewildered." She said, "I could barely move." And Cosby guided her to the bed.
"He laid next to me," said Lasha, weeping on the stand, "and kept touching my breasts and humping my leg."
She told the court that she couldn't move her body, but that she heard Cosby grunting like an animal. At one point, Lasha imitated the deep, guttural grunts into the microphone. The courtroom sat in a kind of stunned silence.
The next thing she remembered from that afternoon was waking up to Cosby clapping his hands and saying, "Daddy says wake up!"
When she did regain consciousness, she was wearing only a hotel bathrobe. And there was money on the table that Cosby said she should use to buy something for herself and her grandmother.
Lasha said she couldn't understand what happened. "Why are you doing this to me," she said. "You were supposed to help me."
After leaving the hotel that day, Lasha went straight to her guidance counselor's home and told her everything. She also confided in her older sister.
A few days later, her grandmother and mother attended a concert where Cosby made a special appearance. When her grandmother asked her why she didn't want to go, Lasha told her she was sick.
"I was a good girl," she said. "I trusted that man."
During much of the testimony, Cosby sat with his hand on his temple, occasionally whispering to his defense team. Many people in the courtroom, visibly shaken by the emotional witness, filed out quietly for lunch.
This afternoon, Lasha will again take the stand to finish her testimony and to answer what are expected to be hard-hitting questions by the defense.