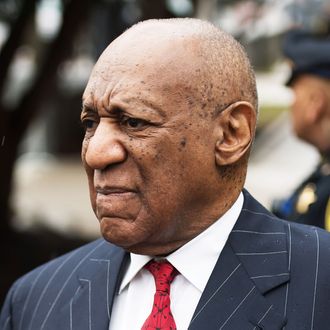 Bill Cosby.
Photo: Gilbert Carrasquillo/Getty Images
When the judge in the Bill Cosby felony sexual-assault trial said that he would allow 5 out of a potential pool of 19 accusers to take the stand, it was a huge blow to the defense. Even though all of the allegations against Cosby predate the #MeToo movement, the decision came at a time when many more women are going public about allegations of abuse and harassment by some of the most famous and powerful men in the worlds of business, entertainment, and politics. Cosby, 80, is charged with three counts of felony sexual assault for allegedly drugging and assaulting Andrea Constand, a former Temple University employee, in his suburban Philadelphia home in 2004. His first trial ended in a hung jury last year.
But the climate today is very different than it was then, when his most ardent fans gathered outside of the courthouse and his former TV daughter showed up arm in arm with America's once-favorite TV dad. In a post-Weinstein culture, a key question for both the prosecution and the defense will be whether Cosby's image of funny family guy will be able to withstand one woman after another telling strikingly similar stories about being allegedly drugged and raped by him.
As jury selection for the new trial begins today at the Montgomery County Courthouse outside of Philadelphia, it'll be interesting to see how lawyers on both sides consider how public awareness about sexual abuse could color the case, and ultimately how the entertainer's new defense team will challenge Constand and these five other accusers, who will take the stand starting next week.
So, who are the women who'll be testifying this month?
Former model Janice Dickinson, 63, says Cosby drugged and assaulted her in a Lake Tahoe hotel room during her heyday, in 1982. She claims that he gave her wine to help with her menstrual cramps. "I remember before I passed out that I had been sexually assaulted by this man," she told E.T. in 2014. "The last thing I remember was Bill Cosby in a patchwork robe, dropping his robe and getting on top of me. And I remember a lot of pain. The next morning I remember waking up with my pajamas off and there was semen in between my legs."
At the time she made these allegations, Cosby's attorney said that Dickinson's statement was an outright lie. She decided to pursue a civil case against Cosby in California, where she's suing him for defamation. The civil trial is scheduled for this summer in Los Angeles.
Janice Baker-Kinney says she met Cosby in 1982 while she was working as a bartender in Reno, Nevada. She was 24 at the time. Kinney claims that she was given pills at a house party by the comedian. "I remember him helping me up the stairs to a bedroom," she said in a deposition. "I woke up the next morning naked, in bed with a naked Bill Cosby. He was touching me on my genital area." Heidi Thomas also met Cosby in Reno, Nevada, when she was an aspiring actress. She alleges that in 1984, Cosby invited her to a home and gave her a drink, so she could act the part of an intoxicated person. "He said, 'Alright, this is your prop, you're going to sip on your wine,'" she said during Cosby: The Women Speak, a television special that aired on A&E in 2015. "And I literally, I don't remember anything other than one sip." She says she woke up in bed with Cosby "forcing himself in [her] mouth," reportedly saying to her, "I'm your friend … your friend is gonna [ejaculate] again."
Chelan Lasha was 17 when she met Cosby in 1986. The former model alleges that the entertainer invited her to his hotel room in Las Vegas under the guise of introducing her to someone he knew from the Ford Modeling Agency. When she got to his suite, she told New York Magazine that he gave her a little blue pill to help a cold she had at the time. At some point, Lasha says she was asked to change into a robe and someone came to take photos of her, while she struggled to remain conscious. All she remembers is waking up to Cosby clapping his hands and saying, "Daddy says wake up." Lasha says he gave her $1,500 and told her to buy something nice for herself. "I have nightmares," she said. "I wouldn't let my children watch The Cosby Show because I would cry."
Lise-Lotte Lublin met Cosby in 1989 when she was an aspiring model. She says she and the TV star became friends and he got to know her family, often inviting them to his shows. In 2015, Lublin says everything changed after Cosby invited her to his Las Vegas hotel room to practice improvisation. She claims that when she arrived, he gave her a drink that made her feel woozy. She went in and out of consciousness as Cosby stroked her hair. "He began stroking my hair back from my forehead, in a petting motion," she said in a deposition. "He was talking but I don't recall what he was saying. This was the last moment of consciousness I remember until I had flashes of unfamiliar areas of the hotel suite." She says she woke up two days later at home.
Cosby denies all of the allegations.