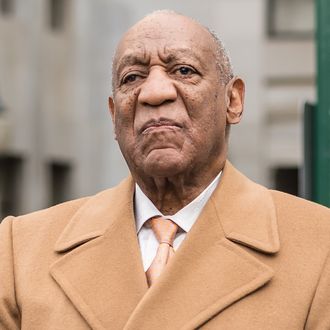 Photo: Gilbert Carrasquillo/Getty Images
As Bill Cosby's felony sexual-assault retrial heads into its final days, the defense has gone into overdrive in hopes of destroying the reputation of the comedian's main accuser, Andrea Constand.
Despite its best attempts, Cosby's legal team received a mighty blow this morning when the judge struck down a motion that would have allowed the jury to hear from a previously sealed deposition. The document, which comes from a 2005 lawsuit against Cosby, features the testimony of a woman named Sheri Williams (reportedly a friend of Constand's). Williams allegedly claimed in that deposition that Constand wanted to extort money from Cosby by accusing him of sexual assault.
Judge Steven O'Neill's decision to not include the testimony means that the jury will never hear about Williams, a witness the defense has been unable to track down to testify in person during the retrial.
This latest decision comes as closing statements are expected as early as this afternoon. The sequestered jury could begin deliberations as early as tomorrow or Wednesday.
Cosby's all-star team has not been permitted to bring many of its boldest, most shocking accusations about Constand into the courtroom for the jury to hear — like that Constand was addicted to psychedelic mushrooms — Cosby's team is planting these seeds in the court of public opinion.
Cosby's spokesperson Andrew Wyatt, who can often be seen leading the 80-year-old comedian in and out of the Montgomery County Courthouse, recently called the allegations against Cosby "fantastical stories." He criticized the District Attorney's Office for spending taxpayer money on a case he has called a form of "extortion."
Dolores Troiani, Constand's one-time attorney, said that the damage against Constand has already been done. "It is absolutely part of [the defense's] strategy to smear her reputation," she said. "They know they have judicial immunity so they can say these things whether or not there's a basis in fact."
Likely because of the high-profile nature of this case, Judge O'Neill did not place a gag order on it, which allows either side to discuss the trial openly with the media.