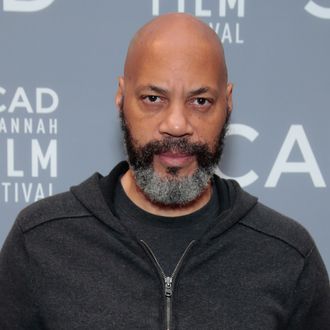 Photo: Cindy Ord/Getty Images for SCAD
Blumhouse is bringing another Academy Award winner onto its roster. According to Deadline, writer and director John Ridley will be adapting his 2017 Vertigo comic The American Way: Those Above and Those Below for the genre-picture house. Ridley has a long Hollywood resumé, having written and produced movies like Ben-Hur, Three Kings, U-Turn, and 12 Years A Slave, for which he won his Oscar. He's also done a fair amount of work in television, serving as writer, producer, and director for shows like Barbershop, American Crime, and Guerilla. The American Way is the story of a black superhero called the New American who fights to protect communities in 1970s America.
Ridley wrote the comic, which was done with artist Georges Jeanty, and it is a sequel to the graphic novel the two created in 2007 called The American Way. Those Above and Those Below is a mini-series follow-up to that novel, and it takes place in the decade after the first story, which centered on a superhero task force assembled out of mostly non-super people to serve as a propaganda tool for the U.S. government during the Cold War. A catastrophe lead to that team's eventual dissolution, but Those Above picks up the story of the truly super-strong New American — a former member of that government team — as the country tries to navigate the tumultuous 1970s.
The Blumhouse business model is built on giving creators a lot of control to execute "high-cost, low-budget" projects, and even though superheroes are synonymous with massive costs, studio head Jason Blum said in an interview with Vulture last year that he would readily wade into the super genre — provided he could do it on the cheap. "As long as it's inexpensive," said Blum, whose company distributed the superhero-lite movie Sleight from last year. "I'm much more inclined to do movies that are outside of scary, as long as they are inexpensive."