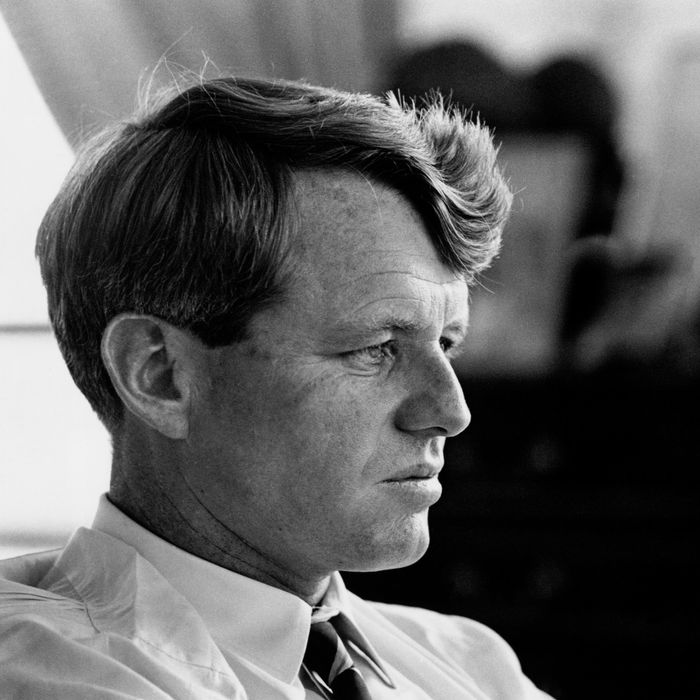 Photo: Bob Henriques/©Bob Henriques/Magnum Photos
One of the most heartbreaking moments I've recently seen on television happens in the third episode of the four-part Netflix docuseries Bobby Kennedy for President.
During one of many on-camera interviews, Representative John Lewis, who famously marched for civil rights alongside Dr. Martin Luther King Jr. and worked as a campaign aide to Robert F. Kennedy, recounts how shattered he felt while traveling from Los Angeles back to Atlanta after Kennedy was shot and killed in the summer of 1968. As he speaks, he completely breaks down.
"I thought, what is happening in America?" he says. "To lose Martin Luther King Jr., and then two months later, Bobby Kennedy?" That's when Lewis, the distinguished civil-rights leader and veteran Congressman from the state of Georgia, just starts sobbing. "It was too much," he manages after a few seconds.
The loss of Kennedy is still a fresh wound for Lewis and others, 50 years after the fact, and Bobby Kennedy for President, directed by documentarian Dawn Porter (Gideon's Army), spends four hours showing us why. While it may seem like American culture has given us way more than enough explorations of the Kennedy family, this project distinguishes itself by tracing RFK's journey from attorney general to senator to presidential candidate in a way that stands out from accounts that often focus on either his relationship to his older brother, or on June 6, 1968, the night he was assassinated at the Ambassador Hotel in Los Angeles. The crucial difference makes Bobby Kennedy for President feel necessary, especially for those who either don't remember the era or weren't alive when it all happened.
The danger in any documentary about a political figure is that it will glorify him too much, but Porter mostly keeps that impulse in check. While Kennedy is certainly treated with great reverence, his flaws and shortcomings are not ignored. The first episode, "A New Generation," addresses the fact that when JFK was seeking the presidency, the younger Kennedy argued against getting too involved with civil rights issues because he thought it would alienate white voters in the South. As attorney general, RFK also signed off on the FBI wiretapping of King's home and offices, which is acknowledged in the series and is something that made many skeptical of his politics. Even after the assassination of John F. Kennedy, when Robert Kennedy sought public office first by getting elected as a senator from New York (and later by seeking the presidency), we see that not everyone was pro-Kennedy: The extensive news footage included in Bobby Kennedy for President includes several voters saying they definitely would not vote for him for president, including one woman who says she thinks America has had enough of the Kennedy family.
But this docuseries is most interested in showing how its subject evolved against the backdrop of his own grief and an incredibly divisive time in American history. Through archival film that shows Kennedy visiting poverty-stricken neighborhoods in Mississippi and meeting with activists César Chavez and Dolores Huerta during the 1965 farm workers' strike in Delano, California, as well as conversations with people who worked for and alongside him, the series depicts Kennedy as a politician who eventually stood up for the poor, working-class, and minority Americans while voicing concern about U.S. involvement in Vietnam. The way that cameras capture him, often in close-up, brushing his boyishly flipping bangs off his forehead, makes him seem accessible, gentle, and, at times, unmistakably sad.
D.A. Pennebaker, who made a short film called Jingle Bells that followed Kennedy and his children as they sang Christmas carols in New York City schools during his Senate campaign, points to a moment he captured in which Kennedy, while observing the festivities, suddenly looks distant and downcast. "I felt him torn in the camera," says Pennebaker, who is convinced that he caught Kennedy thinking of his dead brother in the midst of a celebration.
As intimate as these moments are, we only get so close to the real Robert Kennedy in the docuseries. No members of the Kennedy family speak to Porter on-camera. Although we see home movies of him playing with some of the 11 children he had with wife Ethel Kennedy, there is still a thin veil of privacy that's never fully lifted. Bobby Kennedy for President also maintains an air of mystery surrounding the circumstances of his death, which, inevitably, is dealt with in two episodes that retrace the assassination and trial of perpetrator Sirhan Sirhan. The docuseries subscribes to the well-trodden conspiracy theory that at least one other assailant fired the gunshots that felled Kennedy in the kitchen of the Ambassador Hotel. But it doesn't go far enough down any rabbit holes to make a definitive case. Instead, it reaches the same conclusion voiced by NYU law professor Kim Taylor Thompson in the series: that we'll never really know what happened.
When engaging in any political flashbacking right now, it's tempting to reflect on our current moment. That, too, is a hard-to-avoid impulse in Bobby Kennedy for President. When Kennedy initially says he can't imagine serving in his brother's White House administration because of nepotism, then later becomes attorney general anyway, it's a reminder that Donald Trump is not the first president to give a family member a job. (Also worth noting: As an attorney and someone who had worked for the Department of Justice, Kennedy at least had some qualifications for his position.) When others encourage Bobby Kennedy to run for president because the United States is splintering in two, that opinion is supported by images of white men holding white power signs with swastikas on them. Even a third-grader would see that and draw a straight line from 1968 to 2018. Similarly, when journalist Pete Hamill says of Kennedy, "He would never think of blaming people for their own poverty the way some of these swine today act about the poor," we know exactly who he means.
Bobby Kennedy for President reminds us that it was, and maybe still is, possible for politicians to change their thinking and act based on the courage of their convictions. When Kennedy tells a reporter, "We shouldn't just deplore the violence, deplore the lawlessness. We should pass the laws that remedy what we are fighting about," you may nod your head and wish that we had more Bobby Kennedys in Congress right now. Moments like that make you understand what John Lewis is still crying about five decades later.