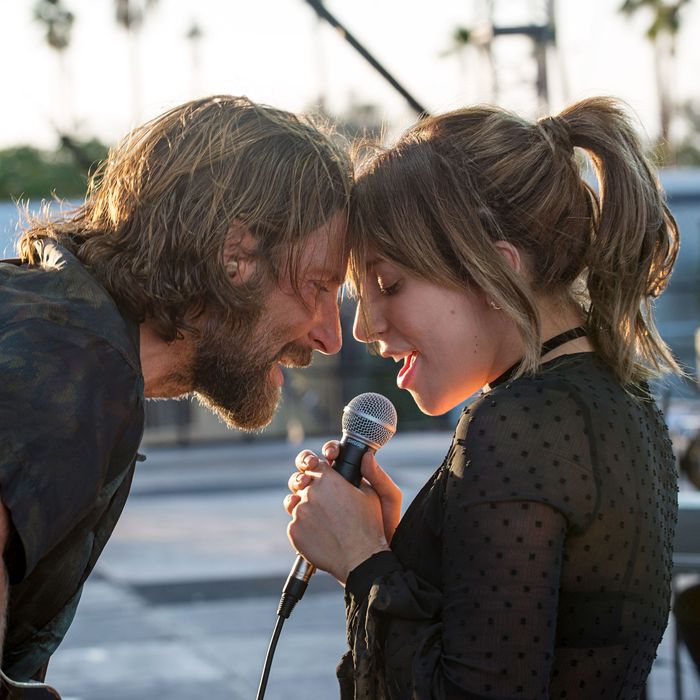 Photo: Neal Preston/Warner Bros. Pictures
Before debuting the first trailer for A Star Is Born — Bradley Cooper's first outing as a director, screenwriter and singer — during the Warner Bros. panel at Las Vegas's CinemaCon on Tuesday, the three-time Oscar nominee, who also co-stars in the film, expressed undisguised admiration for his female lead, Lady Gaga. The platinum-selling pop diva makes her own debut as an actress in this third remake of the 1937 romantic drama. And she helped Cooper get over his initial anxiety about performing onstage.
"She's kind of a revelation in this movie," Cooper said, flanked by the panel's emcee — and as it turns out, the actor's former roommate circa 2003 — Will Arnett. "When I approached her for it, she said, 'Well, we're going to sing live.' I said, 'You'll sing live because I don't sing.' And she said, 'No, no, what I can't stand in movies is when you see playback and that they're lip-syncing. We're going to sing live.' I knew we were going to have to do that, and luckily I had time and I had wonderful support."
In the film, Cooper plays an alcoholic country singer hitting a low personal ebb (Dave Chappelle, in a supporting role, says he's "worried" about Cooper's character), and Gaga is an aspiring pop star lacking confidence both personally and professionally. "I don't sing my own songs. I just don't feel comfortable," she says in the clip that played during CinemaCon. "People say they like the way I sound, but don't like the way I look."
The two become lovers and collaborators, and Gaga (who, contrary to previous reports, will not be billed under her birth name Stefani Germanotta in the film) hits the big time. But in a jump cut of private jets, chauffeur-driven cars, and her smashing her fist into a wall-mounted gold record, we see the inevitable bloom coming off the rose. Warner Bros. reportedly pushed back A Star Is Born's release date from May to October of this year, after test screenings of the finished film indicated that it could have a strong run during awards season. And inside the casino ballroom, viewers responded to the trailer with sustained applause, a new appreciation for Cooper as a very credible country crooner, and even tears.