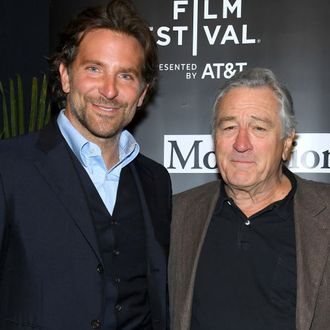 Bradley Cooper and Robert De Niro.
Photo: Dimitrios Kambouris/Getty Images for Tribeca Film Festival
Lady Gaga is starring in Bradley Cooper's A Star Is Born remake, and the singer had one key request: All of the singing should be done live. In a conversation with Robert De Niro at the Tribeca Film Festival Saturday night, Cooper described working on the film, which also happens to be his directorial debut. "[Gaga] said right from the beginning that there would be a barter. [She said] 'I'm gonna rely on you to get a performance that's honest out of me' — because she'd never done a film before — 'and I'm gonna make sure that you're going to turn into a musician. Because we're going to sing everything live.' And I went, 'Wait, what?' " As previously reported, the movie filmed scenes at Coachella, Glastonbury, and other festivals for another level of authenticity.
Cooper said Gaga told him she couldn't stand watching movies where it's obvious an actor is lip-syncing to a prerecorded song. "She's right!" he said. "[Singing live] was terrifying, and I really relied on her. I spent about a year and a half taking vocal lessons and preparing." Cooper said he spent three years preparing for the 42-day shoot, and that he felt called to direct this project. "The broken love story in A Star Is Born kept haunting me. Shots kept coming into my head. I would dream about it. I realized I had to [direct it], whether it fails or not. I knew I had to try and I wound up absolutely loving it. You can't hide when you sing. The best way to express love is through singing and music. I knew if I could marry that in a way, it would be special."
The hour-long conversation began with Star Is Born talk — De Niro said he's seen it, and called it "terrific" — and reminiscing about the actors' first meeting, but reached a lull when De Niro ran out of questions. ("I told people to text me if they had a question!" he joked.) David O. Russell, who directed both actors in Silver Linings Playbook and American Hustle, was in the audience and joined the men onstage. Russell said that when he met De Niro for the first time, Joe Pesci told him, "'You're gonna find out when you hang out with this guy: 'If you don't give him what to say, he's not gonna say anything.' That's what we're experiencing right now."