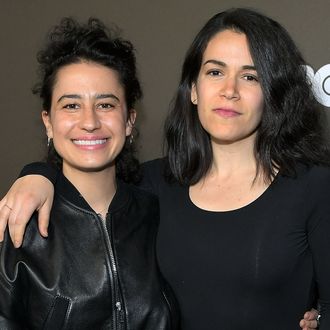 Glazer and Jacobson.
Photo: Charley Gallay/Getty Images for HBO
Broad City's fifth season will be its last, but that doesn't mean stars Ilana Glazer and Abbi Jacobson are done with Comedy Central. The duo has signed a first-look television deal with Comedy Central parent company Viacom, according to The Hollywood Reporter, and they have three projects in development. "Broad City has been our baby and first love for almost ten years, since we started as a webseries. It's been a phenomenal experience, and we've put ourselves into it completely. Broad City's always had a spontaneous pace and feeling, and ending after season five honors that spirit. We are very excited to bring new voices and points of view to Comedy Central and continue our collaboration together in new ways," Glazer and Jacobson said in a statement. The first-look deal covers them individually and as a pair.
The shows in development are called Mall Town USA, Platinum Status, and Young Professionals. Glazer and Jacobson won't star in any of the series, but are set to executive-produce. Mall Town USA is an animated comedy about a 13-year-old girl. Platinum Status, written by Glazer's brother Eliot, is about a gay man who hooks up with a woman after he's dumped by his longtime boyfriend. Young Professionals will follow young D.C. politicos, from a script by former Obama speechwriter David Litt.