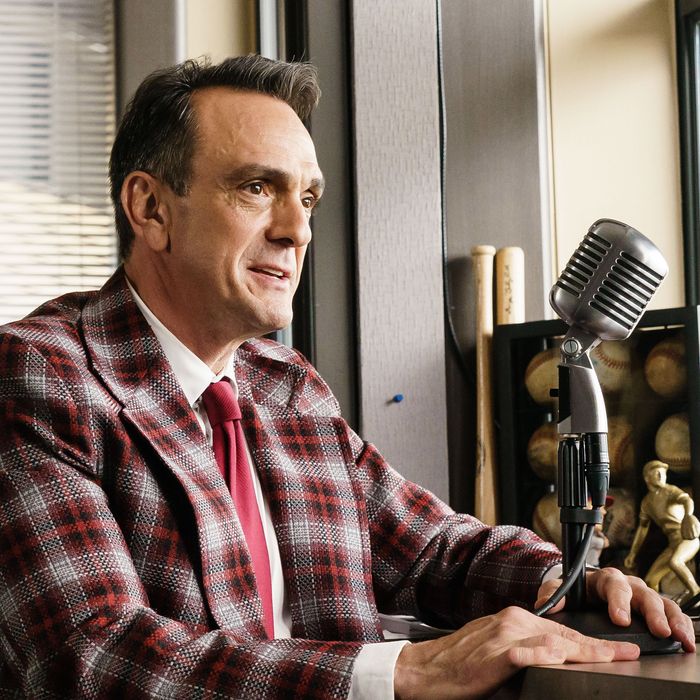 Hank Azaria as Brockmire.
Photo: Tina Rowden/IFC/Tina Rowden/IFC
Hank Azaria had been developing the Jim Brockmire character — a baseball announcer who never turns off his schitck, even if there is no game to call — since he was a teenager, but he officially debuted the character in a 2010 Funny or Die sketch. In that sketch, real-life commentators praise Brockmire and his unusual announcer quirks, such as dropping in deep-cut Godfather references from the booth ("So folks, two outs, bottom of the fourth, Barzini's a pimp, could never have outfought Santino …"), before detailing his fall from grace involving a public breakdown spurred by his wife's infidelity. After he is fired from his post, Brockmire continues to call everything from empty fields to bowel movements because he is, and forever will be, a baseball man, even if he has no booth to call home.
Seven years later, writer and producer Joel Church-Cooper teamed up with Azaria to create the IFC series Brockmire. Essentially, Church-Cooper and Azaria took the bare-bones premise of the sketch and crafted an honest-to-goodness redemption tale: After his breakdown in the booth, Brockmire left the country and embarked on a decadelong bender involving booze, drugs, and sex with just about every prostitute in the world. When he finally returns to America, he's horrified to learn that his breakdown became one of the very first viral videos, and he's now widely remembered for his most humiliating moment.
To get his career and life back on track, he's forced to call minor-league ball for the Morristown Frackers, a team that gets its name because, well, the town is being fracked to hell by the evil Pennsylvania Shale Corporation. During his tenure in Morristown, Brockmire falls in love with Jules James (Amanda Peet), the owner of the Frackers, and befriends Charles (Tyrel Jackson Williams), the Frackers' high-school-aged head of digital media. Eventually, Brockmire's boisterous, drunken game calls become a hit on the internet and he and Charles start a popular podcast called Brock Bottom. By the end of the season, Brockmire has been hired to call games for the New Orleans Crawdaddies, a stepping stone to return to the Major Leagues, which forces him to abandon Jules, who warns him never to return.
On Wednesday night, Brockmire returns for its phenomenal second season, in which Brockmire's relative success in the baseball and podcast realms leads him down a dark path. Hilarious and moving in equal measure, Brockmire's sophomore rise wonderfully captures the moment when a comeback turns into a self-fueled nightmare, and how losing everything once again might be the ticket to even greater success. Here are five reasons why it's worth watching. (The first episode is currently available to stream on YouTube.)
Location, location, location
In many ways, the setting of Morristown, Pennsylvania, defined the tone of Brockmire's first season. A dilapidated town drowning in poison gas and apathy was the perfect stage for Brockmire to regain his footing and reimmerse himself in the world of baseball, albeit via a team of broken-down misfits. Brockmire's redemption arc paralleled nicely with the Frackers' own resurgence, compelled by Jules's terribly structured loan which required the team to win half the season's games. It took Morristown, a place where "turtle racing" counts as entertainment, for Brockmire to crawl back from oblivion.
In the second season, Brockmire and Charles have relocated to New Orleans, a city whose warm atmosphere and lax drinking laws pushes Brockmire's debauchery to dangerous extremes. At the same time, New Orleans also involves higher professional stakes when Brockmire faces unexpected competition as he vies for a spot in the Atlanta Braves' booth. Brockmire's party lifestyle and professional comeback hit their respective peaks in the Big Easy, a place that enables the best and worst in him. Watch out for the Before Sunset–inspired fifth episode featuring New Orleans's beautiful sights and sounds, alongside some of the season's best photography, courtesy of cinematographer Adam Bricker.
A perfect balance of vulgarity and compassion
It's no secret that raunch and heart go together like peaches and cream, and yet comedies often have trouble equalizing those two qualities so that one doesn't overwhelm the other. Brockmire is the perfect example of a show that balances high-grade vulgarity with a genuinely sentimental streak, frequently maneuvering between outrageous comedy and grounded drama. Brockmire's first season offset its crass humor with a heartfelt love story between two people in the midst of their second acts. Azaria and Peet's chemistry alone elevated the already great material to unforeseen heights, and injected some romantic tension into the series' second-chances narrative.
Now that Jules is (mostly) out of the picture, Brockmire's second season trades in romance for self-examination. There's Brockmire, of course, who slowly learns that his success has been predicated on exploiting his worst tendencies, but the series also turns an eye to Charles, whose responsible nature and innate media savvy lead him to believe that there's more to life than carrying his intemperate, middle-aged best friend. Brockmire watches as those around him become more in touch with their inner passions, which inevitably leads them away from the man who remains forever stuck at the party. The second season might open with a lengthy analytical monologue about how America went from a "boob nation to an ass nation," but it also traffics in unmapped emotional territory that sheds new light on familiar characters.
Watch out for the BoJack-esque tonal shift
Even at its broadest moments, Brockmire embodies a melancholic energy. After all, the series follows a talented man who self-medicates to avoid reliving a lifetime of pain and regret, including a violent childhood, a broken marriage, and a problematic professional career. That existential despair had previously been mitigated by humor and winking good cheer, as if to say that sadness can be deferred with just the right amount of whiskey.
This season, however, Brockmire embraces the darkness in surprising fashion. Without giving too much away, the back half of Brockmire's second season delves deep into the announcer's alcoholism, which tips from "functional" to "life threatening" following a devastating step backward. The series takes a turn comparable to the one that BoJack Horseman made during its first season, when the show went from a familiar Hollywood send-up to a no-holds-barred existential portrait. This season, Brockmire asks the question, "Who are you if you give up the quality that makes people love you?" and the answer is, as always, unclear.
A wonderful host of characters
Though Brockmire's first season featured compelling turns by Katie Finneran as Brockmire's ex-wife Lucy, and Hemky Madera as Pedro Uribe, a Dominican baseball player whose off-field antics rival Brockmire's, it was notable for featuring a host of famous baseball announcers like Joe Buck, Dan Patrick, Rich Eisen, and Tim Kurkjian. Their shared presence might have been an inside joke gone awry if it didn't add authenticity and community to the proceedings. After all, Brockmire can't be Brockmire if he's not placed in context among the real-life greats.
This season doesn't feature too many baseball types (though watch out for the Joe Buck cameo), but it does open up Brockmire to a whole host of new characters. There's Raj (Utkarsh Ambudkar), an up-and-coming South Asian announcer who competes with Brockmire for the Atlanta gig; Whitney (Dreama Walker), the new head of public relations for the Braves who needs to keep Brockmire in line; and Jean (Becky Ann Baker), Brockmire's sober, hard-bitten sister who regrets her brother's reappearance in her life. These new characters, coupled with recurring faces from Morristown, create a lived-in feeling that the world extends beyond the show's frame. It allows for Brockmire to feel less claustrophobic and makes certain late-season moments especially cathartic.
The best performance of Hank Azaria's career
Brockmire wouldn't be Brockmire without Hank Azaria, who flat-out gives the single best performance of his career in the series. Azaria imbues Brockmire with delightful charisma, an all-but-mandatory characteristic needed to survive in his line of work, as well as an indelible sadness that's only occasionally punctured by the briefest human connection. The genius of the character lies in Azaria's ability to communicate all aspects of Brockmire's personality — the ingrained charm, the quick wit, the wise eloquence, the emotional narcissism, the drunken tomfoolery — all at once in every scene. With Brockmire, Azaria doesn't switch between behavioral modes; instead, he brings everything up to the surface at once, knowing that they all inform each other at any given moment. There's plenty to recommend with Brockmire, but the main draw is Azaria, who turns a one-joke character into a three-dimensional human being, complete with a complex emotional makeup and nuanced humanity.