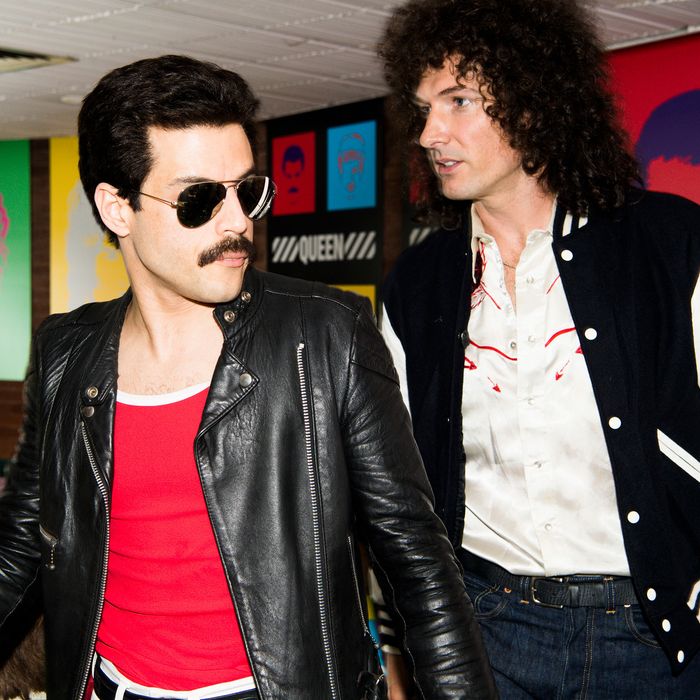 Photo: Alex Bailey/Twentieth Century Fox Film Corporation.
As a kind of grand finale to 20th Century Fox's CinemaCon panel presentation, which featured a Las Vegas retinue of dancing girls — and a guy dressed in a Deadpool mask and knee-high patent-leather boots high-kicking and twirling — as well as an orchestra playing the studio's horns-and-violin fanfare, Fox unveiled one of its heretofore under wraps projects: the Queen biopic Bohemian Rhapsody.
Academy Award–winning producer Graham King (The Departed, World War Z) grew emotional explaining he had shepherded the project — which explores the life of Queen's virtuosic, flamboyant, temperamental lead singer Freddie Mercury on and off the stage — for the better part of a decade. "A lot of people will say, 'A film took a long time or was a long journey'; this one really was," King said. "I can't believe I'm here!"
Left totally unmentioned during the presentation was Bohemian Rhapsody's director: Bryan Singer. In December, Fox fired the hit-making X-Men filmmaker after his repeated absences — what the studio termed "unexpected unavailability" in a piquant statement — forced a halt to production. Days later, Singer was replaced by Dexter Fletcher (Eddie the Eagle), who finished shooting the film (due in theaters November 2) and, similarly, went without being named at the CinemaCon panel.
King was unreserved in his praise for the movie's star Rami Malek, however, who also turned up onstage in Vegas Thursday. "When I got this role, I thought, 'Oh my God, this could be a career-defining performance," the Mr. Robot star said. "About two minutes later, I thought this could be a career killer … How do I approach this insurmountable task?"
In the exclusive CinemaCon clip, Malek bears a startling resemblance to the preening front man whose charisma and multiple-octave, operatic singing voice electrified audiences worldwide. Following a rough chronology, we see Mercury as a scruffy young upstart who initially gets rejected when he asks to front Queen — "Not with those teeth, mate," a band member says — evolving his style into a more rough trade aesthetic, on through the recording of the movie's freewheeling, operatic title song.
Queen's iconic songs, such as "We Are the Champions," are heard throughout. And in one particularly remarkable moment, Mercury strikes a pose of triumph in front of a crowd of tens of thousands of people at 1985's Live Aid concert in London's Wembley Arena — widely regarded as Queen's single greatest performance.
But the clip hints at Mercury's dark side too. A character is heard telling the singer, "You need to slow down, Fred." To which he replies, "What if I don't have time?" (Mercury died of AIDS-related illness in 1991.)
From the Caesar's Palace ballroom, Malek shared how Queen's guitarist had recently reached out to share his reaction to Bohemian Rhapsody. "Brian May emailed me after seeing the movie and saying how moved to tears he was," Malek said. "He said if Freddie were here today, he could not be more proud of what we were able to achieve. That I will take to the grave."