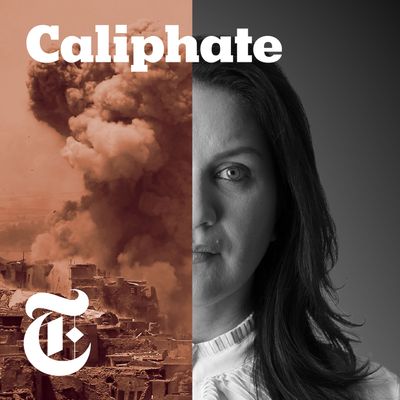 The New York Times' first serialized audio documentary is now widely available, and it is a stunner. Gripping, gorgeously crafted, and smartly designed, the debut episode of Caliphate sets a vivid and intense scene for what will undoubtedly be an intense journey into the unknown.
Caliphate follows Rukmini Callimachi, the Times' foreign correspondent and resident terrorism expert, as she reports on the Islamic State. It particularly focuses on a months-long effort to understand the ideology of ISIS and how it draws in followers — that is, to answer an essential question: "Who are we fighting, anyway?" Callimachi is flanked by producer and Radiolab alum Andy Mills, who functions as Dr. Watson to her Sherlock Holmes, and while the first episode largely serves as an introduction to the nature of her reporting, it's also propelled forward by the discovery of a lead: a potential ISIS source who's now living in Canada.
With Caliphate slated to play out across ten chapters released weekly on Thursdays, Vulture reached out to the team behind it to learn how they decided to make the Times' first big serialized audio series about ISIS, why the project took such an ambitious shape, and what they're planning for future episodes.
Step 1: Finding the Idea
Building a podcast around Callimachi was one of the earliest plans floating around the Times when the news organization began assembling its audio team in the second half of 2016. (Callimachi herself quipped that such plans were made long before she was ever told about them.) By that time, she had already become well recognized as one of journalism's foremost experts on terrorism. But it was early days for an audio team that had yet to prove itself in the newsroom, and the team would have to first build itself up to a point where it would be capable of taking on longer-form projects.
Mills was one of the audio team's first hires, and he, too, had pitched the idea of a podcast featuring Callimachi's reporting during his job interview. "There's nobody in the radio or podcast world like Rukmini," he told Vulture. While the new audio team felt out its first few podcasts — including The Run-Up, a weekly political show tracking the 2016 election that was hosted by Michael Barbaro — Mills spent time developing relationships with various journalists around the newsroom, eventually developing a rapport with Callimachi.
In early 2017, Barbaro and the audio team launched The Daily, a daily news podcast that quickly achieved considerable acclaim. Mills worked on the show during its earliest months, helping to establish its sound and structure. That summer, he was sent to Mosul with Callimachi to produce an episode of The Daily about a group of Yazidi women — members of a Kurdish religious minority targeted by the Islamic State — who had been enslaved by the militant group for years. That experience laid the foundation for what would become Caliphate. Not long after, a full-time team that includes managing producer Larissa Anderson, editor Wendy Dorr, and associate producer Asthaa Chaturvedi was convened to develop the project, now designated as a spinoff of The Daily.
Step 2: Choosing the Story
In the beginning, the main challenge was figuring out which story to tell. There were just so many of them, from Callimachi's numerous visits to war zones across the Middle East, to the dozens of individuals she's interviewed, to the various angles she's used to gain insight into the machinations of the Islamic State.
The team burned through multiple structures and themes. One version was imagined as a straightforward explainer on ISIS, where the show would be built around five pressing questions, each answered on a different episode. Another involved a story about one of the godfathers of ISIS, but that ended up getting scrapped too. "We didn't know exactly what we were going to make," Mills said.
"When I came on to the project, a lot of the early meetings were like, 'We have a lot of stories that we can tell.' There are just so many layers of complexity," said Larissa Anderson, the podcast's managing producer. "We needed to pick one ambitious thing and really lean into it."
In the end, the decision came down to tape. They started creating recordings with Callimachi, and that led them to a meeting in Canada with an insider who could provide insight into the psychology of ISIS. "We set off to Canada not having any idea what this would be," Callimachi said. "I set out thinking that this would be a print story. We went there on a lark, and then we had this unbelievable interview. It's very rare to find a person who is able to articulate the psychological process of what they went through."
That ultimately led to the choice of focusing on the religious aspects of ISIS. "It was really important to me that we get beyond the caricatured understanding of this group," Callimachi said. "I think you can get a lot of clicks online just by doing the black and white 'look how savage these people are,' but why exactly are these people doing what they're doing? To me, ISIS is like this dark underground room, and I see my job as trying to fill it with light."
It's not unrelated that these inquiries are loosely tied to the personal biographies of the two reporters, who both grew up in religious communities: Callimachi comes from a family of Orthodox Christians, while Mills is a former Evangelical Christian. "We both understand the irrational pull of faith," Callimachi said. "We both share this desire to be in front of these uncomfortable questions about faith, and to try to wrestle with them as hard as we can."
Step 3: Defining the Sound
One thing you'll notice from the first episode: Caliphate is strikingly cinematic. Neither scripted nor governed by a host, the podcast is propelled forward almost purely by narrative action. Even when the episode kicks the pace down a notch to explain something, it still stays closely within the context of the story. This contrasts with the feel of many other narrative podcasts, where the host-narrator often communicates directly with listeners.
Much of this has to do with the team's choice to fully run the experience through the Callimachi-Mills partnership. Mills was embedded with Callimachi for a good chunk of the reporting that went into Caliphate, and his dual role as participant and audience surrogate puts him in a good position to draw out needed exposition as the action is being played out and recorded.
"I was in the perfect position as a listener," Mills said. "I'm not yet an expert, almost perfectly naïve. On the one hand, I'm getting firsthand insight into what the reporting process is like, and on the other hand, I'm getting insight into this world."
That move drew from lessons the team had learned while producing The Daily, which relies heavily on Barbaro interviewing his newsroom peers for further expertise on stories they had just published — in essence, reporting on their reporting. "There was something about working on The Daily that answered a few questions about how we were going to make this podcast," Mills said. "It's about letting a reporter tell you about their reporting, it's about showing how the sausage gets made, it's about letting these people be human beings."
Step 4: Building on the Fly
At this writing, the team has published the first two chapters of Caliphate (the second is available early for Times subscribers), and the remaining eight installments remain very much in production. The tape is still being pieced together, and the team is still deciding how the rest of Caliphate will play out. For all intents and purposes, the production is a massive experimental enterprise, and there are many questions still left to answer.
"The challenge is to make the podcast somewhat timeless," said Callimachi, making a distinction against the sharp newsiness of The Daily. Mills concurred, and then raised a bigger question: "Could we build a podcast that lives like a Times feature, something that will become a resource people will refer to years from now?"