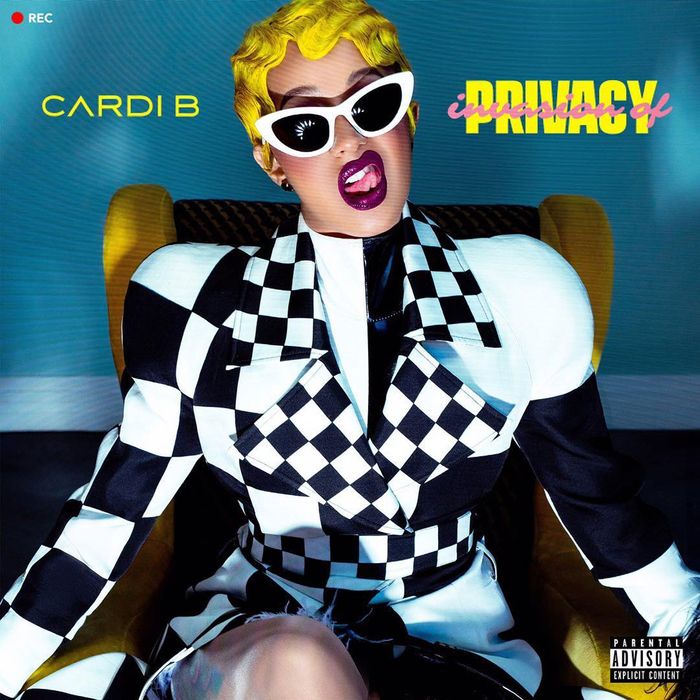 It's here!
Photo: Atlantic Records.
The wait is over: Cardi B's debut album Invasion of Privacy is here in all its glory. The album is only a few hours old and already there's so much to discuss. What are her best one-liners? Who does she sample? She wants to have a threesome with whom? Below are just ten of the moments we'll be talking about until … the next big moment Cardi gives us to talk about.
The many Beyoncé references
Perhaps the worst moment on Invasion of Privacy comes when you slowly begin to realize that, alas, Beyoncé isn't physically present on the album like we'd hoped. But she's there in spirit: The album makes reference to Queen B at every opportunity. On "Best Life," Cardi recalls her photo op with Bey ("I took pictures with Beyoncé"); on "Money Bag," she slips in a literal double entendre: "With them pretty ass twins, you look like Beyoncé." Even Cardi's guest artists guarantee that Bey is well-represented: On "Best Life," Chance the Rapper gives a shout-out to his aunty, saying, "Reach like 'Bron James, pep talk from Yoncé."
But Cardi saves her best reference for last, on "Thru Your Phone," rapping, "Beyoncé on my stereo, resentment on repeat." It's the most bitter song on the album, about a pitiful, cheating partner, that cites Beyoncé's most bitter pre-Lemonade song about a pitiful, cheating partner as a salve.
When she propositions Chrissy Teigen and Rihanna for a threesome
If there's ever a time to shoot your shot, let it be on your debut album. On "She Bad," Cardi makes a public declaration of her shared lust for two very bad women, Chrissy Teigen and Rihanna. And it's enough to make even Chrissy clutch her pearls:
Sampling Pete Rodriguez's "I Like It Like That"
We told you Cardi's album would celebrate her Latinx roots (she is half-Dominican), but even we could not have predicted the way in which it's done. On "I Like It," she flips a sample of Pete Rodriguez's boogaloo crossover hit, "I Like It Like That" for a Latin-trap fusion that represents her mixed heritage. Though Cardi doesn't sing or rap in Spanish on the song, she instead invites Colombian reggaeton star J Balvin and Latin-trap phenom Bad Bunny to the party to do the honors. Its video will reportedly be a tribute, of sorts, to Celia Cruz, who paved the way for future Afro-Latina artists like Cardi in the business; Balvin also references Cruz in his verse.
When she said, "I'mma make a bowl of cereal with a teaspoon of bleach"
Hell hath no fury like a woman scorned, particularly one with a twisted imagination and easy access to poison. Cardi's murderous fantasy lyric comes on "Thru Your Phone," immediately followed by the line, "Serve it to you like, 'Here you go, nigga, bon appétit.'" But the fatal shots don't stop there. See also: "Call your mama phone, let her know that she raised a bitch"; "Might just cut all the tongues out your sneakers / Smash your TV from Best Buy"; "Getting more mad at you, thinking 'bout stabbing you / Don't even know that you this close to dying." Sleep with one eye open, Offset.
The first track, "Get Up 10"
For her album opener, Cardi recreated Meek Mill's own "Dreams and Nightmares Intro," and it's as passionate, aggressive, and raw as expected. "Get Up 10" gets brutally honest about Cardi's life pre-fame ("Used to dance in a club right across from school"), clears up confusion about the stripping industry ("I said 'dance' not 'fuck'"), reflects on economic mobility ("Only person in my fam to see six figures"), and puts her critics on notice ("You gon' have to learn to hold your tongue or hold the gun"). Cardi also notes that releasing a song this stylistically tough and lyrical was never her intention (Said 'I was just trying to chill and make bangers'"); that she makes it look easy is a credit to how far she's progressed as a rapper in just under a year. In an album full of moments, this one stands alone.
Sampling Project Pat's "Chickenhead"
Cardi's from the Bronx, but "Bickenhead" knows no regional borders, sampling Memphis rapper Project Pat's southern classic, "Chickenhead," which is just truly inspired.
When she said, "Pop that pussy up at church"
And gave us a whole laundry list of other recommended locations and ways to get down and dirty, on "Bickenhead": at work, in the car, in the wild, on the pole, on the stove, in Miami, etc. This is the "My Neck My Back" of busting it wide open. Proceed with caution.
SZA rapping
SZA accompanies Cardi on album closer "I Do" and nearly steals the whole show by rapping. Her opening bars: "Left a nigga on read 'cause I felt like it." If the song ended there, it would still be worthy of a Grammy for Best Display of Spite. Thankfully, there's more …
When she said, "Pussy so good, I say my own name during sex"
How do you follow up SZA's ecstasy at curving a dude for the fun of it? If you're Cardi, you further emasculate a man so brutally that they're merely an afterthought in the bedroom, that's how.
Then when she said, "My lil 15 minutes lasted long as hell, huh?"
There's a large (and loud) contingent of rap fans who have long dismissed Cardi's music career as a passing trend, just another reality star capitalizing on their fame and momentary cultural cachet by trying rap on for size. It's not a baseless complaint: Most celebrity rap side hustles are just that — particularly in the age of the Meme Rapper — but Cardi has proven herself the exception. On "I Do," she's rubbing your face in it.