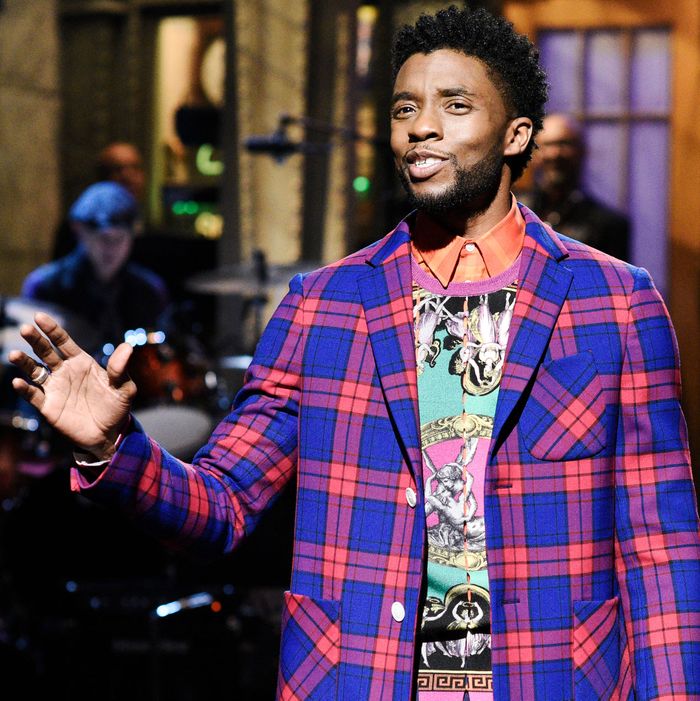 Photo: NBC/NBCU Photo Bank via Getty Images
CARDI B IS PREGNANT!!!! Also there was some live comedy. There episodes of SNL where the musical guest, for one reason or another, outshines the host. The best sketch of Larry David's latest episode had more Miley Cyrus than him in it. But sometimes the musician is just more newsworthy. Usually in a bad way (living-legend Sinead O'Connor, weirdly-in-the-same-family-as-Diana-Ross-now Ashlee Simpson), but this time it's good. Cardi announced her pregnancy by stepping out in a bodycon white dress during her SECOND performance. She didn't even give it to us in the first song! Truly an icon.
Chadwick Boseman wasn't iconic, but he was fun. He had plenty of funny voices, some cool wigs, and even an R. Kelly impression that I didn't know I needed. And although SNL hasn't had an openly gay man on its cast since Terry Sweeney, the show has found a lot more material by choosing more diverse hosts. It turns out the more kinds of people you have making comedy, the more jokes you can make. Who knew?
Cold Open
A news show cuts away to a Donald Trump press conference. That is half of cold opens how, huh? The other half have Donald in the White House talking to his possum sidekick Jeff Sessions. SNL has been gone for two weeks, an absence during which many things happened. Some of them not even involving Donald Trump. Just off the top of my head, here are some current event items that could have provided an Alec Baldwin-less cold open: the March for Our Lives (would've been a tough way to open, but more relevant than yet another press conference), Corey Feldman getting stabbed, Miss Vanji's elimination from RuPaul's Drag Race, Don Jr.'s divorce, the panda leaving the endangered species list and the giraffe getting on it, the Italian election, and the Roseanne revival.
I will say this sketch had my favorite Leslie Jones in-character moment in a long time: as the host of a Fox News show, she stared into the camera with dead eyes and said "Outnumbered is the title of the show, and also how I feel here at Fox News."
Monologue
Chadwick Boseman skipped down those Studio 8H stairs in the best outfit I've seen a person wear, perhaps ever. There was power clashing, neon pink on a man, and just the right amount of point on his boots. "I'm so happy to be hosting Saturday Night Live, only two months after Black Panther came out!" he declared. Boseman then listed off all the famous black men he's portrayed on screen (James Brown, Jackie Robinson, Thurgood Marshall). He's the drama equivalent of a Not Ready for Primetime Player. All he has to do is play Star Jones and he'll have the same storied career as Tracy Morgan.
Nike Pro-Chiller Legging
Nike #spon that finally acknowledges the leisure in athleisure. "Let's get real," shouts Kate McKinnon as one of the women who are as intense about their chilling as most women are about their fitness, "leggings can be pants, pajamas, and a napkin!" Finally, a legging for women who turn their laps into "couch paninis" and are tired! From! Their! Nap! All the ladies played their parts completely straight, which heightened everything. Melissa Villaseñor as the boxer was especially spot-on. I laughed at first line, just because of her accuracy, and before the premise of the sketch was even revealed.
Black Jeopardy
This sketch has so many more variations than the old, white Jeopardy sketches. Those were just a series of triples: two dumb celebs are dumb and one troublemaker makes trouble. But this sketch can be so many things. The first iterations always played one white person off the two knowing contestants and host. But then you get versions like this and Drake's, in which the joke is all about how black culture isn't monolithic. When Chris Rock was on SNL, ALL THE JOKES were about how black culture was monolithic. T'challa lives in a country where blackness isn't defined by poverty and oppression, so he can't answer any of the questions about that experience. But he does know that white people don't season their food. In the end, we are all more similar than we are different, and that's what matters.
Medical Breakthrough
The first cisman to ever get pregnant is going to have to squeeze the baby out of his dickhole. That's it, that's the whole sketch. Why is Mikey Day always starring in sketches were a gendered-feminine pain happens to him? Is this his fetish? I could respect that. Boseman didn't have as many funny voices as some other SNL hosts known for their work in drama (looking at you, Jessica Chastain), but when he did them he committed. For this meh sketch about how funny dick pain is, Boseman brought a very odd back-of-the-throat delivery. It served the character as well. You would expect a scientist who wants a man to deliver a baby through the urethra to have a weird, uptight voice.
Aidy B. & Cardi B.
Aidy Bryant assumes the confidence and mannerisms of our lord and savior, Cardi B. I like when Aidy yells, so this worked for me. Cardi also did a great job as someone already over how her fans lose their shit. Even more than the chiller leggings, this was relatable content. When less-than-confident women try to assert themselves for the first time, it can go super bad. I speak from experience. Also, Connor O'Malley got a shoutout, which I appreciated.
Weekend Update
Someone got my letters, and SNL has given Alex Moffat yet another mayo-flavored creep to play. This time he's Westworld prototype Mark Zuckerberg on his whoopsie press tour. I would have enjoyed more of a sketch about the Facebook nightmare in which we all live, and perhaps I will get one in the coming weeks. It's not a story that's going away. In the meantime, I can enjoy Moffat's pathetic attempts at laughter. "Was that a laugh or a scream?" asked Jost. Zuckerberg's reply: "Absolutely homie." Also, COLIN JOST AND ZUCC WENT TO HARVARD TOGETHER?? How did I not put this together before?
The thing I appreciate about Heidi Gardner as Angel (every boxer's girlfriend in every movie about boxing, ever) is that she never breaks. Che and Jost are more giggle than man during this bit, and Gardner keeps looking over at them, affronted. How can they laugh at a time like this? Tommy is gonna die at that fight, and then where will she be? At her sister's. She's taking the kids (including little Kino) to her sister's.
Magic Mirror
Adults at Disneyland are a lot, huh? Did you hear about the Disney social clubs, with the jackets, who use "mafia-like tactics" to shake money out of their members, as a pending lawsuit alleges? I enjoy the weird dynamic between these three adult Disney fans (Melissa Villaseñor, Cecily Strong, and Leslie Jones), before any of the R. Kelly stuff even happens. The ladies each stand in front of a mirror that reveals their inner Disney princess. When Strong gets Rapunzel for her princess, Jones says "That seems right. You're adventurous, a little crazy, and way too into your hair." Then Jones steps in front of the mirror and gets R. Kelly. He just sensually stuff as bag full of popcorn. I wonder what the genesis of this sketch was. Did the writers realize that everything is malevolent when R. Kelly does it? Did Boseman come to the show wanting to do his R. Kelly impression? I look forward to yet another edition of Live from New York to answer all my questions.
Warehouse Fire
I appreciate how SNL has found its surreal stride this season. A fireman needs to leave his job at six, so he can work on something that involves "dogs and dolls." Beyond that, he's not saying. I liked the insistent terminology of Boseman's weird firefighter – rather than fighting a fire he squirts. But the production values got in the way of the sketch. The sound was muddied by all the fake fire noises, and the real fire threw off the timing. I have no qualms with the cutaway to the dog, however.
Restaurant Complaint
A jazzy quartet sings their complaint to the manager of a Greek restaurant. It's hard to find a rhyme for taramasalata (a caviar dish that is so, so good), so hats off to whoever wrote this sketch. It's a lot of window dressing for Boseman's very good Louis Armstrong-esque "Oh yeahhhhh!" Trying to recap this sketch feels like a fever dream. They sing a complaint about the hostess, who it turns out is missing a tooth, then she pays for their dinner? In this world of surreal-yet-awful news, sometimes the only refuge is the surreal-yet-kind, I guess. Also taramasalata. It's very good.
The Game of Life: DACA Edition
Remember what I was just saying about surreal-yet-awful? Here it is. The Game of Life is rigged, I think we all understand that. And it's even more rigged for immigrants. "You'll need a lawyer card to get your papers, but you'll need a job card to get money for a lawyer card. Figure that one out!" chirps Beck Bennett as the perkey announcer. I actually would have prefered Beck in the "assigned dreamer" role in the sketch, to highlight the arbitrary nature of who has it worst in America. But for that to work, you'd probably need more than one latinx cast member. Maybe next year.
Wakanda Forever
These are exciting times we live in. The biggest movie of 2018 stars a majority black cast, and Chadwick Boseman played the first hotep ever on SNL. But it's hard for the white people who just wanna party. And it's even harder for black people to see those white people do the Wakanda salute. "It's like indigestion, but racially," says Chris Redd. This sketch deals with cultural appropriation without every really saying it, and that's nice. Rather than get into all the things white people stole from black culture (music, fashion, literal humans), we can focus on one gesture from one movie. We all know there's more at stake, but we don't have to be so heavy-handed about it. Social commentary with nuance forever.