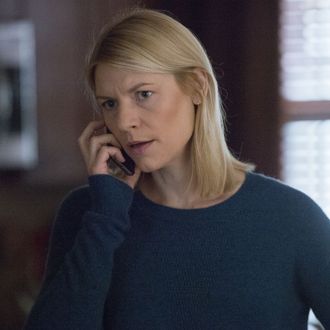 Claire Danes on
Homeland
.
Photo: JoJo Whilden/SHOWTIME
The fake CIA will be down an agent. It's long been suspected that Homeland would soon be wrapping up, and the show's Emmy-winning star confirmed that the upcoming eighth season will be its last — at least in its original incarnation. When asked by Howard Stern on his radio show if the next season will be the end of the line for her, she told him, "Yeah, that's it." According to The Hollywood Reporter, however, Showtime is not yet publicly committing to a timeline about the show's conclusion, since the network may try to keep it going with a new showrunner and a new cast following the end of Carrie Mathison's run. As Alex Gansa told THR earlier this year, "It will be my final year and it will be designed to be the end of an eight-season story."
Danes said on Stern that she is "conflicted" about walking away from her award-winning role, but added, "I'll be ready. She's a lot, this Carrie-freakin' Mathison character." The actress also broke the news that she and husband Hugh Dancy are now expecting their second child. So say good-bye to your favorite semi-stable secret agent, and say hello to the future Dancy-Danes baby.