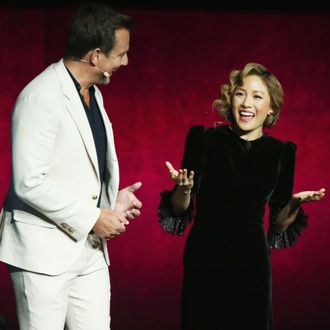 Constance Wu.
Photo: Gabe Ginsberg/Getty Images
Amid a nonstop cavalcade of A-list stars at the Warner Bros. CinemaCon presentation in Las Vegas Tuesday — Sandra Bullock, Cate Blanchett, Bradley Cooper, Melissa McCarthy, and Eddie Redmayne among them — the actors and director of Crazy Rich Asians hit the ballroom stage to a roar. It was the first time so many members of the principal cast had gathered together publicly and marked the first time any of them had talked up the project.
Director Jon M. Chu, whose eclectic filmography encompasses Step Up 2: The Streets, Justin Bieber: Never Say Never, Now You See Me 2 and G.I. Joe: Retaliation, detailed how a certain peer pressure more or less dictated his commitment to Asians. "I love romantic comedies," Chu said. "I got more emails in my inbox from cousins, relatives, people who come to my family's restaurants about this book by Kevin Kwan. I had to do it. The reliability of a crazy family, everyone can relate to."
Co-star Constance Wu, resplendently blond in a stark departure from her Fresh Off the Boat tiger-mom styling, portrays Rachel in the film: a Chinese-American professor who travels to Singapore to meet her boyfriend's family only to be shocked at their extreme wealth — and the fact her hunky partner is not only the son of super-wealthy developers, he's like the "Asian Bachelor." "You hear the words representation and diversity," Wu said. "People want to see that. But what's special about this film is it differentiates Asians from the Asian-American experience. A lot of times they think putting in a face of color and filling a quota. Our culture is more than skin deep."
She paused before adding: "When you talk about representation, it can seem really serious but our film is really fun."
The film arrives in August as the first movie with a predominantly Asian cast since The Joy Luck Club in 1993.