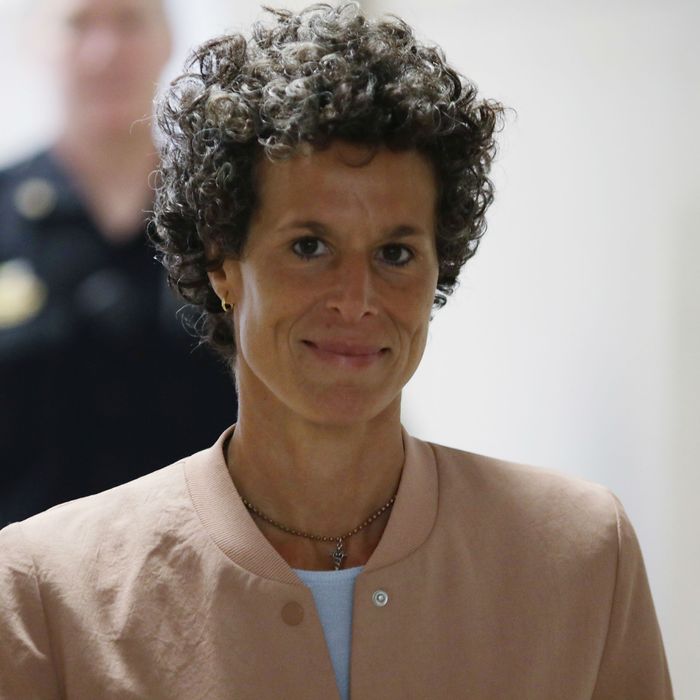 Andrea Constand.
Photo: Dominick Reuter-Pool/Getty Images
As Andrea Constand again takes the witness stand one week from the day the retrial of Bill Cosby began at the Montgomery County Courthouse, a big question for both the prosecution and defense is what kind of impact Cosby's main accuser will ultimately have on the jury. The panel of 12 men and woman has already heard several days of very emotional testimony from several other accusers, all of whom painted the former TV dad as a sexual predator who they say took advantage of their trust.
At one point on Friday, Constand told the court, "I was very scared. He was a Temple [University] trustee, a powerful man, an entertainer, a very famous person."
Constand, who has accused the comedian of drugging and sexually assaulting her in his suburban Philadelphia home in 2004 while she was sports director at his alma mater, Temple University, will again be cross-examined today. At the center of the defense's strategy: finding a way to undermine Constand's story and credibility, and focusing on why she accepted a settlement from Cosby to the tune of $3.4 million. Today the defense hammered Constand on the stand about her phone calls with Cosby after the alleged incident.
Many of the women who have already taken the stand to testify against Cosby have said they've waited years to confront him publicly. When Chelan Lasha was asked why she didn't tell authorities sooner about her allegations against the comedian when she was 17, she said she was scared. But when prosecutors asked, as tears were streaming down her face, if Lasha was still scared, she said she was no longer fearful.
Rebecca O'Connor, vice-president of public policy for RAINN (Rape, Abuse & Incest Network), an advocacy group that wrote an amicus brief asking that these accusers be permitted to testify during the retrial, explained that part of what makes the testimonies so powerful is that they tell virtually the same story for the first time in court.
"Survivors of sexual violence routinely tell us that the opportunity to share their story can be an incredibly empowering and healing experience," said O'Connor. "Many survivors who pursue their case in court are seeking to not only solve their own case and personally heal, but also to hold the perpetrator accountable."
Statutes of limitations on crimes pertaining to sexual violence also tend to play an important role in this process. In Pennsylvania, adult rape or sexual assault accusers have just two years from the time of the alleged incident to file a complaint.
"The Cosby case elevated the challenge presented by statutes of limitations," said O'Connor. "Many victims were told that they could no longer pursue criminal prosecution. The statutes can, notably, vary by type of crime, age of victim, discovery of DNA evidence, and other factors."
Throughout the retrial, several of Cosby's most public accusers have been showcasing their solidarity, whether posing arm in arm on the courthouse steps or lining up early to get public passes to the main courtroom. Lili Bernard and Victoria Valentino (both say they were drugged and raped by Cosby years ago) have been attending the trial. At one point last week they held a silent vigil outside the courthouse for other Cosby accusers.
"Heidi Thomas, Chelan Lasha, Janice Baker-Kinney, Janice Dickinson, Lise-Lotte Lublin and Andrea Constand," said Bernard on Instagram, "were unshakable and spoke truth to power."
In a video Bernard posted Friday, Caroline Heldman, a professor at Occidental College in L.A., and an expert in the study of race, class and gender who has been outspoken about Cosby's guilt and rape culture, said, "If you still believe this man is innocent, you're either stupid or evil."
O'Connor admitted that trying crimes of a sexual nature, especially one that involves a famous person who may be better known for his silly, squeaky-clean image, can be challenging for everyone involved.
"The conviction rates for these crimes are low (out of every 1,000 sexual assaults, 994 perpetrators will walk free)," she explained. "Juries are comprised of human beings. As such, testimony that puts a human face on a crime can be highly effective."
O'Connor believes that the testimony of the accusers, something that was not permitted in the first trial, will have an impact on the retrial because it offers new evidence. "It is our belief that the testimony of additional victim witnesses will demonstrate a common plan and scheme by Cosby," she said.
Thanks to #MeToo, the jury will be deliberating in a very different cultural climate from last year when the first trial against Cosby ended in a hung jury. And while the defense arguably succeeded at times in breaking apart Constand's testimony on the stand, the bigger question is whether it will matter to the jury after four other women have said virtually the same thing about the defendant.
"The #MeToo movement has elevated the issue of sexual harassment and assault in an unprecedented way," explained O'Connor. "It is certainly is also our hope that the national conversation around these matters in the past year or so will inform [the jury's] review of that evidence."
Cosby has denied all accusations against him. In a statement to investigators, he described his relationship with Constand as "consensual."