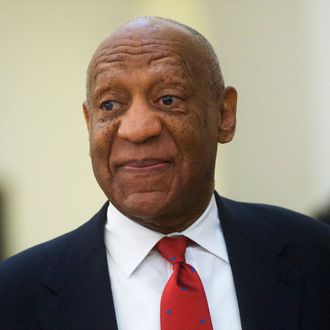 Cosby.
Photo: Mark Makela/Getty Images
The sequestered jury in Bill Cosby's sexual-assault retrial, now on day two of deliberations, got some good news today. Judge Steven O'Neill announced that jurors will have the opportunity to visit with an emotional therapy dog later this afternoon. The dog, which works in the courthouse, will provide the jurors some much-needed relief as they head into a dozen-plus hours of deliberations to decide the fate of the 80-year-old entertainer.
In rare comedic form, Cosby surprised everyone in the courtroom when he stood up at the defense table to mimic a barking dog after the judge made this lighthearted announcement.
It wasn't the first strange turn of events during the retrial of the comedian at the Montgomery County Courthouse near Philly. On the first day, a topless protester stormed the barricades on the courthouse steps and was subsequently arrested, and just last evening Cosby's defense attorney was caught taking a catnap.
The defense has rested its case and now Cosby awaits a verdict from the jury.