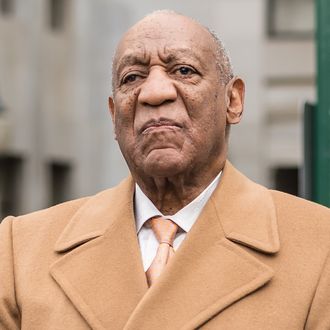 Photo: Gilbert Carrasquillo/Getty Images
With Bill Cosby's felony sexual-assault trial entering its ninth day at the Montgomery County Courthouse outside of Philadelphia today, the defense team again tried and failed to get Judge Steven O'Neill to grant a mistrial in the controversial case. It's the fifth such motion to date that Cosby's legal team has made in hopes of being granted a mistrial, this time over the way they say the prosecution badgered their star witness yesterday.
When she took the stand on Wednesday, Marguerite "Margo" Jackson claimed that Cosby's accuser Andrea Constand is lying about the assault and is trying to frame the 80-year-old comedian for money. Constand, who has accused Cosby of drugging and sexually assaulting her in his suburban Philadelphia home in 2004, has already received a $3.4 million settlement from the former TV dad. She denied ever talking to Jackson, a co-worker from Temple University, about the case.
Cosby's lawyers argued that the prosecution misled the jury by suggesting that the defense team somehow helped to craft Jackson's story about talking to Constand while they traveled for work with the Temple athletics department. Jackson said that Constand told her during the alleged trip that she wanted to make up a story to frame a celebrity for a big payout.
The prosecution argued that Jackson changed her story from the time she reported it to investigators and after she was reportedly counseled by Cosby's new defense team. While she was on the stand, Jackson admitted that defense attorney Kathleen Bliss, indeed, helped to write her statement about the alleged incident, which included more details about Constand's supposedly wanting money, a detail that wasn't included in the first statement. The prosecution vigorously challenged Jackson's story, which promoted today's motion for mistrial.
Despite valiant efforts, Judge O'Neill denied the motion, saying there were "simply no grounds" for a mistrial at this time, which means that the defense's next round of witnesses are moving forward as planned. They include two drug experts who are expected to testify about what drugs Cosby could have given Constand in his home in 2004 — either over-the-counter allergy medication or Quaaludes, which are illegal in the U.S.
Cosby, in a deposition in 2005, admitted to using Quaaludes in the past to entice women into sex. Constand alleged during her grueling two-day testimony that after taking the pill Cosby provided, she drifted in and out of consciousness, rendering her incapable of fighting off Cosby's unwanted sexual advances. Four other women also testified in the retrial that Cosby gave them drugs before raping them over the course of more than 30 years.
Cosby denies all allegations against him and has described his relationship with Constand as consensual. If convicted, he could face up to ten years on each of the three felony charges.