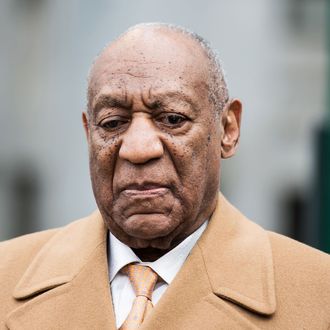 Photo: Gilbert Carrasquillo/Getty Images
On Thursday afternoon, the jury in the Bill Cosby felony sexual-assault retrial found the 80-year-old comedian guilty on all counts.
Cosby now faces up to ten years for each of the three counts of drugging and raping Andrea Constand in his suburban Philadelphia home in 2004.
The much-awaited announcement came just after lunch at the Montgomery County Courthouse near Philly. The jury in this closely watched retrial deliberated for less than two days before reaching this decision. The first trial against Cosby ended in a hung jury last year after the jury deliberated for more than 50 hours over the course of six days.
All members of the jury agreed on the verdict. Sobbing could be heard coming from the main courtroom. A group of women broke through the courthouse doors, crying and embracing each other after the verdict was announced. This case was the last chance Cosby's accusers had to find justice in a criminal court, as Andrea Constand's accusations were the only ones that fell within the state's statute of limitations.
Both legal teams are expected to make statements about the verdict. This is a developing story.