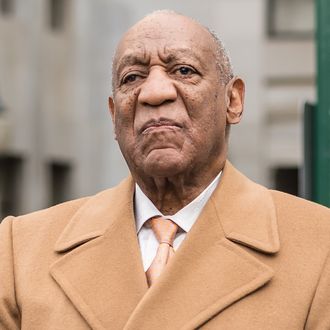 Photo: Gilbert Carrasquillo/Getty Images
After deliberating for only a few short hours today, the jury in the felony sexual-assault retrial of Bill Cosby had a key question for the court. Just after lunch at approximately 1 p.m., the jury asked the judge: What is the legal definition of consent?
"The jury will decide what consent means to them," Judge Steven O'Neill told the court before sending them back to the deliberation room.
Based on the question, it appears that the jurors are zoning in on Andrea Constand's central allegation that Cosby drugged and raped her in his suburban Philadelphia home in 2004. While the 80-year-old comedian never took the stand during his retrial, he said in a deposition from 2005 that his relationship with Constand was consensual.
By mid-afternoon, court was again reconvened for a second question, this time the jury wanted to hear Marguerite "Margo" Jackson's prior sworn statements. Jackson, a witness for the defense, accused Constand of fabricating allegations about Cosby to coax money from him. Both women worked at Temple University during the time of the alleged assault. Constand claimed that she never spoke with Jackson about her allegations.
The jury for this closely watched case has been sequestered for the more than two weeks, and is comprised of seven men and five women (two of whom are African-American and ten of whom are Caucasian). The first trial against Cosby ended in a hung jury after jurors were unable to reach a verdict after deliberating for 52 hours during six days in June.
Cosby currently faces up to ten years in prison for each of the three charges against him.