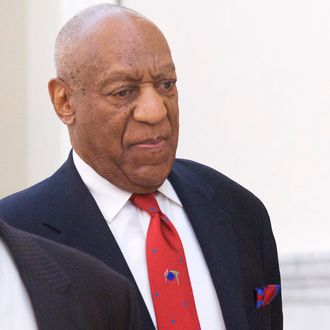 Bill Cosby.
Photo: Mark Makela/Getty Images
This afternoon saw comedy legend Bill Cosby convicted of three counts of sexual assault by a Pennsylvania court. In light of the development, Bounce TV has announced they are pulling reruns of The Cosby Show from their schedule. The network, founded by Martin Luther King III and Andrew Young, made a similar move to pull all reruns of The Cosby Show and Cosby in 2015 when allegations against Cosby began to gain publicity.
Celebrities also reacted to the news on Twitter, including a number of prominent #MeToo activists. Many celebrated the verdict as a step in the right direction, while acknowledging the pain Cosby's crimes have caused his victims, as well as his fans.