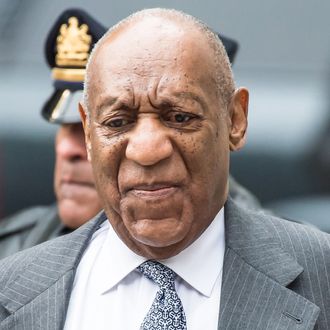 Photo: Gilbert Carrasquillo/Getty Images
The judge presiding over Bill Cosby's felony sexual-assault trial handed the defense a big win today. Not only will the comedian's legal team be able to call a controversial witness, Marguerite Jackson, who claims that Cosby's accuser, Andrea Constand, told her that she wanted to get money for lying about sexual assault by a celebrity, but the jury will also hear exactly how much Cosby paid Constand in a 2006 civil settlement.
Both the settlement and witness were excluded from the first trial, which makes Jackson's testimony potentially damaging to the prosecution's case. Jackson, a former co-worker of Constand's at Temple University, will likely be called by the defense to paint Constand as a liar seeking fame and money from their well-known client.
After a tumultuous week of pretrial hearings in which Judge Steven O'Neill refused to step down from the case over questions of bias, jury selection officially began yesterday. For the first trial, the court went to Pittsburgh to select jurors. This time around the jurors are coming from Montgomery County just outside of Philadelphia, where Cosby has made his home for decades. Once the jury is assembled, they will be sequestered for the duration of the trial and deliberations, which could last a month.
According to early reports, seven jurors have already been selected for the trial as of today. All told, 12 jurors will be chosen along with six alternates.
A big question during the jury-selection process this week has been the impact the #MeToo movement is having on potential jurors. During the initial trial, Cosby was one of the first famous men to face sexual-assault charges in a courtroom. It was before the subsequent avalanche of accusations against other men like Harvey Weinstein and Matt Lauer. The defense team has already blocked several women from serving on the jury, according to ABC News, while the prosecution excluded two men, including one who had disparaging things to say about the #MeToo movement.