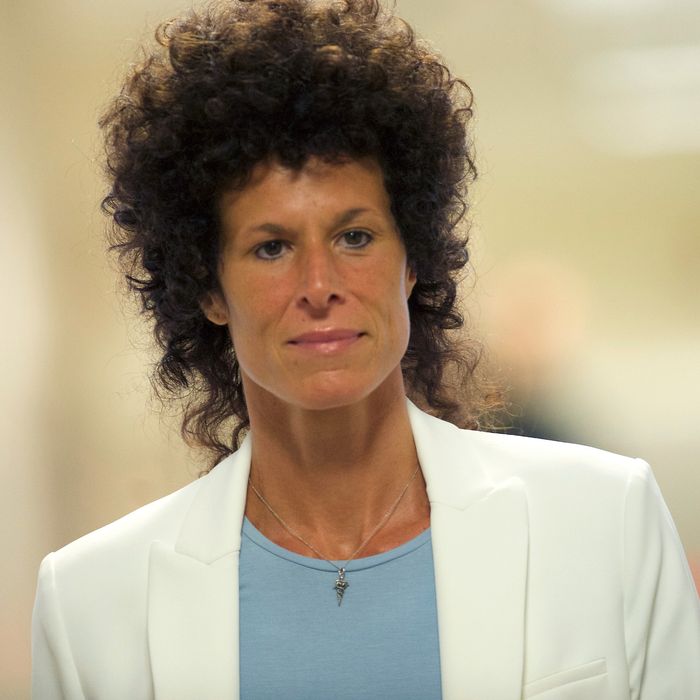 Andrea Constand.
Photo: Getty Images
It isn't often that the prosecution and defense teams can agree on anything in court, but in the case of the felony sex-assault trial against Bill Cosby, they both seem to acknowledge that this is certainly one of the most famous cases of "he said, she said" of our time. Since Cosby's closely watched retrial kicked off at the Montgomery County Courthouse near Philadelphia on Monday, lawyers on both sides of the aisle have given us a better idea of what we can likely expect in the next few weeks. It was also confirmed publicly for the first time yesterday that Cosby did, indeed, pay his accuser Andrea Constand millions of dollars in alleged hush money in advance of the trial.
The picture painted of Constand by the prosecution and defense couldn't be more different. Because Constand, who has accused the 80-year-old comedian of drugging and sexually assaulting her in his suburban Philadelphia home in 2004, will once again be a key witness in the retrial (she testified last year in the first trial which ended in a hung jury), she naturally became the sharp focus of opening arguments. While the prosecution is calling Constand a victim of a rich, famous, and ultimately privileged man, the defense is attempting to paint Cosby as the real victim in the case.
DA Kevin Steele is resting much of his case on the whopping $3.38 million settlement Cosby paid Constand in 2006, money that he said was used to help the entertainer avoid criminal penalty and any media fallout that could have negatively impacted his career. He says it points to Cosby's guilt.
Also on the mind of the prosecution: #MeToo. Only two days into the retrial and the climate already feels different from last time, and the stakes much higher. In some ways Cosby has become the poster boy for #MeToo, as a powerful man that many victims hope will have to face serious legal consequences for sexual assault, which could include jail time. If convicted, Cosby could face ten years for each of three possible felony charges.
Stuart Slotnick, a criminal defense attorney at Buchanan Ingersoll & Rooney in Philadelphia, said observers shouldn't underestimate the cultural climate during this case. "There is more of a sensitivity to claims of abuse against women, and this could only be detrimental to Cosby's defense," he explained. "April 2018 is not the best time to try a case such as Cosby's."
In many ways this case can be broken down to one word: rape. It's a word that's taken on new weight in an era when more victims are coming forward and several of Cosby's accusers are sitting in front of him in the courtroom. It's a word that Steele used repeatedly to drive home the seriousness of the allegations against Cosby.
Steele told the jury that Constand, a former sports director at Temple University, did not give Cosby permission to touch her sexually, nor did she seek money and fame after coming forward to police.
To help bolster the case, the prosecution called an expert witness today, Dr. Barbara Ziv, a psychiatrist specializing in sexual assault, who attempted to bust open some of the most common myths about rape and victimology, namely misconceptions about how rape victims should or should not behave after an assault.
"Ultimately, the verdict in this case will come down to the facts presented and the strength in which Constand delivers her message," said Slotnick. "Unfortunately for her, the more she testifies the more the defense has to work with to point out already significant questions in her account of events." In contrast, Cosby did not take the stand in the first trial. It's doubtful he will take the stand in the retrial.
Steele and his team are setting the tone to portray Constand as not only a victim of rape, but also a smart, credible, and trustworthy witness in light of her sometimes contradictory statements to investigators. An even bigger challenge will be finding a way to recast Cosby from his most famous role as the lovable Dr. Cliff Huxtable into a serial rapist.
This script was flipped Tuesday morning when the defense team, led by Tom Mesereau, who successfully defended Michael Jackson against a child-molestation claim, wasted no time calling Constand a gold digger. Mesereau said that Constand was "madly in love," not with the aging comedian, but his money.
The defense dug into Constand hard for about an hour, characterizing her as a lost woman who was in search of a new career and had financial problems when she met Cosby through her job. (Cosby was a long-time member of the Board of Trustees at Temple until he resigned in 2014.) "What does she want from Bill Cosby?" asked Mesereau. "Money, money, and lots more money." In his slow, steady, and compelling opening, he called Constand a "con artist" who's now a multimillionaire thanks to the settlement, the contents of which he broadcast on a big screen in the courtroom.
Mesereau, who talked casually to the jury about his famous client, painted Cosby as an elderly man who pulled himself up by the bootstraps and out of the projects of Philadelphia to become a star, a guy who simply used terrible judgment when he engaged in a consensual relationship with the much-younger Constand.
"[Constand] attached all of her hopes on Cosby," Mesereau told the jury. "I think you're in for a surprise when you find out who this person is."
As for the other five women who will be testifying in the retrial, the defense called it a weak attempt by the prosecution to try to sway the jury in lieu of having any real evidence. Cosby has denied and continues to deny any allegations that he's ever drugged or raped anyone, though almost 60 women have gone public to date. Mesereau challenged the jury to ignore overzealous media reports and rumors and to stick to the evidence, of which there is actually very little, he said. Since Constand came forward more than a year after the alleged incident, no drug or medical testing ever took place. That could spell bad news for the DA.
The defense has its own challenges, namely the five women who will tell graphic stories of Cosby allegedly drugging and raping them.
"The ruling that will permit five additional complainants to testify against Cosby is not a good one for him," said Slotnick. "This undoubtedly will pose an appellate issue if Cosby is convicted. The defense will claim that five women alleging similar illegal sexual misconduct is so prejudicial that any probative value of the evidence is lost."
Ultimately, Mesereau is taking a big leap in trying to convince the jury that Cosby is really the victim in this trial and that Constand was the aggressor, especially if the cultural wind is blowing in the opposite direction.
"[Cosby] was foolish. He was ridiculous. He was lonely. He was attracted to a younger woman," said Mesereau. "But he's not a criminal."