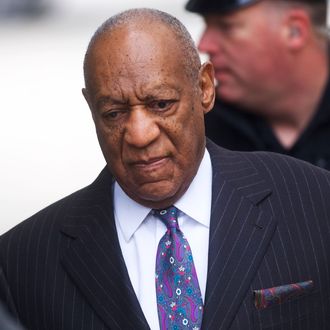 Photo: Mark Makela/Getty Images
After hearing graphic accounts of Bill Cosby's drug use this week, today the jury in the comedian's felony sexual-assault retrial heard from book publisher Judith Regan's sworn affidavit. The statement detailed her decision to cut accusations about Janice Dickinson's rape by Cosby from the model's much-talked-about memoir.
In 2002, Regan told investigators that allegations of Cosby raping Dickinson where purposely redacted from Dickinson's memoir, No Lifeguard on Duty: The Accidental Life of the World's First Supermodel, because the publisher worried about being sued without sufficient evidence proving the model's claims. At the time, no other women had quite so publicly accused Cosby of rape — Regan and the lawyers at the publisher were worried about taking such a big chance on painting the legendary comedian as a sexual predator.
In the Montgomery County Courthouse today, Deputy DA Stewart Ryan held up a copy of the sworn affidavit in which Regan corroborated Dickinson's testimony from last week that, indeed, "the story was modified to deal with this issue without any legal problems." Regan also confirmed that Dickinson repeatedly made her allegations against Cosby drugging and raping her known at the time, and that she was very upset about not being able to tell the story in the book.
"I insisted that it not appear in the book," Regan said. "She was very angry about that."
Dickinson is one of four so-called prior-bad-act witnesses that testified for the prosecution in court since the beginning the retrial. She claimed that Cosby drugged and raped her in Lake Tahoe in 1982, an allegation the defense vigorously questioned in cross precisely because the story never made it into her otherwise wild tell-all. In her own defense, Dickinson shocked the courtroom when she described Cosby smelling like cigars and body odor as he raped her, never seeming to lose step despite the defense team railing against her credibility.
Regan, no stranger to controversy herself (she conducted the notorious "If I Did It" interview with O.J. Simpson and cut her teeth at the National Enquirer before creating her own imprint Regan Books) was questioned about her truthfulness by the defense during cross-examination.
Being associated with controversial projects and celebrity gossip didn't do Regan any favors when it came to the defense. Cosby's lead counsel challenged her credibility only to meet a few prosecution objections, including one related to truthfulness during her stint at a notorious tabloid. But Regan held tight to her story.
"It's a complicated situation when you're publishing memoirs," Regan said, "because people are entitled to interpret the events of the their lives the way that they see fit."