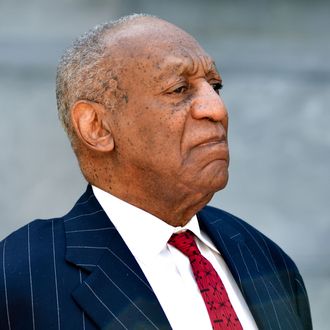 Bill Cosby.
Photo: Bastiaan Slabbers/NurPhoto via Getty Images
The defense rested its case in the sexual-assault retrial of Bill Cosby shortly after lunch today. The 80-year-old comedian, who is charged with three counts of felony sexual assault, opted not to take the stand in his own defense. Cosby also did not testify in the first trial, which ended in a hung jury last year.
During this tumultuous case, the sequestered jury heard from 25 witnesses over the course of ten long days. Fifteen of the witnesses, five of whom included women who have accused Cosby in graphic detail of drugging and raping them, belonged to the prosecution, while the defense called just ten, including one woman who claimed that Cosby's main accuser admitted she wanted to frame the entertainer for money.
Andrea Constand, the woman at the center of the case, has accused Cosby of drugging and sexually assaulting her in his suburban Philadelphia home in 2004. She spent two grueling days on the stand answering questions about the night in question, as well as what prompted her to accept a whopping $3.4 million settlement from Cosby in 2005.
As the retrial entered its third week today, the tension in the Montgomery County Courthouse is palpable for both sides, especially with sunny, springlike weather seeming to attract more protesters and fans of Cosby's alike to this small town, which is about 30 minutes from North Philly where Cosby grew up.
Based on the latest timeline, closing arguments are now scheduled for tomorrow, and the jury could begin deliberations as early as Tuesday afternoon.