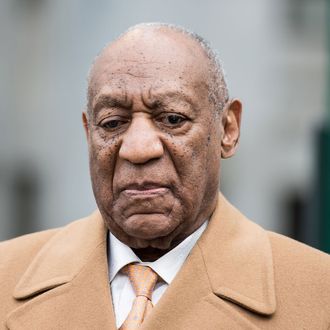 Cosby.
Photo: Gilbert Carrasquillo/Getty Images
Less than a week after Bill Cosby was found guilty of three counts of sexual assault, one of the jurors in the retrial is giving insight into how the jury arrived at that verdict. Harrison Snyder, 22, tells Good Morning America that, for him, the decision came down to Cosby incriminating himself in his own 2005 deposition for the lawsuit brought against him by accuser Andrea Constand. Cosby testified at the time that he routinely gave women Quaaludes prior to sexual contact. Though Cosby did not take the stand in his retrial, the judge ruled that the jury could hear his damning deposition, which may have proven to be the final blow.
"It was his deposition, really," Snyder says. "Mr. Cosby admitted to giving these Quaaludes to women, young women, in order to have sex with them." Snyder says he entered the retrial with no knowledge of the allegations against Cosby, but believed Constand after hearing her testimony. He claims he also would have believed Constand even without the echoed testimony from the five other accusers who were permitted to testify along with her, and has no doubt the jury got it right.