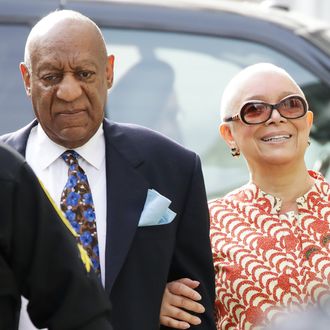 Photo: DOMINICK REUTER/AFP/Getty Images
When Bill Cosby arrived at the Montgomery County Courthouse near Philadelphia this morning, his wife Camille Cosby was on his arm. It's the first time the 80-year-old comedian's wife has made an appearance at his contentious felony sexual-assault retrial since it started earlier this month. Both Cosbys were smiling as they made their way past fans and protesters and into the courthouse for what are expected to be lengthy closing arguments.
The prosecution has hung its case on Andrea Constand's allegations that Cosby drugged and raped her in his suburban Philly home in 2004, backing up this claim with four accusers who helped to establish a pattern of bad behavior. At times, the testimonies were tearful. The accusers said they were ashamed and fearful about what Cosby did to them. They were also very memorable witnesses. For almost a week, one woman after another echoed the same story of being drugged and assaulted by Cosby.
Even though the burden of proof in this case rests on the prosecution, the defense team has had to work extra hard to try to undermine Constand's credibility. As a one-time basketball star and self-described health nut, Constand isn't an easy target by any means. Cosby's all-star legal team has been drilling down on her with accusations that she wanted to extort a lonely old man for millions. Attorney Thomas Mesereau must have used the word "greedy" to describe Constand dozens of times already.
The defense also introduced a witness, a former Temple University co-worker of Constand's, who upended her allegations. It was the first time the jury heard from anyone who contradicted these claims, accusing Constand of simply wanting a big payday.
So which is it? Is Constand lying for money or did all five women finally reveal the most shocking secret about Cosby? This is what the jury will ultimately need to decide.
"The jury will grapple with the concept of reasonable doubt," said Stuart Slotnick, a criminal defense attorney at Buchanan Ingersoll & Rooney in Philadelphia. "Did Cosby commit the crimes he is charged with beyond a reasonable doubt?"
The defense, said Slotnick, "will point to the inconsistencies in the complainant's testimony, implore the jury to ignore the additional accusers, and focus on the evidence that the complainant was out to extort Cosby."
Throughout the trial, the defense has returned again and again to Constand accepting a $3.4 million settlement from Cosby in 2005, just one year after the alleged assault occurred. Whether this points to Cosby's guilt or Constand's greed is anyone's guess.
"[The defense] will argue that just thinking that Cosby may have done what he is accused of is not enough and that they cannot believe he did it beyond a reasonable doubt so they must find Cosby not guilty," said Slotnick. "The defense will tell them that they must follow the law and acquit Cosby."
For now, all eyes in Norristown are on the closing statements and when the judge will begin giving the jury formal instructions for deliberation. What's at stake: three felony sex charges that could land Cosby behind bars for up to ten years on each charge.
"The longer the jury deliberates, the greater the likelihood that there may be a second hung jury," said Slotnick. "However, if a verdict comes back very quickly, conventional wisdom says that means the jury will convict."