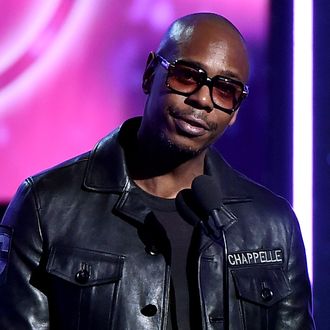 Dave Chappelle during the 2018 Grammy Awards.
Photo: Theo Wargo/WireImage
Christian Englander, the man who threw a banana peel at Dave Chappelle during a stand-up set in Santa Fe, New Mexico, is now suing the comedian. According to The Hollywood Reporter, the fruit thrower is claiming in his lawsuit that the man he presumes is Chappelle's bodyguard (who is also listed as a defendant) hit him twice while he was being restrained.
Viewers of Chappelle's 2017 stand-up special, Deep in the Heart of Texas: Dave Chappelle Live at Austin City Limits, might recall the story of Englander — the experience, known as "Bananagate," served as the comic's opening joke. In it Chappelle said he believed the crime to be "premeditated" based on the brownness of the peel. After the incident police charged Englander with battery and disturbing the peace, but the case was dropped because Chappelle did not wish to participate in the prosecution.
The alleged assault was not mentioned in the police report. According to The Santa Fe New Mexican, Englander says there were no racial-motivations for throwing the banana peel. Instead he claims his actions came after the comic made-up fun of his friend, which doesn't really explain why he had a banana peel in venue to begin with.