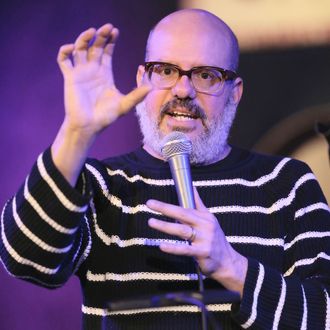 Photo: Al Pereira/Getty Images
David Cross is hitting the road this summer. Today the North American dates were announced for the David Cross: Oh Come On Tour, which officially kicks off at the Chicago Theatre on June 1st and makes stops in San Francisco, Boston, Philadelphia, Seattle, Vancouver, Madison, Washington DC, Los Angeles, Denver, and more through late August. "I am beyond aroused to get back out on the road and bring my very special, artisanal small batch hand crafted, 100% organic jokes & jibberings to a venue near you," said Cross on the news. "These jokes are kid tested and mother approved so bring the whole family!" Here's the full rundown:
May 27Harvard Athletic ComplexBoston, MA
June 1The Chicago TheatreChicago, ILJune 3Bill Graham Civic AuditoriumSan Francisco, CAJune 15Capitol TheatrePort Chester, NYJune 16Columbus TheatreProvidence, RIJune 17The WilburBoston, MAJune 19State TheatrePortland, MEJune 20Flynn Center for the Performing ArtsBurlington, VTJune 21College Street Music HallNew Haven, CTJune 22Paramount TheatreAsbury Park, NJJune 23The Fillmore PhiladelphiaPhiladelphia, PAJune 29Moore TheatreSeattle, WAJune 30Crystal BallroomPortland, ORJuly 2Bing Crosby TheaterSpokane, WAJuly 4Vogue TheatreVancouver, BCJuly 5MacEwan HallCalgary, ABJuly 6Myer Horowitz TheatreEdmonton, ABJuly 7Conexus Arts CentreRegina, SKJuly 8Burton Cummings TheatreWinnipeg, MBJuly 10Fargo TheatreFargo, NDJuly 11Pantages TheatreMinneapolis, MNJuly 12Orpheum TheaterMadison, WIJuly 13Pabst TheaterMilwaukee, WIJuly 14Egyptian Room at Old National CentreIndianapolis, INJuly 15Royal Oak Music TheatreRoyal Oak, MIJuly 26Algonquin Commons TheatreOttawa, ONJuly 27Danforth Music HallToronto, ONJuly 29Agora Theatre and BallroomCleveland, OHJuly 30Jo Ann Davidson TheatreColumbus, OHJuly 31Carnegie of Homestead Music HallMunhall, PAAugust 1Modell Performing Arts Center at The LyricBaltimore, MDAugust 2Warner TheatreWashington, DCAugust 3The Paramount TheaterCharlottesville, VA
August 4Carpenter TheatreRichmond, VAAugust 6Knight TheaterCharlotte, NCAugust 7Carolina Theatre of DurhamDurham, NCAugust 8The Orange PeelAsheville, NCAugust 9Brown TheatreLouisville, KYAugust 10James K. Polk Theater at TPACNashville, TNAugust 11Atlanta Symphony HallAtlanta, GAAugust 16Orpheum TheatrePhoenix, AZAugust 17The Observatory North ParkSan Diego, CAAugust 18The Theatre at Ace HotelLos Angeles, CAAugust 22Kingsbury HallSalt Lake City, UTAugust 23Boulder TheaterBoulder, COAugust 24High Plains Comedy FestivalDenver, COAugust 25Arvest Bank Theatre at The MidlandKansas City, MOAugust 26Holland Performing Arts CenterOmaha, NE
Cross last hit the road with his Making America Great Again tour in 2016. Tickets for Oh Come On go on sale this Friday, April 27th at 10:00am. Additional stops in the US as well as international tour dates will be announced in the near future. For more info, head over to Cross's website.