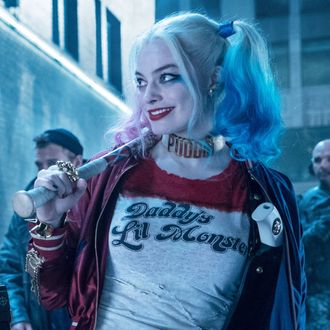 Margot Robbie as Harley Quinn.
Photo: Clay Enos/Warner Bros. Pictures
Cathy Yan (director of Dead Pigs, winner of the World Cinema Dramatic Award for Ensemble Acting at Sundance) is in talks to direct Margot Robbie in DC's stand-alone Harley Quinn movie. After juggling a few different different Quinn projects in development — including a Suicide Squad sequel to be directed by Gavin O'Connor — the studio has chosen a script based on the "Birds of Prey" comic. According to Deadline, Robbie pushed for a female director for the solo movie. Yan would be the second woman to direct a DC movie, and the first Asian-American woman to direct a comic-book movie.
The "Birds of Prey" story line follows Harley Quinn's adventures with Black Canary, Barbara Gordon (Batgirl), and Huntress. The Harley Quinn script was written by Transformers spinoff Bumblebee screenwriter Christina Hodson. Hodson was just hired to replace Joss Whedon in scripting DC's upcoming Batgirl movie. Production is expected to begin at the end of this year.