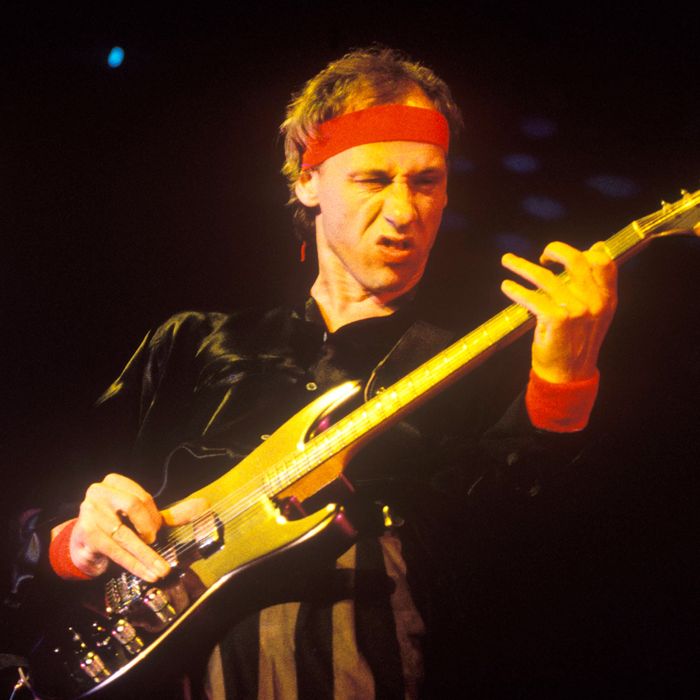 It's a truly dire situation.
Photo: Bob King/Redferns
This Saturday, six acts will be officially inducted into the Rock and Roll Hall of Fame — Bon Jovi, the Cars, Nina Simone, the Moody Blues, Sister Rosetta Tharpe and, yes, Dire Straits. But as the ceremony quickly approaches, an unusual source of drama has cropped up thanks to those swingin' chaps from London, effectively putting their induction segment up in the air and crushing "Sultans of Swing" superfans in the process. As a reunion more than 25 years in the making will likely not occur (sigh), let's dive into what exactly all of this dire drama is about.
First off, who from the band is actually getting inducted?
Dire Straits had a few instrumentalists on rotation throughout their tenure as a band, and the Rock Hall deemed the following six members significant enough to be inducted: Mark Knopfler, Pick Withers, David Knopfler, John Illsley, Alan Clark, and Guy Fletcher.
Who of those six have confirmed their attendance?
Clark wrote on his website that "as far as" he knew, himself, Illsley, and Fletcher would be attending. Illsley also confirmed his attendance in an interview with Rolling Stone, in which he expressed excitement about the Rock Hall finally honoring the band.
Okay, what about the others?
Well, this is where things start to get weird. Withers has yet to publicly comment on the ceremony, so we have no idea what he thinks about it. And the two most marquee members of the band, the Knopfler brothers, are serving their own form of sass.
Let's start with David, then.
Steve Miller would understand this situation well. The younger Knopfler expressed his extreme annoyance at the Rock Hall on his Facebook page, saying the organization "reneged" on its promise to provide him with all of the required travel costs to get to Cleveland. "I can well understand that with only $5 million a year in sponsorships and 100k a table and no fees for the artist," he mused, "that paying my taxi to the airport must have given them heart murmurs like Squeers hearing Oliver Twist asking for more and frightened them into refusal otherwise one might get the wrong idea entirely about what they're all about." Still, Knopfler said it's a "great honor" to be inducted, despite "the usual Faustian bullshit" that comes along with it. (The other England-based band confirmed to attend the ceremony, the Moody Blues, haven't indicated any out-of-pocket travel costs in their pre-ceremony interviews.) As of now, he has no intention of making the trip across the Atlantic, walking back on his initial plans to attend "if the others are participating."
Okay, that's not great. What about Mark?
What about him! The elder Knopfler hasn't said a damn thing about anything related to the Rock Hall, despite being the face of the band and currently working in the studio with Fletcher on his new solo album. We could pass this off as a guy who wants to maintain a quieter life and isn't seduced by fancy Ohio events — when asked by Vulture for comment, Knopfler's rep said he would not be doing interviews, and didn't confirm the veracity of this quote Knopfler supposedly gave to a Cleveland radio station last week — but some asides from various band members point to something more going on.
Like what?
It's been well documented how the Knopfler brothers have had a strained relationship over the past three decades, with David most recently expounding on how they weren't on speaking terms, in a 2015 interview. Fletcher has also written on his website that a reunion would be unlikely due to "various and convoluted reasons," and that he "just can't respond" to inquiring fans about why his pal Knopfler won't be attending. As mentioned, Knopfler is currently working on a solo album with touring plans of his own, so health presumably isn't a factor in this decision.
How are they going to be honored if only three Straitsmen are attending?
If Fletcher is to be believed, the standard three-song live performance will be replaced with a "video presentation" that presumably shows highlights from the band's career, something that has never been done at the ceremony before. (For some context, in the cases where deceased artists are being honored, an appropriate musician or group of musicians are picked to perform in their place.) The Rock Hall hasn't even confirmed a presenter for the band, despite announcing all of the other pairings in late March — Mary J. Blige for Nina Simone, for example — proving not even the innermost Rock Hall employees know what's going on. In fact, the Rock Hall hasn't said anything about the Dire Straits situation at all. Vulture's requests for comment were met with silence.
How uncommon is it for bands not to fully reunite?
It really goes both ways. It's easy to note how other massive bands have used the Rock Hall as an excuse to reunite for what's essentially a mini concert — such as the Police, Led Zeppelin, and Talking Heads — but similarly, the occasional snub does occur, such as the entire Sex Pistols in 2006 and most of Van Halen in 2007. (Hell, Paul McCartney didn't even attend when the Beatles were inducted in 1988.) Sometimes, there are even half-snubs: Just last year, Steve Perry was more than happy to give a speech for Journey's induction, but he still refused to perform with them. Still, this is a bit of an unusual situation.
What's the likelihood that this is all a ruse and Dire Straits will perform a 20-minute rendition of "Money for Nothing" with Sting?
Never say never. As Fletcher himself said on his website: "The ceremony hasn't happened yet."