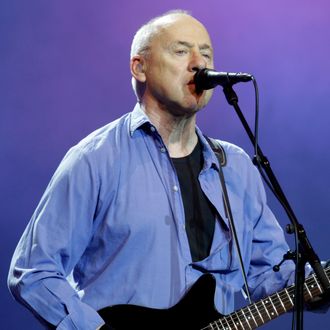 Mark Knopfler.
Photo: Ullstein Bild via Getty Images/Ullstein Bild via Getty Images
This doesn't really personify brothers-in-arms values, Mark. After weeks of surprisingly juicy drama surrounding the status of Dire Straits' Rock and Roll Hall of Fame induction, the band's bassist, John Illsley, confirmed fans' worst fears: Front man Mark Knopfler definitely won't be attending the ceremony. Not because of health, not because of a family crisis, but because … eh … this whole shebang isn't for him. "He just didn't feel like coming, it's as simple as that," Illsley told Billboard. "It just didn't appeal to him, and I appealed to him on several occasions. I said, 'Look, I'd love you to get your head around this.' He said, 'Look, I just can't do it, John. I'm really sorry. It's a great honor for us and all the rest of it, and I just can't get my head around it,' so I've just got to respect it."
Oddly enough, Knopfler wouldn't even give his good pal Illsley an explanation for the snubbing: "He's got his reasons, which he really doesn't want to share with me which is unusual because we've shared most things over the years." (So, we're gonna go with Jon Bon Jovi stole Knopfler's girlfriend 30 years ago and he's still bitter about it. Correct us if we're wrong, buddy!) As of now, Illsley will only be joined by Guy Fletcher and Alan Clark at the ceremony, as Knopfler's brother, David, is also refusing to attend due to the Rock Hall supposedly backing out of its promise to pay his full travel costs. Pick Withers, the sixth inductee, has yet to publicly comment on the induction, and it's assumed he won't be in attendance. Not only that, but the Rock Hall still hasn't confirmed a presenter for the band! At this rate, we feel the only appropriate person would be Donald Fagen.