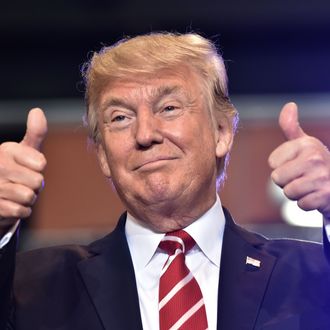 Thumbs up?
Photo: NICHOLAS KAMM/AFP/Getty Images
Unsurprisingly, President Trump has a few thoughts about an event he's refused to attend for two years in a row now. Skipping out on the annual White House Correspondents' Dinner in favor of a campaign rally in Michigan, the president wrote on Twitter this morning how the event "just didn't work" compared to his northern exploits. He also weighed in on the comedy side of it: "Everyone is talking about the fact that the White House Correspondents' Dinner was a very big, boring bust…the so-called comedian really 'bombed.'" That comedian, of course, is Michelle Wolf, whose ballsy 20-minute set tackled everyone from Sarah "Uncle Tom but for white women" Huckabee Sanders to Mike Pence, which is "what happens when Anderson Cooper isn't gay."
But besides the requisite bashing, Trump actually made a suggestion for next year's festivities in his tweet, recommending Greg Gutfeld to be the next host. Gutfeld, a Fox News host and television personality, is not a professional comedian à la Wolf or the headliners of Correspondents' Dinner past — although his show, The Greg Gutfeld Show, often weaves in comedic elements to explain the news.
Time will tell!