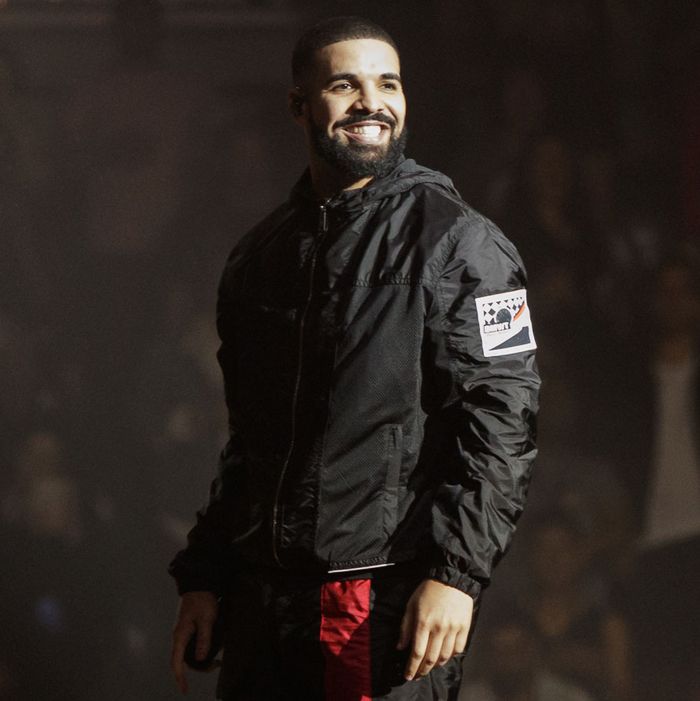 Drake performs at Spark Arena on November 3, 2017, in Auckland, New Zealand.
Photo: Dave Simpson/WireImage
Did you cry during the "God's Plan" video? I held it together until the scene where Drake sneaks up on the mother and son, hands 'em a stack, and everyone hugs and cries a little. I love songs about hard-working people coming into money they deserve. My favorite Kanye West song is "The Glory." I have a secret motivational Spotify playlist that's just an hour of rags-to-riches hip-hop anthems that I listen to when I feel down. "God's Plan" fits the vibe. The chillier reaches of the response to the Drake video perplexed me. People thought that it was showy and disingenuous, since the million given away in the clip is essentially a tax write-off. The logic goes that Drake wanted to be seen treating people nicely, and that the spike of goodwill he enjoyed after the gesture made it transactional and, therefore, not altruistic at all but really, secretly self-serving. I lack the energy to hate Drake this much. When we treat every public gesture of generosity as though it were some kind of likability racket, everyone becomes the villain.
I finally watched the video for the new Drake single "Nice for What" last night, and I'm starting to catch the itch people felt around "God's Plan." The song samples Lauryn Hill's "Ex-Factor" and "Get Your Roll On" by Birdman's old group the Big Tymers. There's toasts by New Orleans's queen of bounce Big Freedia, whose absence from the video gives me pause. The song's lyrics salute women for all the difficulties they experience in a day. The lyric that gives the song its title — "You gotta be nice for what to these niggas" — speaks to expectations that women will not only weather catcalls and lower pay, but smile back in the face of them. It's a decent line and a vast improvement over "You the fuckin' best" and "Intelligent too, ooh, you my sweetheart" and "I know exactly who you could be," lines where the rapper aimed for appreciation but landed at schmaltz. It really sounds like he's working on himself.
The video is a bubbly celebration of exceptional women directed by the young auteur Karena Evans and features a cabal of Hollywood and the music industry's brightest stars. At first pass, I noticed Black-ish and Grown-ish's Yara Shahidi and Tracee Ellis Ross, the Internet's Syd, Fast and Furious regular Michelle Rodriguez, actress-comedian Tiffany Haddish, Insecure writer-actress Issa Rae, and Black Panther star Letitia Wright. The credits named at least half a dozen others. In his scenes, Drake zooms around alone in what looks like a roller rink, making sure he doesn't crowd anyone else's space. It's a beautiful clip that makes me feel a little suspicious. Drake's track record of clean, effective media moves took me out of the video in the same way the bountiful stacks of hundreds in the "God's Plan" video must've annoyed people who thought the cash giveaway was a deliberate act of image reform. Here is a pop/rap institution with mercenary control over his press who has now abruptly trained his sights on wokeness, after spending eight years selling lonely-ruler and jilted-boyfriend anthems (that sometimes doxxed an ex's place of work). And now he's done it twice. I wouldn't be surprised if the next video featured a basket of puppies. Is Drake just falling in line with pop's unspoken wokeness mandate, or is he genuinely interested in change? Does it even matter if the product feels good and gracious? I'm not so sure anymore.